Alfa Romeo has made some incredible cars of the years and in recent times too. The Current super-saloon; the Guilia is a jaw-dropping five-seater, but that's not enough to keep them afloat in today's auto industry.
You've probably noticed a trend by now and if you haven't, look around next time you're on the road. And see the abundance of SUV's out there. Auto manufacturers have been churning them out left, right and centre and company's that are not known for build SUV's have started to build their own.
This is where the 2020 Alfa Romeo Stelvio comes into the picture but does it serve its purpose?
We got our hands on one for a few days to try it out!
The Good
Handling (quick and agile)
Looks
Fuel economy
The Bad
Cabin trim
Can't go off-road
Rear storage
Fancy yourself behind the wheel of the 2020 Alfa Romeo? Sell your car today with Dubicars and our platinum package.
Driving the 2020 Alfa Romeo Stelvio
As the Stelvio shares the same platform as the mighty Guilia Although the car is a lot heavier compared to the saloon, the steering is remarkably sharp for a crossover. It's nimble and quick too, which is surprising as its an SUV.
In the 2020 Alfa Romeo Stelvio, all models are equipped with a drive mode selector with three selectable modes D, N and A (Dynamic, Natural and Advanced Efficiency). All three offer a unique way of automatically setting up the SUV for you.
Let's start with Dynamic. Selecting this mode increases the speed of acceleration while increasing the brake response and improving the handling making the SUV more agile.
Natural and Advanced Efficiency is catered towards those who prefer to cruise and save fuel at the same time. While flicking between drive modes, we noticed up to 20% less fuel was guzzled down by the engine in A mode.
Of the three, we enjoyed driving around in Dynamic mode as the Stelvio is far more responsive. A dedicated sports mode would be great though.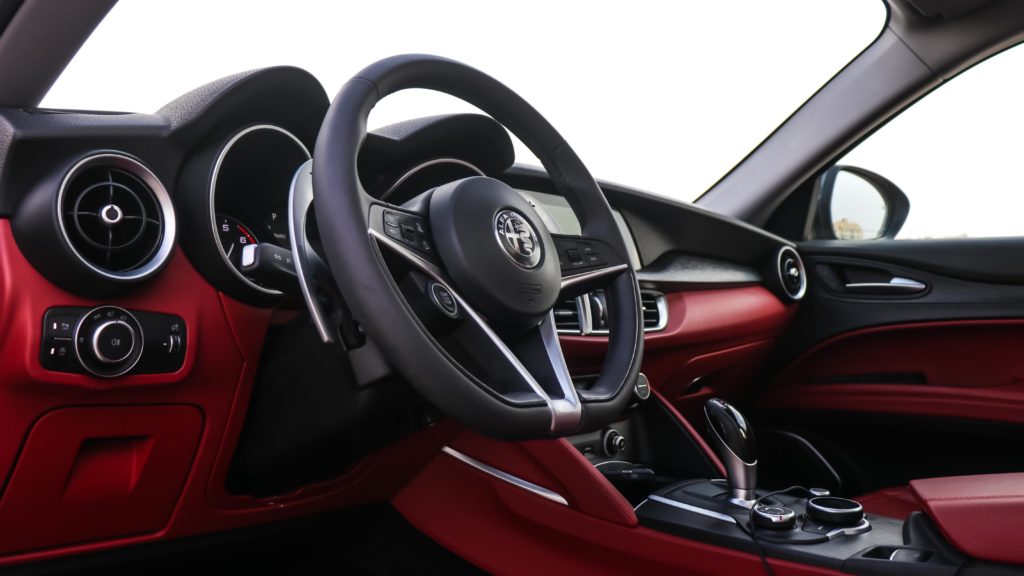 Inside the 2020 Alfa Romeo Stelvio
As it is an SUV, there's room for five as you would expect. Upfront, there are two seats with the driver seat having power and memory options, which offers a comfortable and adjustable driving position for up to three profiles.
Drivers have access to a flat-bottomed sports steering wheel with media controls on one side. While the paddle shifters are a nice touch, one doesn't really need them in an SUV.
The interior is stylish but lacks in certain areas. Where we expected soft materials, hard rubber is present. Shiny aluminium accents appear in the cabin and the panoramic floods the interior with natural light.
As for the rest of the seating, it's reasonably comfortable in the rear with enough leg and headroom for at least two people. Squeezing a third person in the middle may be a stretch, but it is possible.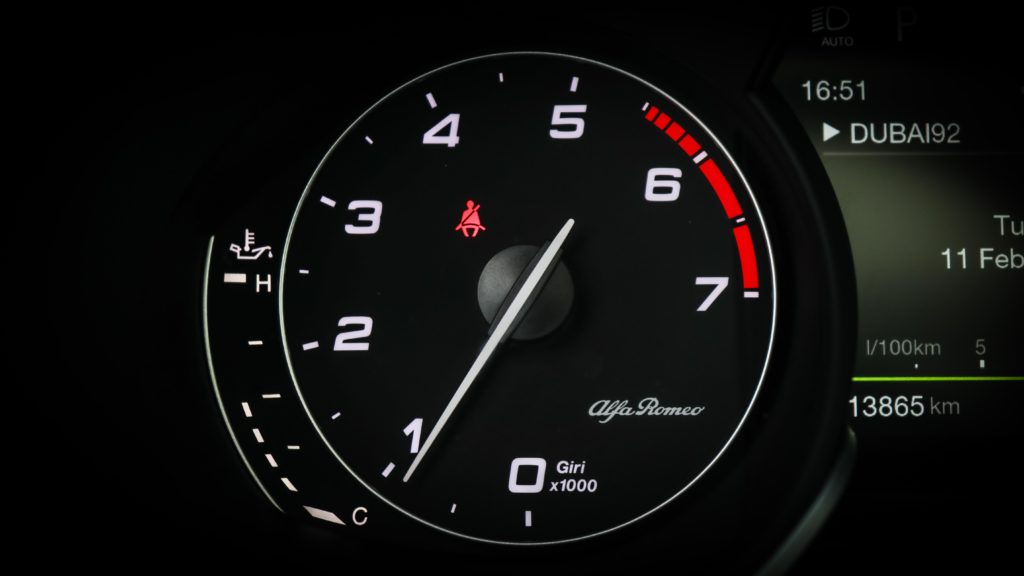 The driving force
Stelvio crossover SUV's draws power from a 2.0-litre 4-cylinder petrol engine with a turbocharger for an extra kick. Producing 280 horsepower, the Stelvio launches to 100 km/h in 5.7 seconds.
Many will shrug and feel un-impressed when hearing the capacity, but smaller engines are the norm nowadays and with smaller engines comes greater fuel economy.
AWD is the only drivetrain available in the UAE. Driving in the desert is a big no-no, but that's not what the Stelvio is built for.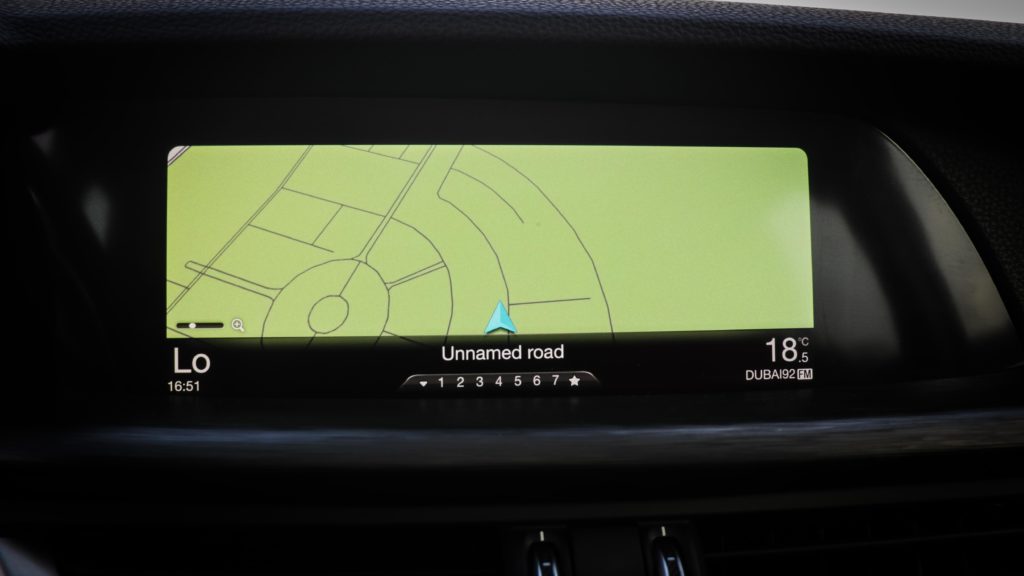 Tech & Safety
Cars are getting safer and safer with new ingenious tech and safety features. Lane-departure assist is present and screams at you if you go over any line without indicating, active cruise control which is actually useful as it will slow you down automatically and is a great feature to have when driving during rush hour.
But there are a few features that rivals offer that the Stelvio doesn't that would really make the car worth it. Cooled-seats and a wireless phone charger would be nice options to have, as would remote start.
The infotainment system isn't touch screen, another option that should be on the list and to be honest, it could be larger. It does have all the usual features like Navigation and Bluetooth connectivity plus a few more media options. Apple CarPlay is available and pops up when you plug an iPhone in right away.
Oh, and any sort of alert prompt will automatically override any audio being played, and it will chime out at the same volume, we advise you don't crank the dial up to eleven. Unless you want to be deaf that is.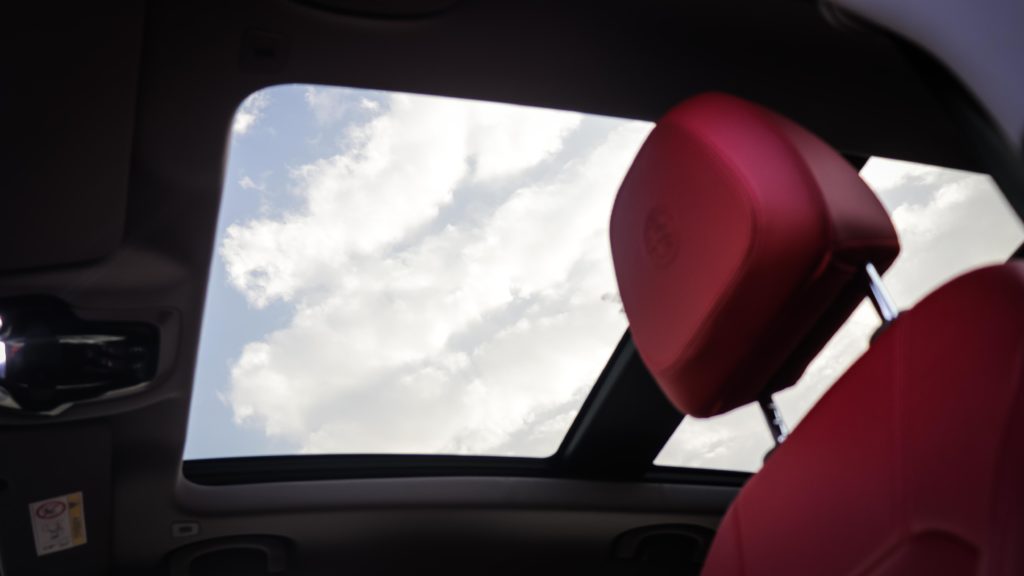 Final verdict
If you're looking for a sporty crossover, the 2020 Alfa Romeo Stelvio is the right car for you. If you're after something loaded with tech, then it is not. The stylish and aggressive interior may grab the attention of onlookers, but when it comes to the cabin, there's a lot more to be desired.
Simple can sometimes be a good thing as it appears clean and easy to use, but we find the Stelvio needs some improvement when it comes to the interior.
If you want to stand out during school runs, then the Stelvio is the car for you.
2020 Alfa Romeo Stelvio in UAE; starting price AED 179,000.
Stay tuned for more reviews to come right here on Dubicars. Don't forget to tell us what you think of the 2020 Alfa Romeo Stelvio.
Dubicars has used Alfa Romeo Stelio for sale in Dubai.