After watching The Dark Knight Trilogy, I'm pretty sure everyone wanted to own a Tumbler Batmobile in real life (I know I sure did), but the thought of owning one was a distant thought, well now you're in luck because Dubicars has a Batmobile for sale in Dubai and It's currently listed as 3.7 million AED (approx. 1 million USD).
| | |
| --- | --- |
| Starting price: | 3.7 Millon AED (approx.) |
| Engine volume: | 5.7 Litre |
| Cylinders: | 8 |
| Torque: | Unknown |
| Horsepower: | 500+ |
| 0 to 100 km/h: | Less than 6 seconds |
| Maximum speed: | 250 km/h (estimated) |
That's right a Batmobile Replica is in fact for sale in the UAE, and according to the owner it can be registered to legally drive on the roads of the UAE! It's powered by a Chevrolet Corvette v8 5.7 litre petrol engine that produces over 500 horsepower, 0-100 km/h in less than 6 seconds and has a top speed of 250 km/h. Those are some impressive stats for a large vehicle, it weighs in at 2,086 kg which is less than a Bentley Continental GT Coupe which ways in at 2,295 kg. Length-wise it measures in at 4.57 metres and width-wise its 2.84 metres.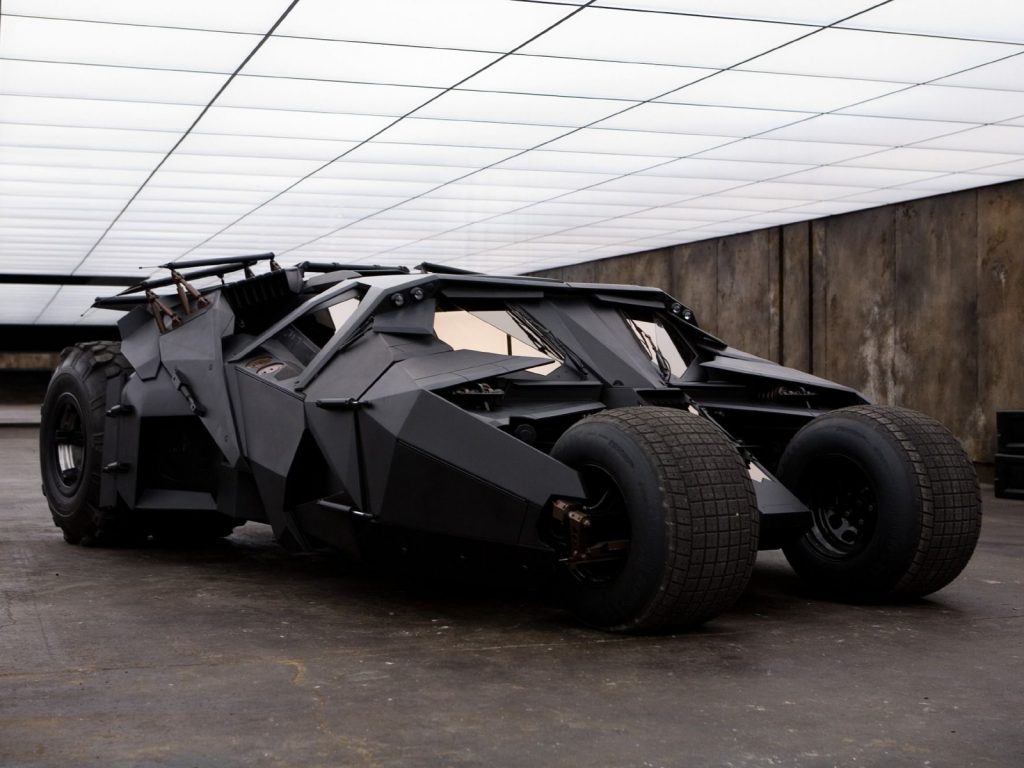 At the front, there are two 18.5 inch Hoosier tyres and at the back there are four massive 44-inch tall super swamper tyres that stand taller than a Lamborghini Aventador. High-intensity LED lights can be found at the top of the car with small slits underneath for the indicators and a camera either side for blind spot detection. There are two cameras placed just underneath the panels where the driver and passengers enter/exit the vehicle and a rear camera mounted at the back. On the either side there are four petrol filler caps, the doors open up like the Mercedes-Benz SLS only these ones are a lot smaller. Just above the engine there are slats for the indicators, brake and reverse lights.
Interior wise there are two black leather seats which can be adjusted manually, a fully functioning navigation system, multiple screens to display camera views located around the vehicle, the gearbox is an automatic and there are USB inputs possibly to plug a media device in and play all the Batman theme songs whilst driving along. It also has air conditioning and a panel on the drivers side filled with knobs, dials and switches that turn the A/C on or off, indicators, lights and turning the screens off.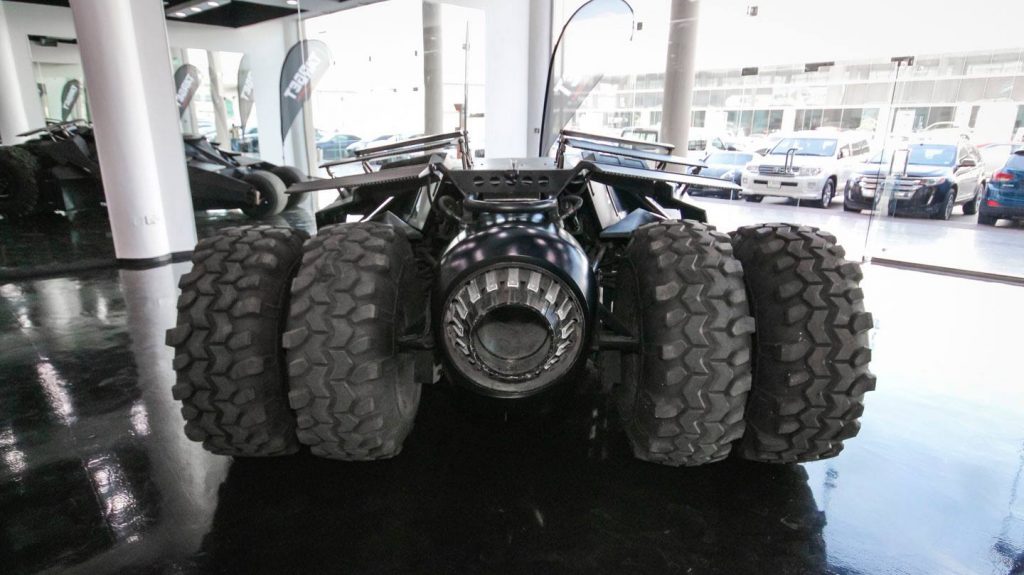 At the back of the Batman car there is a 'jet engine' which works with propane tanks located behind the radiators at the side of the car, when filled and with a flick of a switch, flames will shoot out of the back, if you see the Tumbler Batmobile on the road don't get to close.
At high speeds the front of the car will rise up creating a giant spider effect similar to the movie.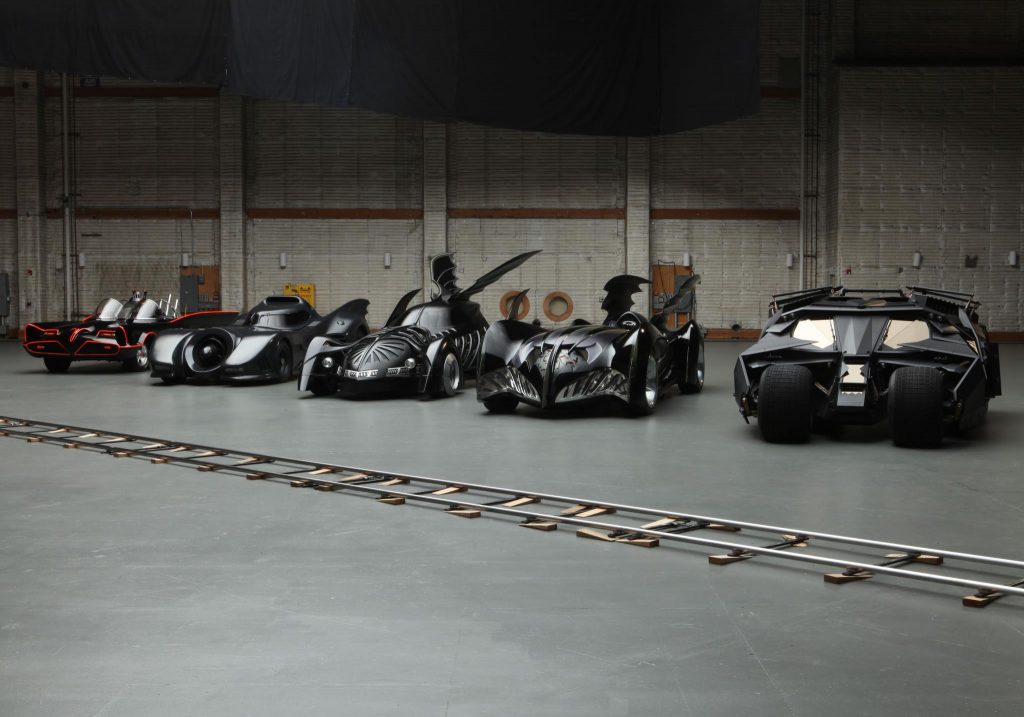 This Tumbler Batmobile first made its debut in 2005 in Batman Begins and appeared twice more in The Dark Knight (2008) and The Dark Knight Rises (2012). Batman Vs Superman is due out next year and will feature a new Batmobile, which will probably have a replica made that will make its way over here. Out of all the Batmobiles that have hit the silver screen, my personal favourite is the 1966 Batmobile from the Batman TV series designed by George Barris, what's yours?
Tumbler Batmobile Golf Cart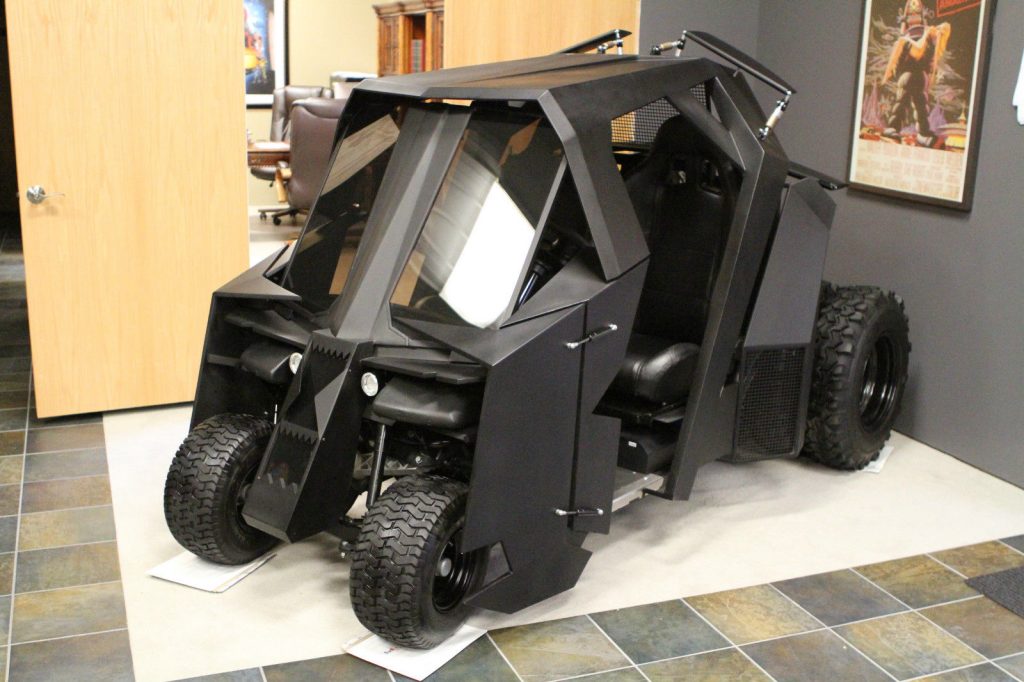 Are you a huge Batman fan and an Avid golfer? Why not get your hands on a Batman Tumblr Golf Cart, it costs $128,500 USD (approx. 104,684 AED). It rolls on six wheels that won't damage the greens, and it's powered by a 6 horsepower battery powered golf cart motor. It can achieve a top speed of 61 km/h, that's fast enough to get a speeding ticket in a residential area! Its body is made from metal alloy and is obviously finished in black, inside there are two adjustable leather seats, an iPad stand and cup holders. If the Joker is also having a quick 9-hole game, aerodynamic wings fold around the passenger cell to protect them from incoming golf balls.