Many of us working and living in the UAE have had our visas extended due to the current COVID-19 situation. As per the Emirates ID Authority in the UAE, visas that expire from March 1st, 2020 and onwards are extended until either the end of December 2020 or the 31st of January, 2021.
In the UAE, most if not all service provides including the Roads and Transport Authority (RTA) Dubai, DEWA, Etisalat, Du and Virgin Mobile, just to name a few all require valid Emirates ID in order to continue using their services.
But do they accept the extended version without your physical Emirates ID stating the extended date?
Yes, they do. And so does the RTA. As long as their database says your Emirates ID/Visa is valid, you are good to go with registering your car.
Incase the RTA's system doesn't reflect the update, you can request them to update their database in the following ways.
How to update your Emirates ID extension with the RTA
There are only two ways to do this;
Via an Email
Via a Customer Happiness Centre
You can't use either of the smartphone applications or the RTA Customer care line, it can only be done via the two methods mentioned above.
If sending an email to the RTA to update the information or to receive clarification, you'll need to send an email to [email protected] along with the following documents;
Emirates ID. Pictures are accepted and need to be of the front and back of the ID.
Emirates ID extension proof
Note that there is no official document to download for the extension, you can take a screenshot of the page and send that to the RTA. Additionally, ask your visa provider if they can obtain one for you.
Here is what it looks like;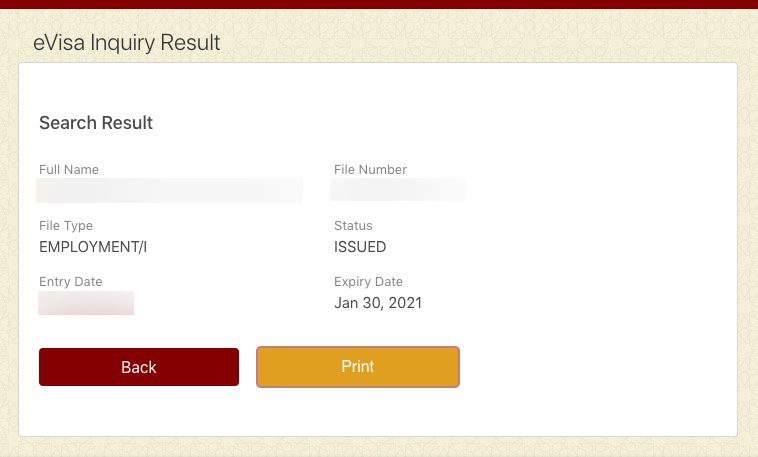 When sending the email, we recommend you also speak to the RTA customer service hotline (800 90 90) as they will confirm whether or not they received the email.
You will receive an update in 24 hours form the RTA if the information has been updated. You won't receive an email, instead the RTA adds a personal touch and calls you directly on the mobile number you provided.
If going to an RTA Customer Happiness Centre, you'll need to speak with a supervisor.
When applying for the extension, you'll need the following documents;
Copy of your Emirates ID (front and back) Originals are required when visiting the RTA.
Letter from your company and the Ministry of Interior that your Emirates ID has been extended. Note you can only get a screenshot of this from their website.
Speak to the Supervisor at the Customer Happiness Centre and have them update your Emirates ID card information. This will take a matter of minutes for the RTA to update their system.
Got anything to share about the process, maybe an easier way? Let us know in the comments below.