Recently Lexus's LX series, one of the UAE's most popular SUV's has received a lot of attention in the automotive industry thanks to a series of leaked photos surfacing on Instagram and Facebook. Most recent leaked photos claim the vehicle is already in Jebel Ali Port, UAE! 2016 marks the third generation for this SUV. With all the new changes it's looking up-to-date and pretty good if I may say so!
In May 2015, a sequence of pictures snapped from a brochure in Japan made their way online of the newest generation, sporting a gold-ish colour. From the leak, Lexus looks to have removed the boring bulb fog lights and replaced them with new boomerang-shaped LED lights underneath the slightly newer shaped xenon and LED headlights. Part of the bodywork has been removed, giving the grille a much larger appearance.

Second time around, in early June 2015, a popular car showroom in Abu Dhabi showed off pictures of renderings of a silver model on their Facebook. Images showed the inside and outside of the Lexus LX SUV. These pics showed more than the previous leak, with the rear of the SUV receiving a new look with redesigned rear lights.
Third time around and the most recent leak, an Instagram user uploaded images displaying a newer dark blue model parked behind a current 2015 Lexus LX 570, further revealing parts of the vehicle in its final form, and confirms that the leaked renderings were pretty much spot on. The updated model sports a redesigned third quarter window on the outside and a new three-spoked steering wheel takes replaces the old four-spoked wheel. A much larger free standing screen is also found at the top of the centre console with a new addition; an analog clock placed below. Redesigned air vents have moved from the side to below the display and dashboard appears to have a backlit instrument panel with a digital display between the dials.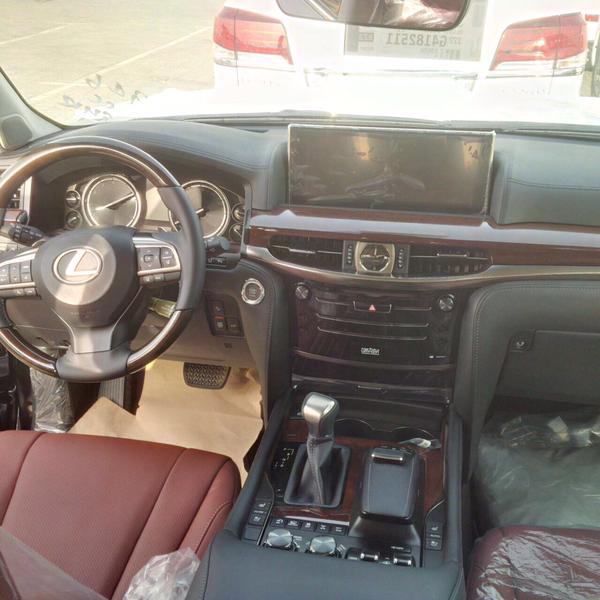 Going back to the centre console, various switches have been moved back to make room for a new infotainment controller. Buttons for cooling and heating the front seats have replaced the knob found previously. Other buttons for diff lock and traction control have been moved back too. A cleaner and simpler look has been applied to the area surrounding the CD player in general. Plastic wrapping masks the back and side making it hard for us to tell if renderings of the rear are true as well. Guess we'll have to wait and see.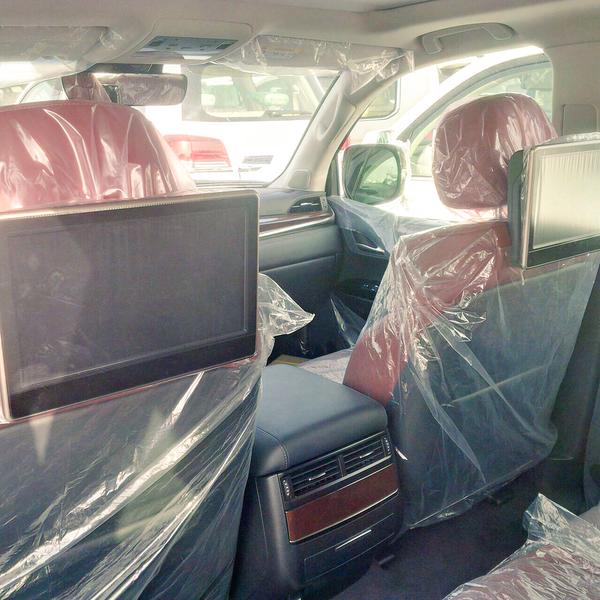 A dual-screen rear entertainment system can be seen in one picture, this time with quite bigger screens and possibly with the new iteration Lexus could place HDMI inputs and a Blu-Ray Player instead of a 3-pin Audio & Video input and standard DVD player.
Unfortunately, specifications regarding engine size have not been leaked, previous generations of the LX series came standard with an eight cylinder 5.7-litre petrol engine which produced 383 horsepower and 546 Nm of torque and the option for a supercharged version.
Lexus LX's sits level peg with the Cadillac Escalade and the Infiniti QX80, both of which will roll out new models for 2016.
Lexus LX series 2016 models will go on sale in winter 2015 here in the UAE and GCC regions, pricing for the model has yet to be released, expect a full reveal of the SUV next month.