For almost 40 years, the 5-series lineup has been the go-to mid-sized executive saloon. A popular choice in the UAE and loved by many, it was our turn to take the 2020 BMW 530i to find out what all the fuss was about.
All those years have treated the 5-series well, but recently, a surge of luxury mid-sized saloon cars hailing from all over the world. Some have entered the fray with more bang for your buck than ever before, while others have managed a short run against the best to never to be seen again.
As always, a huge shout out to BMW AGMC for providing the vehicle. Need space for your new ride? Sell your car faster with Dubicars.
With so much competition out there, does the 2020 530i have what it takes to stay one step ahead, or is its age starting to show? Join us and let's see why everyone raves about the 5-Series.
The good
Interior space
Fuel economy
Quiet cabin
The bad
No Android Auto
AWD not available in UAE
Optional extras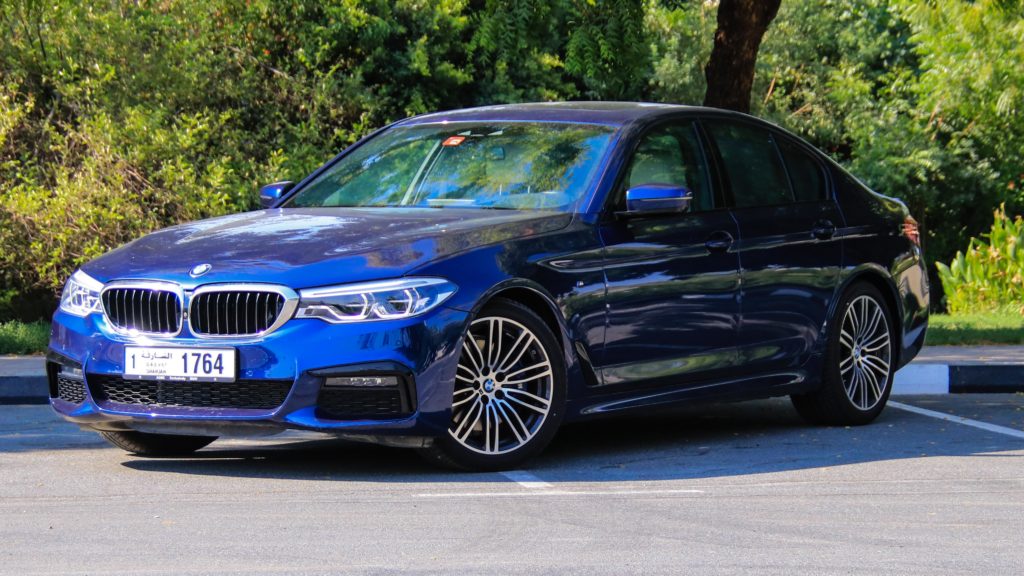 Driving the 2020 BMW 530i
The 530i offers three unique drive modes. Starting with Eco Pro, the dashboard gauges change to show you how much fuel you're conserving. The engine isn't as responsive as in other modes, but that's what Eco modes do.
Our personal favourite drive mode is Sport. There's no need to stop the car and change modes, just press the button, and the vehicle sets everything up on the move.
You can audibly hear a change as the exhaust opens up, the engine roars to life and sprints faster in a straight line. The gauges now feature a red tint and the iconic 'M' logo appears on screen.
No matter what drive mode you select, the 2020 530i is fun to drive despite its size. For a more engaging experience, the model does come with metal paddle shifters and the option to switch gears manually via the gear lever itself. Just be aware that up is down and down is up.
Under the bonnet is a 2-litre turbocharged four-cylinder petrol engine connected to an 8-speed automatic. Unfortunately, there's no AWD drive system, but the BMW makes do with rear-wheel drive. The model launches to 100km/h from standstill in 6.2 seconds.
Equipped with the M-Sport package, the ride is smooth, comfortable and an absolute joy to drive on the highway thanks to the adaptive dampers. These also help the 530i through the corners.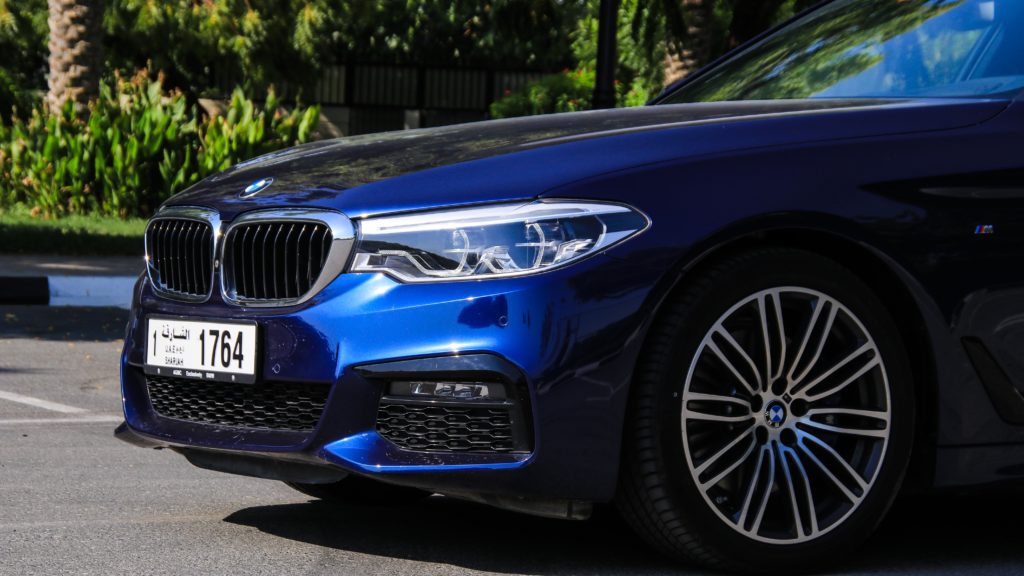 Outside the 2020 BMW 530i
Lines are clean and run straight with no interruption all the way to the rear. There's not much going wrong. We'd say there's nothing wrong with the exterior. The 2020 BMW 530i is an attractive car from all angles.
Oh, and that M-Sport package we mentioned before, not only does it make the ride smoother, it adds more character to the 530i by adding an aggressive body kit and M-branded wheels.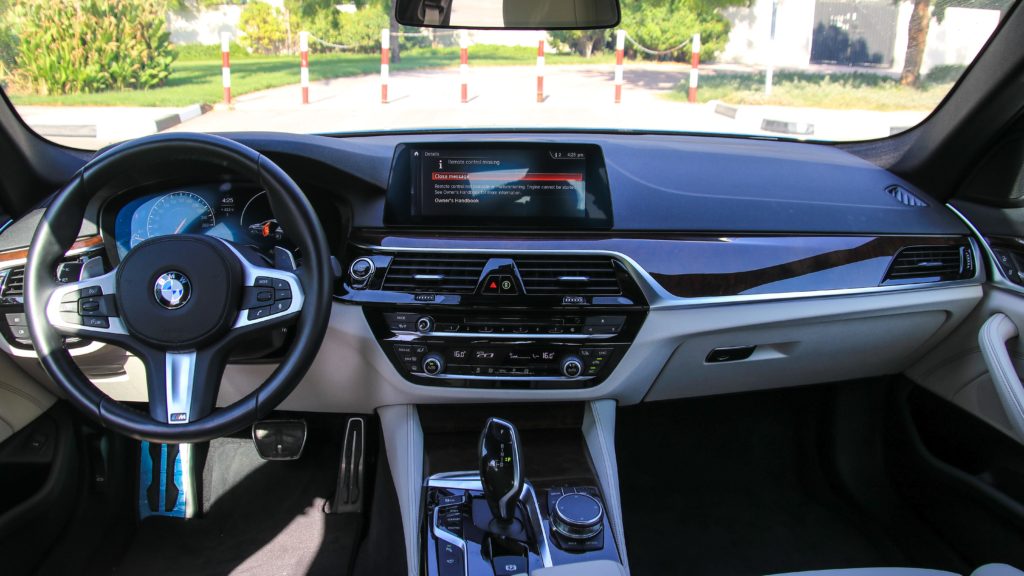 Inside the 2020 BMW 530i
If you expected a comfortable and spacious interior, that's what the 5-series offers. The leather is supple, and with memory seats as standard, you'll also be in a comfortable position when driving. Cooled seats aren't on the list of options, but can be fitted on higher-end models.
The iDrive system is fluid with no lag when switching between apps of which there are a healthy amount of. There's a wide variety of submenus but you can't get lost easily. Diving deeper and deeper, we found ways to adjust the ambient lighting for a soothing late-night cruise. Now if only there was an option to change colours automatically.
Apple CarPlay is supported, but for Android users, the best thing to do is connect via Bluetooth. Or plug in your device via one of two USB ports up front. There's also a wireless phone charger that fits larger phones.
Second-row seating is spacious enough for three and provides ample leg and headroom. Road noise is barely audible even with the sound system muted, which makes for a pleasant ride.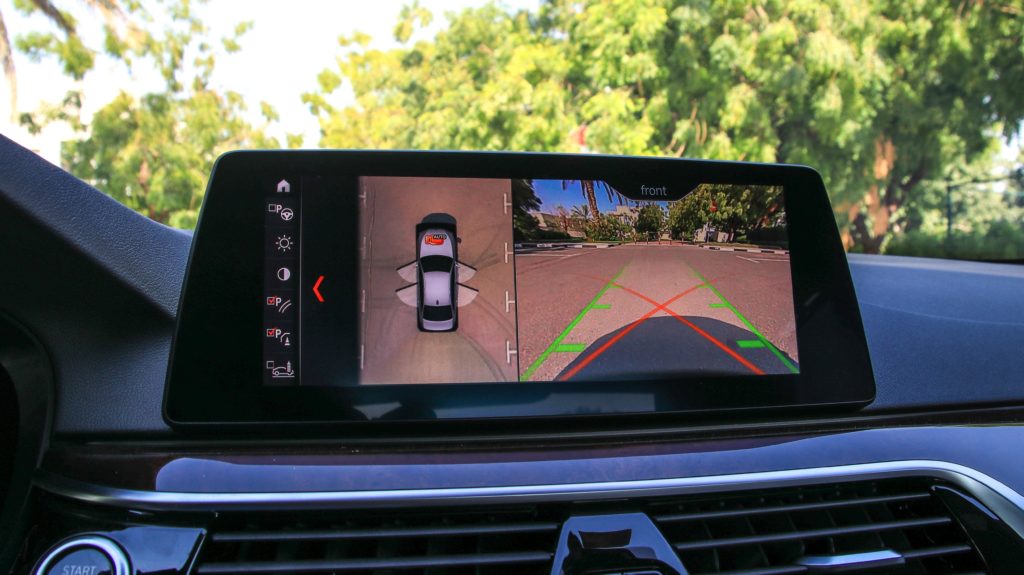 Safety and tech
BMW is always at the forefront of the technology battle with its rivals and with the 5-series, and as standard, BMW do provide a lot of techy features. But if you want more, they come at a price.
As mentioned earlier, the brands signature iDrive system is in charge of the infotainment system that can be controlled by touch, buttons, dials and our personal favourite; gesture controls.
On the safety front, BMW offers quite the package, and we're not just talking about the camera system. In case of an emergency, the 2020 530i is equipped with an SOS button. Only a handful of vehicles have such a feature, and when pressed, the emergency services are immediately warned and are dispatched to your location.
Apart from that, the usual safety features are bundled with the 5-Series with some being adjustable.
Final verdict
In short, the 2020 BMW 530i is a refined luxury saloon car that delivers a kick when you need it. It looks like a business man's car on the outside, but deep down its more than that. It offers the best of both worlds, during the day you can ride to work in style, and at night, you can let loose.
The cabin is spacious, and the features are enough to keep you busy during your daily commute. Where it falls short in comparison to its rivals, the 530i 2020 is comfortable and agile. Now we understand why it's so popular.
2020 BMW 530i price in UAE: AED 250,000.
Photo credit: Rajitha Perera (Dubicars)
Dubicars has new BMW and used BMW for sale in Dubai, Sharjah, Abu Dhabi and Ajman.