Off-road driving and hybrid, one combination that we all thought wouldn't come anytime soon. Volkswagen want to change our mindsets and get their foot in the door first with their concept Volkswagen Tiguan GTE Active. Unveiled at the recent North American International Auto Show in Detroit, it's no off-road beast such as the Ford Raptor and Nissan Titan Warrior concept, it's certainly an option for those on lower budgets, even if it isn't a pickup.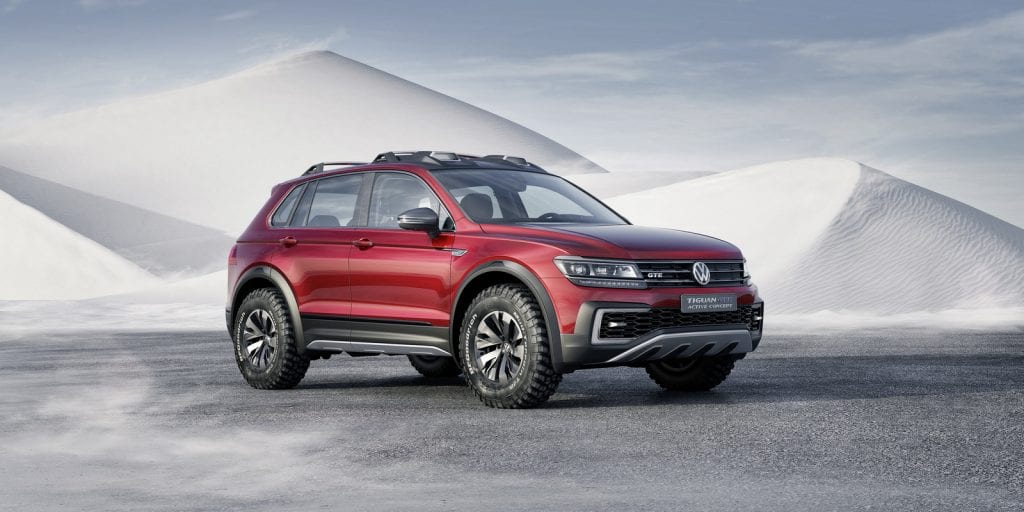 Using the same platform as all-new Volkswagen Tiguan, raised by 45mm for a total of 225mm of ground clearance, BF Goodrich off-road tyres on each corner, lights mounted on the roof, added protection underneath, matt aluminum added to the front and rear end plus a whole more. May look small, it means serious business.
Powering this off-road vehicle is an inline four-cylinder turbocharged 1.4-litre petrol engine, coupled with not one but two electric motors. Dual electric motors generate 54 horsepower and 114 hp each for a combined total of 221 hp. Using their very own 4Motion system, power is sent to all four wheels. This ingenious system can be manually adjusted to have power sent to the rear and front wheels separately as well as all four wheels.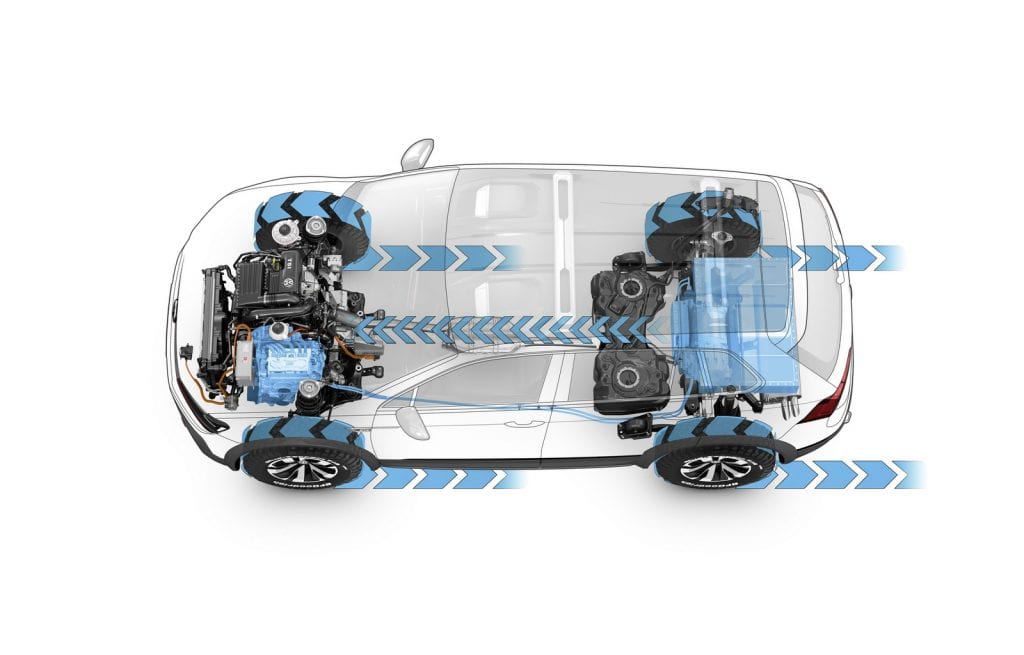 In terms of specifications, 0-100 km/h in roughly 6.6 seconds and a 193 km/h top speed. Driving on electric power alone, the vehicle can cover 32 km. Whereas using the petrol motor, an incredible 933 km can be driven.
Six different driving modes are selectable, on-road, off-road, sport, snow (don't need that here), charge and battery hold. Each one will tell the engine how much power to output and where to send said power. Then there are separate buttons titled E-mode for economical driving and performance GTE modes to get the best out of the 4X4.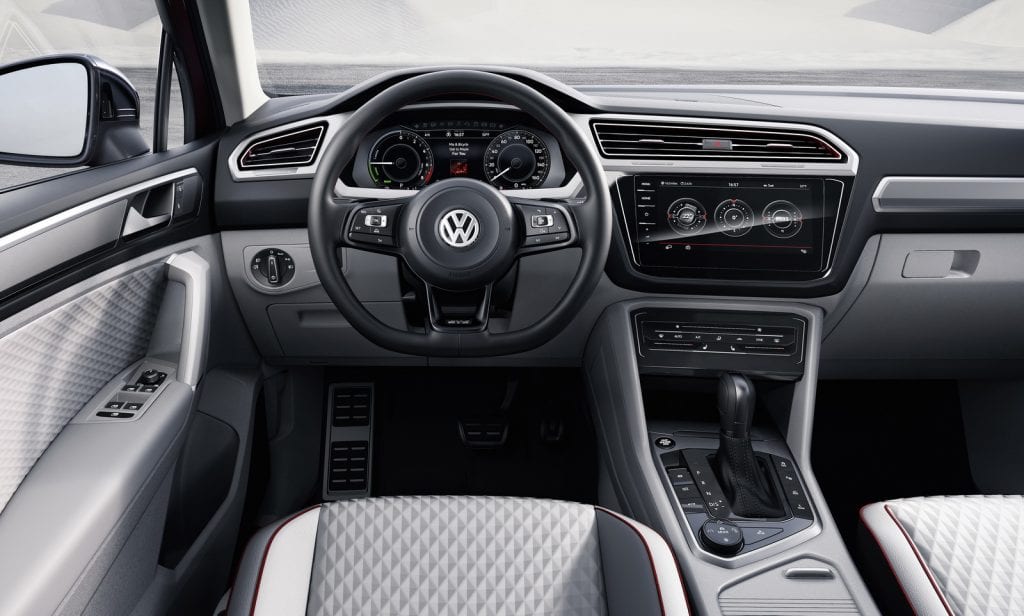 Inside, this mighty Tiguan receives a 9.2-inch touchscreen multimedia system filled with useful apps. Android Auto, Apple CarPlay and mirror link is integrated into the system. Dashboard instruments are completely digital for pinpoint accuracy, then there are all the usual creature comfort options including heated seats for those cold desert nights.
This is not the only Volkswagen Tiguan to join the ranks, as a long-wheel based version is on its way with room for seven occupants instead of just five. Headed to the US at least, production is due to start later this year in Mexico.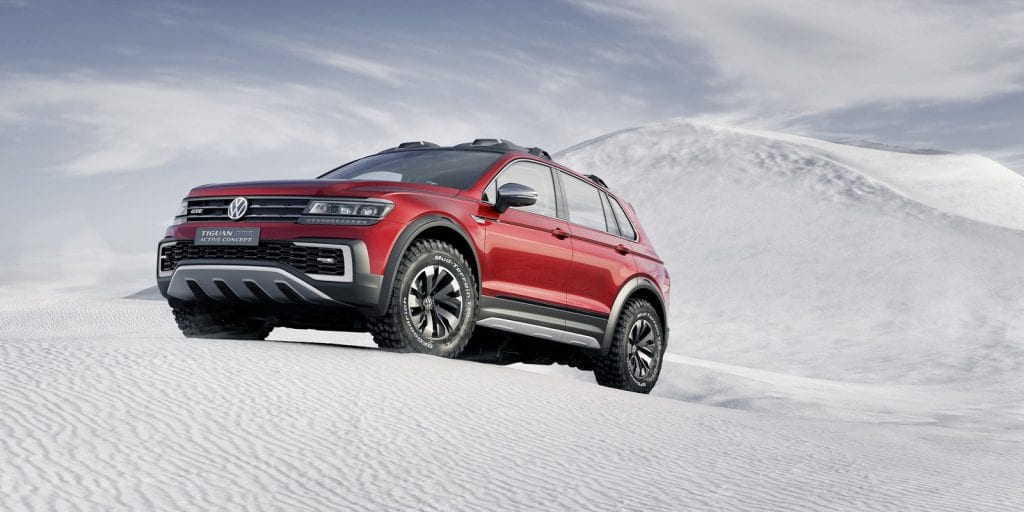 Then there is the vehicle this off-roader is actually based on, which is the Volkswagen Tiguan GTE with all its hybrid glory. Making its grand debut at last year's Frankfurt Auto Show, VW didn't reveal a release date or pricing point.
Volkswagen have even teased us with a CGI video of what's to potentially come in the near future.
The Volkswagen Tiguan GTE is still in its concept phase. Looking like this though, the German manufacturer needs to put this into production ASAP, even if it is a limited production or added bits to production models. Want a Volkswagen Tiguan? Check out used Volkswagen Tiguan for sale in Dubai, Abu Dhabi and Sharjah.