Nothing beats getting invited to a FUN RUN on a Saturday. We got the chance to tag along with a fleet of Lotus vehicles all the way to Fujairah! What a journey it was!

9:30 marked the arrival of the first Lotus Evora. Painted in blue, it idled for a while by itself, however, within a matter of minutes; engine notes filled the air outside the showroom. With engines grumbling and ready to go, after a quick chat and a spot of breakfast, it was time to set off to Fujairah.
At first, we lost the pack heading towards Sharjah, however with some quick thinking we managed to catch up. (Ok fine, they made a pit stop at a petrol pump which allowed us to catch up.)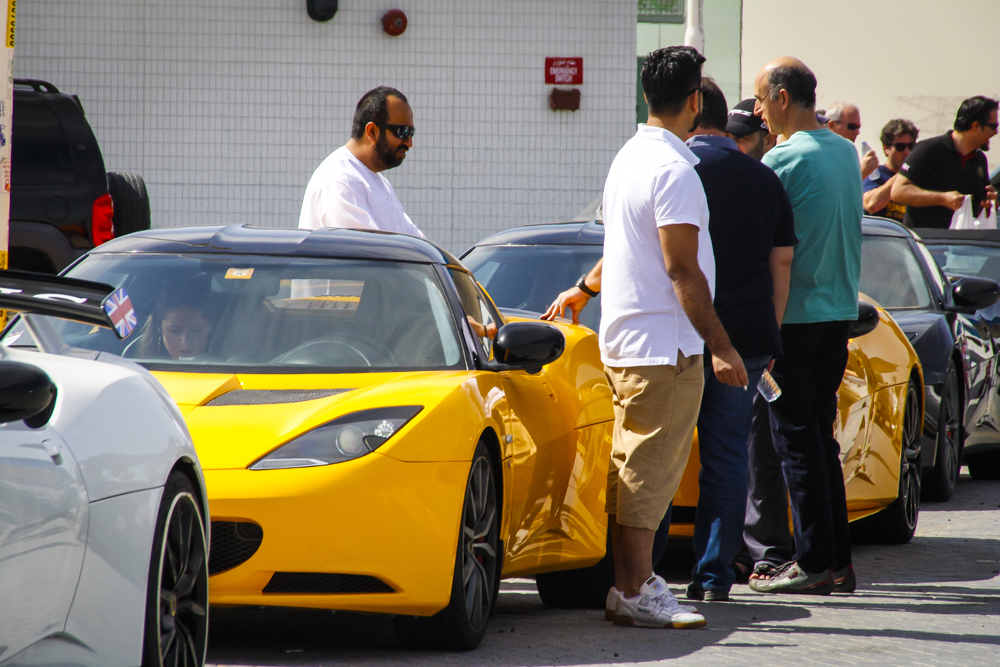 After hydrating ourselves and adding a splash of fuel to the vehicles, it was time to hit the road once again. This time, we joined the field immediately and got swamped by powerful engines all around. With a beautiful backdrop of the sandy desert, it was the perfect opportunity to stick my head out the window and grab a few shots. I must say, this was my first time taking pictures of moving vehicles from another moving vehicle, that was an experience in itself. I'm used to standing behind a fence and snapping pics of race cars zipping past at 250+ km/h.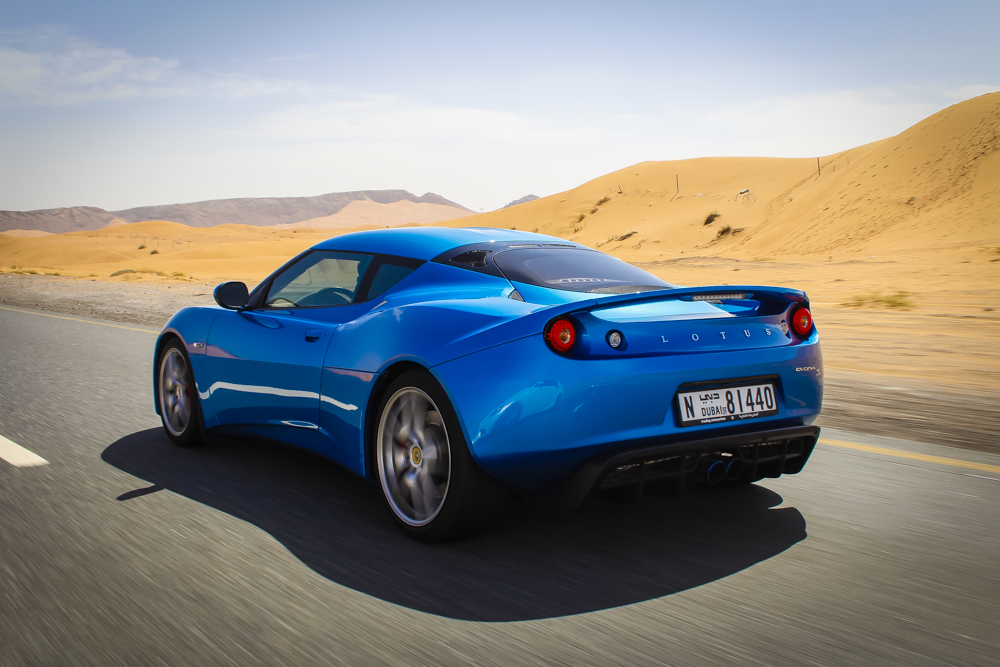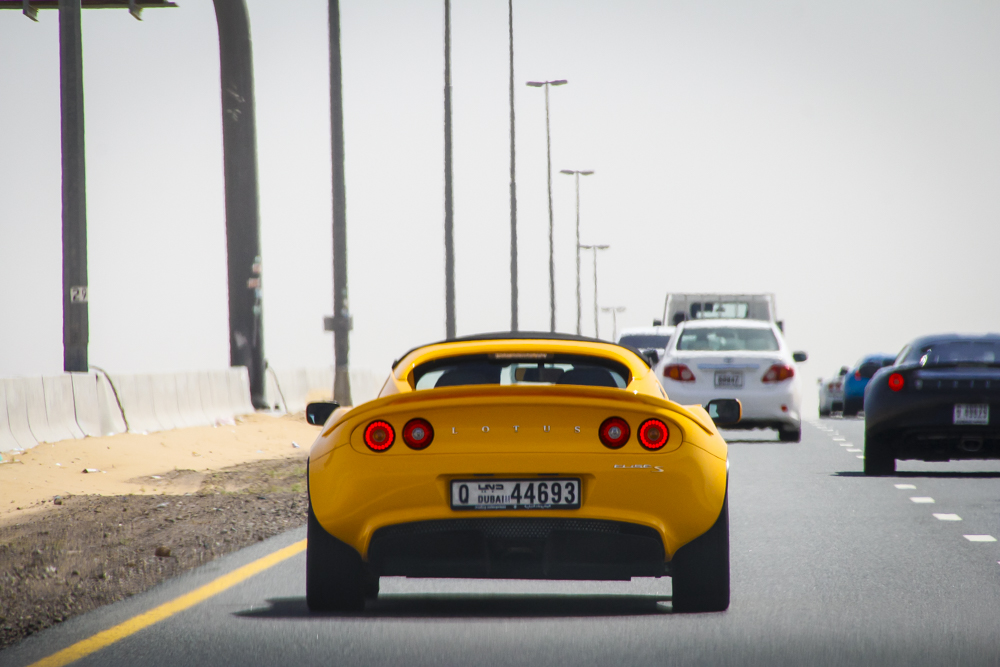 A total of 10 Lotus sports cars hit the road, all in various shapes, sizes, and colours. Consisting of Lotus Evora's, Exige's and Elise's, they all proved to be quite a hit with people stopping on the side of the road to take pictures as they drove past.
As soon as we entered the Emirate of Fujairah, we were greeted by even more breathtaking scenery inclusive of mountains and greenery, not to mention a selection of vehicles that tried to match the Lotus's power. As we had our annual rainfall, along the way we were greeted by a pool of water, however, that didn't stop us from powering through the terrain.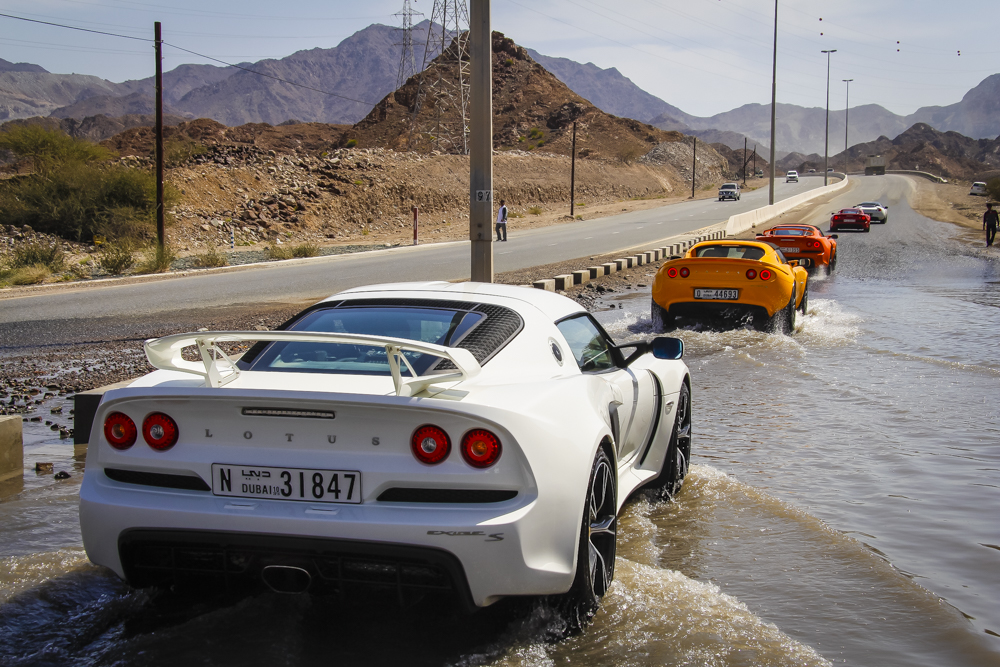 Tunnels create the perfect space for a resonating engine sound and it just so happens that we came across one on our journey. Vehicles filtered in one by one for pitch-perfect results of those finely tuned engines.
Cruising our way down the Fujairah corniche, onlookers gazed as we rolled through until we got to our destination, The Bikers Cafe. When the vehicles took a breather in Fujairah, they proved popular by the ocean with cheeky onlookers trying to sit inside.

After a quick photo opportunity, it was time to head back to the showroom. Once again, the pack was lead through the tight twisty turns. And as with the trek down to Fujairah, many drivers tried to join in including a Ford Mustang, Toyota Camry, and Ford Taurus.
Even though we weren't in a Lotus ourselves, we had a blast winding through the mountains crammed between sports cars. This was their fourth event with subsequent events taking place very two to three months. Fancy joining in on the action? Find
No doubt we'll be joining them next time, and we can't wait! Fancy joining in on the action? Find new Lotus Evora and used Lotus Evora for sale in Dubai.
We've even got more pictures down below for you to browse.