Three years have gone by for the second-generation Acadia, and GMC has already taken it upon themselves to apply a fresh face to the 2020 GMC Acadia AT4.
Amidst the refresh is a new nine-speed auto gearbox, a revised centre console with push-button gear shift, more storage space and new front and rear fascias that match the rest of the GMC lineup.
But the cherry on the top is the addition of the AT4, and that's what we've got our hands on!
But is it more than an aggressive exterior? Does it serve its purpose in its segment? Join us, and let's find out together.
The Good:
Bold styling
Adaptable interior
Strong V6 engine
The bad:
Gear shifter
Standard active-safety tech
Softer materials would be nice
Shout out to Al Ghandi for providing the vehicle for a few days! If you fancy getting your hands on one and need a place to sell your car, Dubi Cars have you covered with our exclusive Money-Back Guarantee package.
Driving the 2020 GMC Acadia AT4
As standard, the 2020 GMC Acadia AT4 is fitted with a 3.6-litre V6 identical to the one found in the XT6. A healthy 310 horsepower is sent to either the front or all four wheels depending on the drive mode selected.
Connected to a smooth-shifting 9-speed automatic gearbox, the AT4 is the only Acadia with all-wheel drive as standard.
On-road, the 2020 Acadia AT4 is refined and offers a smooth ride even with the off-road tyres (17-inch) fitted to all four corners. It handles surprisingly well, we would even go as far and say it handles better than some current saloon cars.
We're not saying the Acadia AT4 is to be driven like a sports car, but it has plenty of power for merging into high-speed traffic.
Gear levers/shifters are slowly becoming a thing of the past with fewer and fewer models having them and opting for a dial or a handful full of buttons. GMC has gone a different route and added what we first thought was a cassette player.
Sitting underneath the climate control is a sequence of buttons that change the gears (P, D, N, R and L). While it certainly tidy's up the centre console, this is not the way to execute the gearbox.
New for 2020 is the addition of the retuned rear suspension. With it comes more control when driving and comfort to rear passengers, a win-win.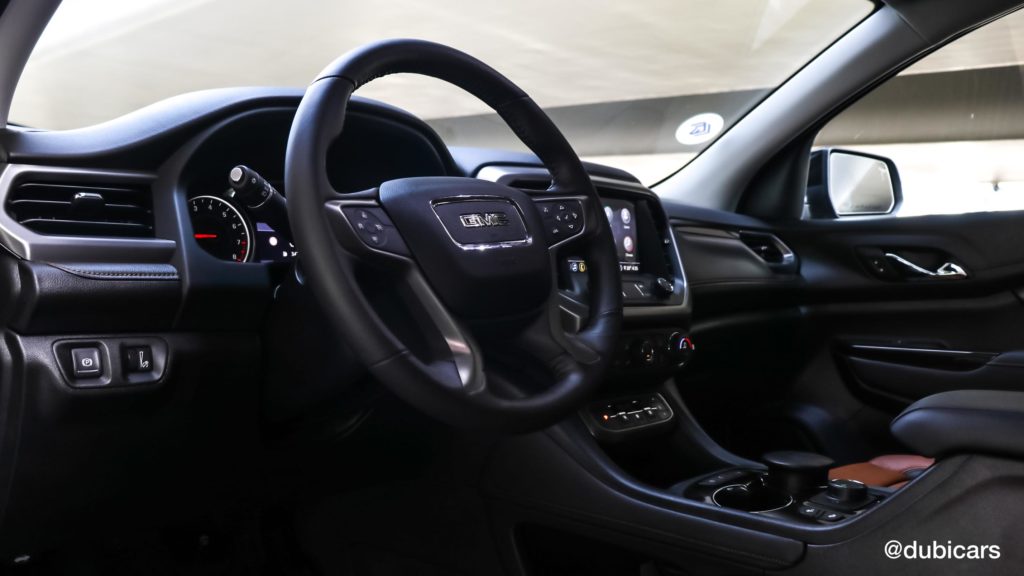 Inside the 2020 GMC Acadia AT4
Once was a full-size crossover, the 2020 GMC Acadia AT4 has transitioned its way into the mid-sized category and boasts room for seven on three rows of seats (two, three and two).
This automatically gave us the impression that the second row would be tight, but it's not. The third row is spacious as well and can be folded flat for increased cargo space.
The Acadia is a useful machine as it does and supports exactly it is supposed to do even it is shorter compared to its GM counterpart – the Chevrolet Traverse.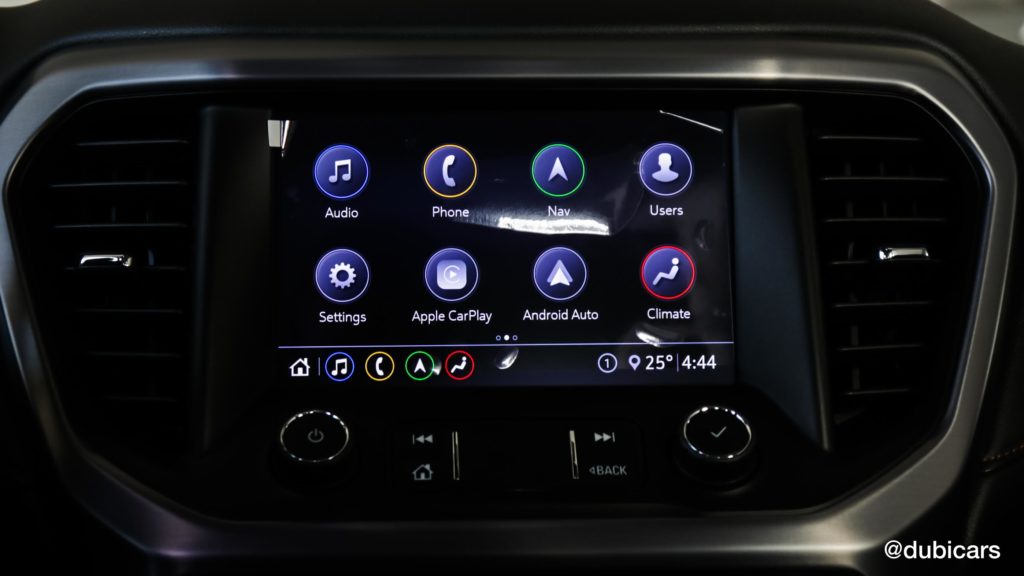 Safety and tech
The 8-inch infotainment system has been revised for the AT4 and is a step in the right direction. It's intuitive, clean and simple, you don't have to fumble around looking for everything as its where it should be.
Over time, the system will personalise itself to better suit the driver. How convenient.
All Acadia's come with a few standard safety features; lane-change alert, rear-cross traffic alert and rear park assist. Systems such as automatic high beams, automatic emergency braking and front park assist are optional.
Going back to the gear selector, we can be forgetful at times and this time around we forget to switch to park. GMC has implemented a failsafe for people like us as switching the engine off automatically shifts the vehicle into park.
Wireless phone charging is not available, but there are two USB inputs with one in the front and back respectively. There's also one of those weird type-c ones too.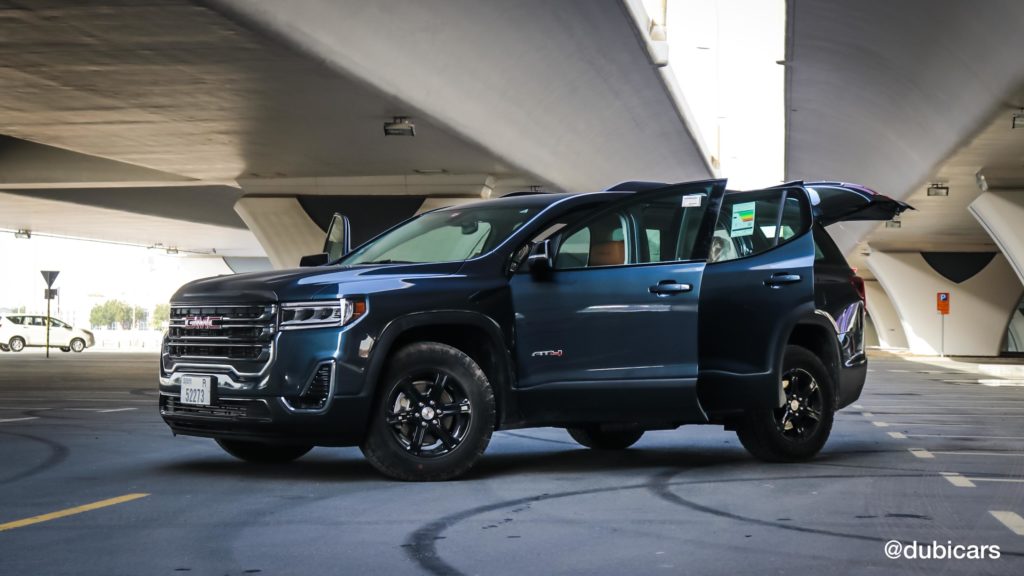 Final verdict
The 2020 GMC Acadia is essentially an all-rounder, take the kids to school during the week, and on the weekends sneak off to the Wadi Asimah on the weekend.
One can certainly overlook the gear selector thanks to the vehicles diverse nature, spacious interior and bold looks. All of that comes together to create one solid package.
Let us know what you think of the 2020 GMC Acadia AT4 in the comments! And of course, stay tuned for more reviews.
2020 GMC Acadia AT4 Price in UAE; Starting at AED 143,500.
Dubicars has used GMC Acadia for sale in Dubai, Sharjah and Abu Dhabi.