A stand out in the Mini lineup, the 2020 MINI Clubman JCW is an interesting one. It's not quite the biggest, and it's not the smallest in the MINI range, but with the Paceman discontinued, it's one of the quirkiness.
And with JCW additions, the MINI JCW Clubman 2020 is a pocket rocket with split rear doors making it the ideal hatchback for trips to the shop, dropping the kids off and hooning the corners on a track day.
But does it have what it takes to beat the rest?
For the 2020 model year, the Mini Clubman JCW has been slightly updated. You'd be forgiven if you couldn't tell exactly what's been updated as changes are subtle. Tweaks have been made to the grille, and Union Jack designed taillights.
The good
Doesn't feel as big to drive as it looks
Quirky interior features
Barn doors
The bad
Rear visibility
Uses an outdated version of iDrive
Wireless phone charger only fits smaller devices
As always, a huge shoutout it MINI UAE for providing the vehicle.
Want to make room in your garage? Sell your car with Dubicars faster!
Now that's all out of the way, let's see what the 2020 Mini JCW Clubman can do.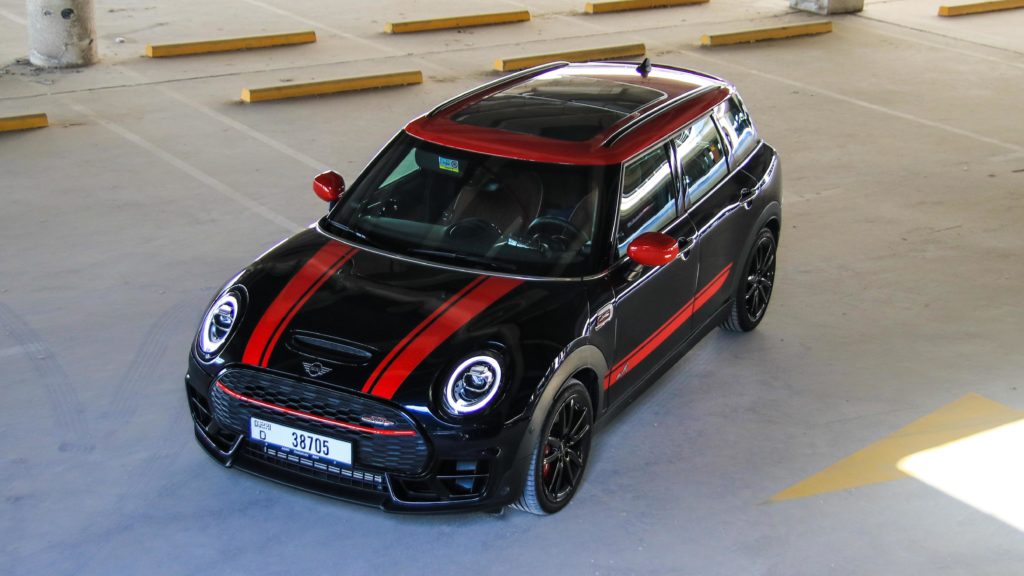 Driving the 2020 MINI Clubman JCW
Don't let its look fool you; the Clubman JCW packs quite a punch as it has the same engine and output as the BMW M135i. Bellowing beneath the bonnet is a 2.0-litre TwinTurbo cranking out a mammoth 302 hp.
That power is sent to all-four wheels via an 8-speed gearbox and provides a thrilling ride. The gearbox could do with some tweaking as shifts feel slow at times.
Equipped with three drive modes, Sport is what we found ourselves driving around in as it unleashes the Clubman JCW's true form; A feisty hot hatch with a loud burble emanating from the exhaust when idle.
Putting your foot flat on the ground launches you very first in a straight line and takes under 5 seconds to hit 100 km/h. Despite it's larger stature compared to smaller MINI's, the JCW Clubman holds its own in the corners.
Back to the drive modes. Mid is selected as default and supplies a decent amount of noise from the exhaust. Flip the toggle to Green Mode and it all changes. The exhaust mellows down as if it were an ordinary MINI and fuel consumption decreases, making it ideal for quieter parts of town.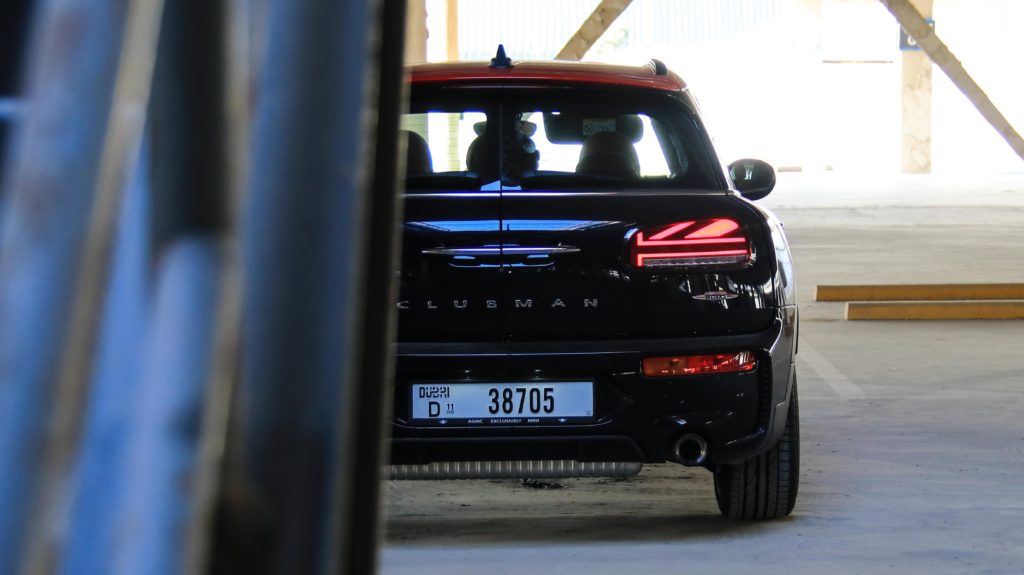 Outside the 2020 MINI Clubman JCW
MINI has always been one to stand out, and all these years later the classic styling remained relatively unchanged. The MINI Clubman also features the same charm as the rest of the lineup but has its own unique flair.
And by that, we mean the rear end of the vehicle.
The dual boot doors (barn doors) are useful for loading heavy items and unloading but aren't ideal to use when reverse parked in a busy mall parking lot. The doors do tend to swing out rapidly all by themselves, but you can make use of opening just one to grab the important items.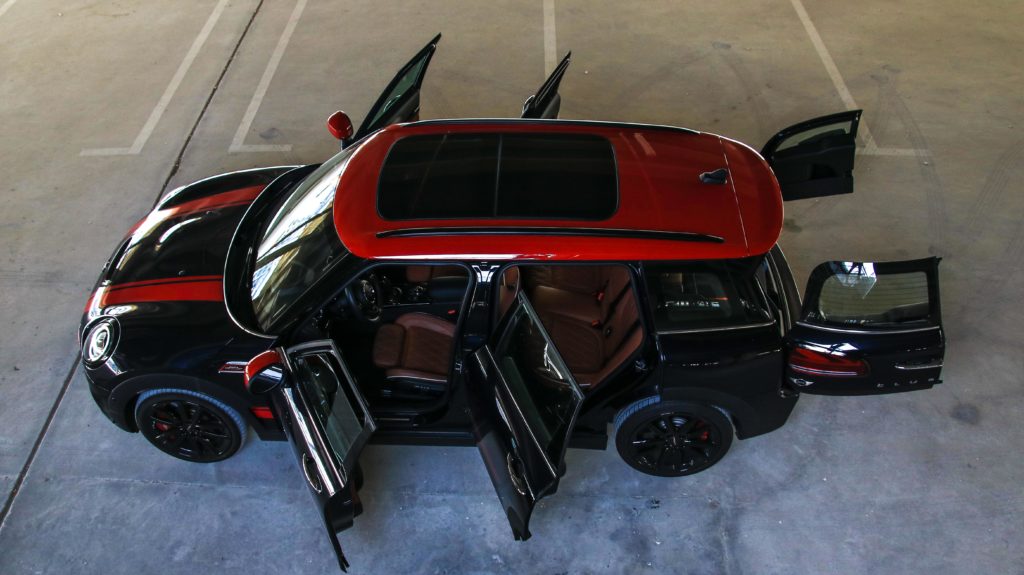 Inside the 2020 MINI Clubman JCW
Upfront, the seats are comfortable and sit quite low in the cabin, and that adds to the high-performance factor not to mention, they hold you well.
The second row is tight but does offer seating for three with decent headroom. Passengers squeezing their way into the seats have access to a separate sunroof and two USB-C inputs.
Instead of traditional buttons, MINI has continued on the quirkiness with toggle switches as if you're in mission control.
MINI's signature circular media interface is here to stay, and it doesn't seem as if they want to drop it any time soon. Over the years, it has evolved as those who have driven the older MINI's will remember this used to serve as the tachometer.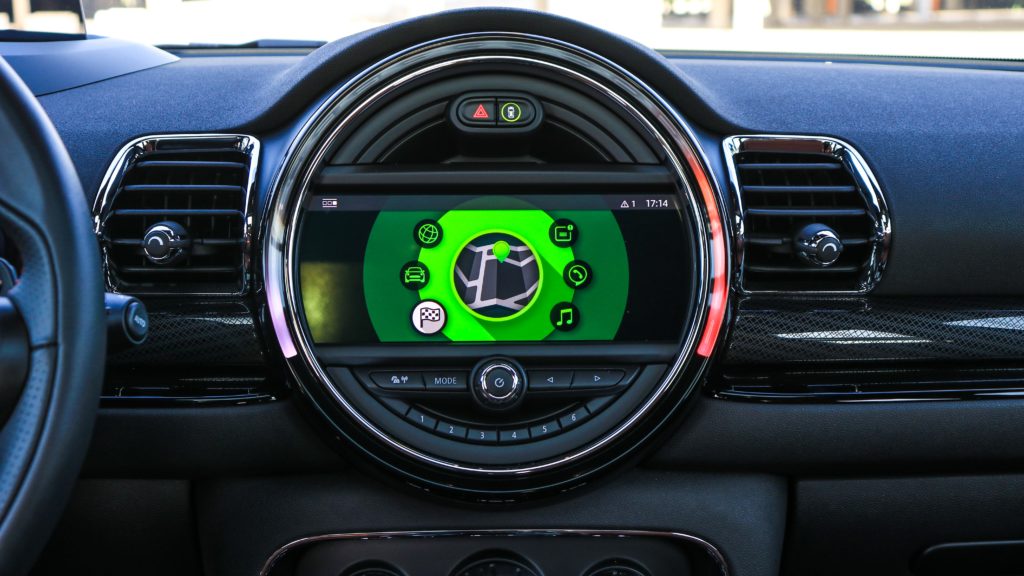 Safety and tech
Tech is kept simple and does what it needs to do. The touchscreen isn't as big as its rivals but is smooth and focussed for all rather than just the driver. The display is crisp and clear and is surrounded by a large LED circle which changes colour depending on the mode selected our what menu you are using.
But that's not all it does. It serves as an indication of volume for the sound system, an alternative to the parking sensors or even the tachometer which adds to the charm of the vehicle.
There's enough to keep you going on a longer journey.
On the safety front, there is certainly room for improvement, and it comes as a surprise that blind-spot monitoring isn't even an optional extra. On the plus side, there's an abundance of standard safety tech including automatic emergency braking.
Just don't fiddle around too much with the safety features as you may need to watch a Youtube video to figure out how to re-adjust what you just did.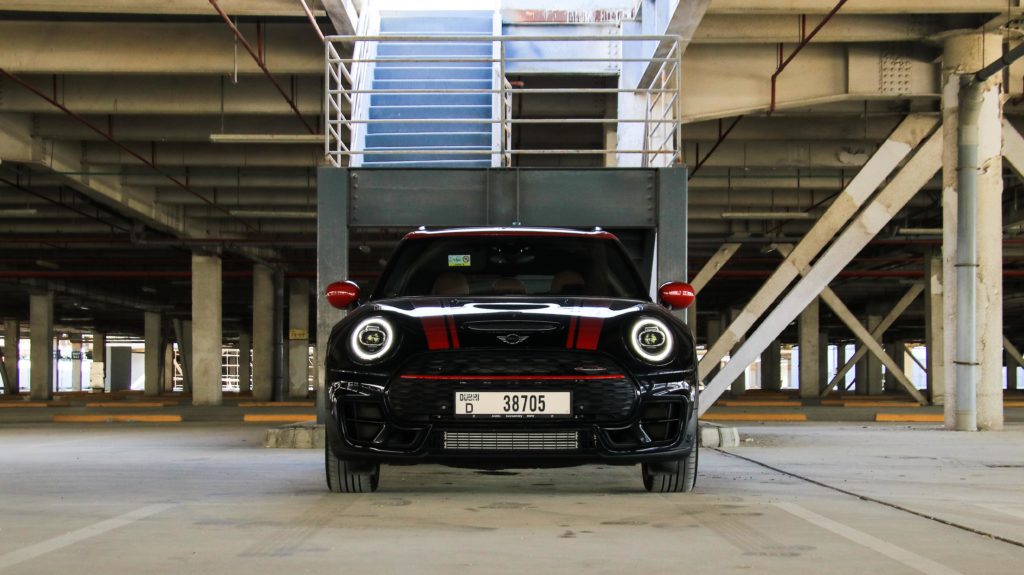 Final verdict
Driving the 2020 MINI Clubman JCW put a smile on our face, and it will put a smile on yours as well. It's quick and useful, and there's not much out there in terms of looks and quirkiness.
Rivals do offer more in terms of pricing and options, but you get a lot of vroom factor not to mention a hot hatch that stands out. And as it stands, the 2020 Mini Clubman JCW is the fastest and most potent to MINI to date that is not a limited edition.
We'd say it's one to add to the potential list of hot hatches to consider.
2020 Mini Cooper Clubman price in UAE; starting from AED 146,000
Dubicars has new MINI and used MINI for sale in Dubai, Sharjah, Abu Dhabi and Ajman.
Photo credit: Rajitha Perera (Dubicars)