| | |
| --- | --- |
| Starting price: | Starting from 311,870 USD (Approx. 1,145,545 AED) |
| Engine volume: | 6.2 litre |
| Cylinders: | 6 |
| Torque: | 575 Nm (estimated) |
| Horsepower: | 430 hp |
| 0 to 100 km/h: | Unknown |
| Maximum speed: | 150+ km/h (estimated) |
Remember Mercedes Benz's massive G63 6×6? Of course you do and you'll know that Mercedes ceased production of this epic vehicle and you really, really need one in your life. Even though it will cost an arm and a leg if not more seeing the current circumstances. Well if you're looking for a 6×6 and don't want to fork out the humongous amounts of cash for one, Kahn Designs has exactly what you're looking for!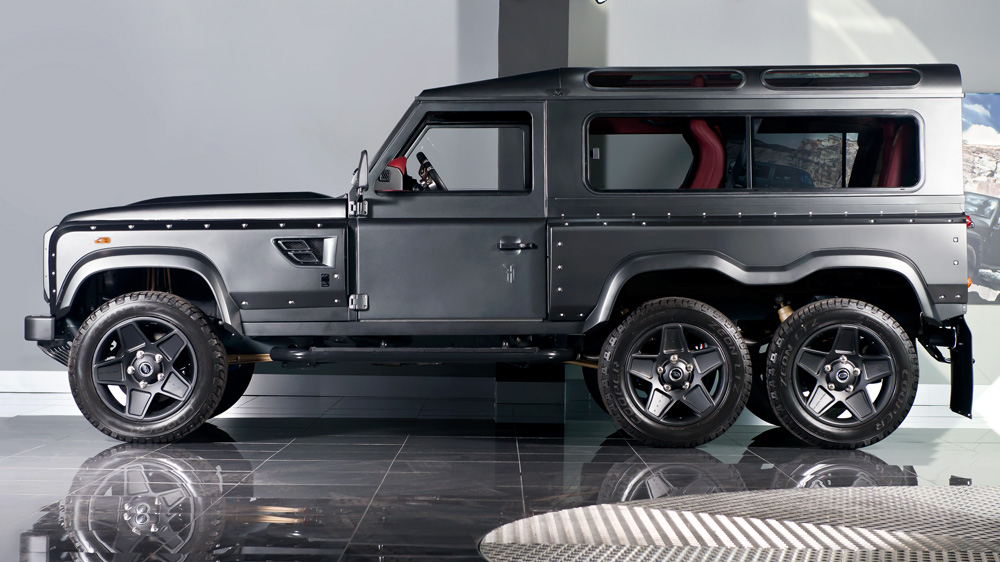 Officially known as the Kahn Flying Huntsman it's only going to cost 311,870 USD which is significantly less than a standard spec'd Mercedes-Benz 6×6. It's based off a Land Rover Defender 110 series and is powered by a V8 engine producing 430hp dropped in the front and sourced from General Motors. Power is sent to all six wheels via a six-speed automatic gearbox.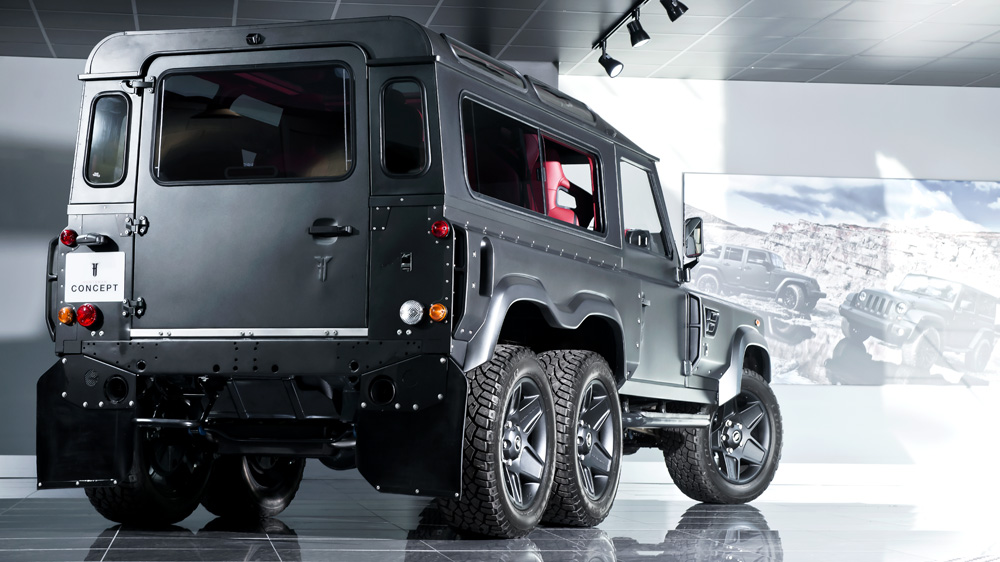 Compared to standard Land Rover Defenders, the nose has grown 40 cm, the sides have been extended on each side by 7.5 cm and at the rear an extension of 80 cm for a total increase of 120 cm to accommodate the third axle. Adding the extra axle was not the only addition. A sturdier chassis has replaced the standard one. Locking differentials, suspension and brakes have been upgraded. Kahn Design haven't drastically changed its appearance either, a new front end including grille, five-spoked rims covered in some off-road ready rubber and obviously extended rear glass panels. Interestingly an additional windshield wiper has been added to the front although we are not sure why.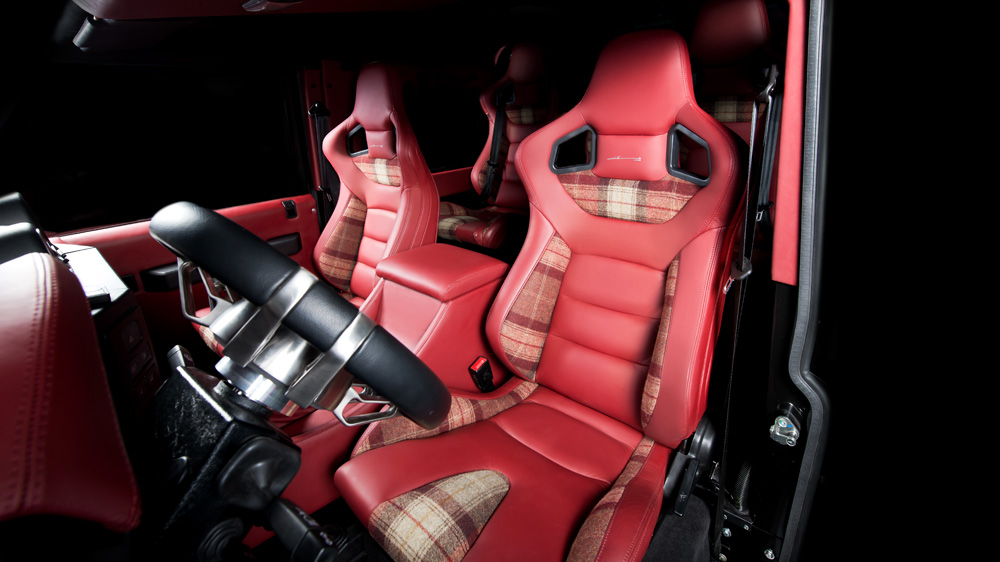 Inside, racing seats can be found at the front with additional leather seats behind to seat anywhere between four and six people. Typical features such as air-conditioning, Bluetooth pairing, panoramic sunroof, CD player with AUX and USB inputs plus a whole load more are included. With the price they are asking, there is a possibility of additional features such as cooled seats or a premium sound system.
How are the specs of the Flying Huntsman vs. G63 6×6?
| | | |
| --- | --- | --- |
| Cars | Flying Huntsman 6×6 | Mercedes-Benz G63 6×6 |
| Engine volume: |  6.2 Litre Petrol/V8 |  5.5 Litre petrol/V8 Twin Turbo |
| Horsepower: |  430 hp |  563 hp |
| Torque: |  575 Nm (estimated) |  759 Nm |
| Maximum speed: |  150+ km/h (estimated) |  160 km/h |
| 0 to 100 km/h: |  Unknown |  6 seconds |
| Drivetrain |  Six wheel drive |  Six wheel drive |
| Starting price ($) |  311,870 USD |  577,375 USD |
If you like the look of the 6×6 but don't want the sixth axle or the extra cabin space, a long-nose two-door version will be available and Kahn design have considered a pick-up for the future. If you're in a dangerous area, armour plating up to B7 ranking are available for all models.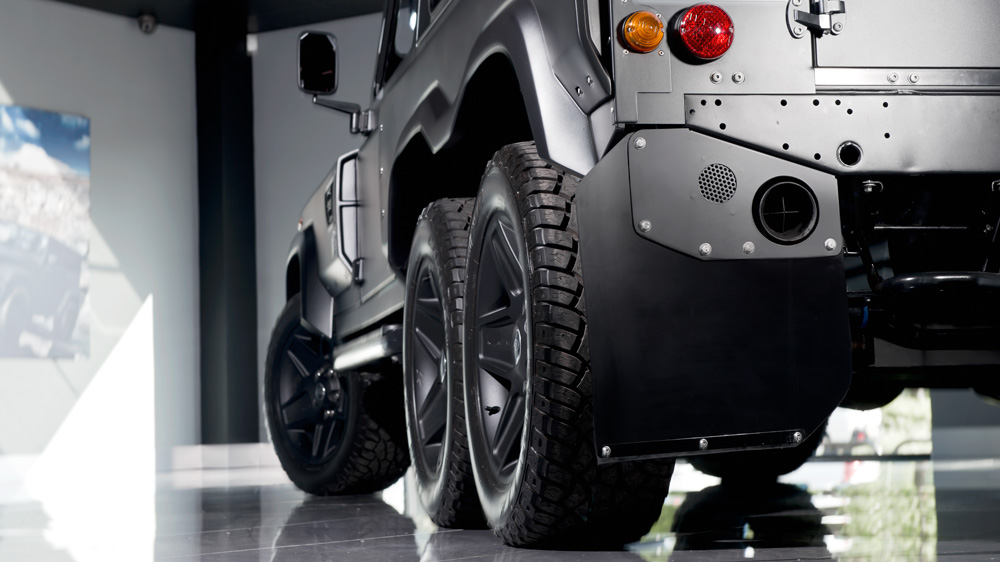 Speaking of 6×6 cars, did you know that 6 wheelers are not limited to SUV's? In 1977 a company know as Panther created the Panther 6 which had four wheels at the front, inspired by the Tyrell 34 Formula One car that also had six wheels. Also, since 2003, an Italian company, Covini have produced a six-wheeled super sports car known as the C6W and is capable of a top speed of 300 km/h! Apparently they make 6-8 cars a year still.
So far one Kahn's Flying Huntsman has been built and bears a badge stating its a prototype with mission 1 also engraved on the plaque which was its code name. Seeing as how popular the Mercedes G class 6×6 was in the UAE, I would not be surprised if a few Huntsmen 6×6 turn up here soon. Be sure to check dubicars.com to see if there is on for sale in the near future.