The United Arab Emirates is not only famous for tall skyscrapers, but the country is also synonymous when it comes to cars. In recent times, the Police have jumped on the bandwagon with a number of exotic, rare and fast cars.
Across the globe, the Dubai Police are known for their fleet, but did you know Abu Dhabi has a fair few cool cars too? Let's check them all out.
Abu Dhabi Police Squad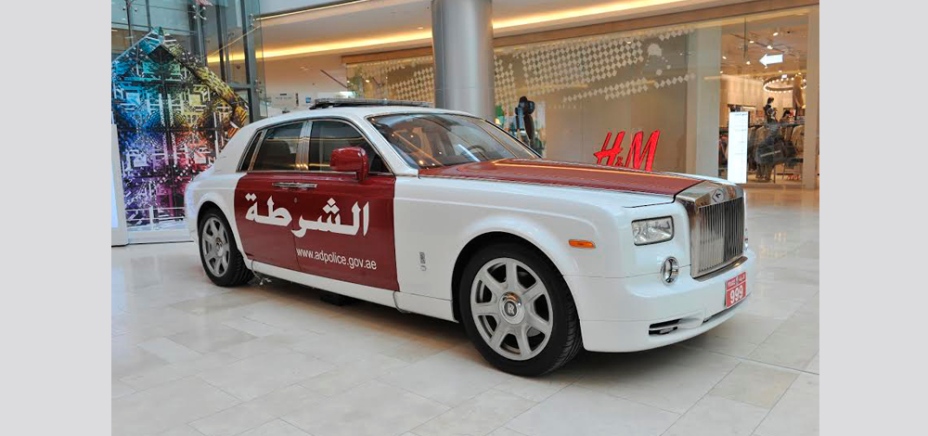 Rolls-Royce Phantom
Inducted to promote tourism in the UAE, the Rolls-Royce Phantom became the member of Abu Dhabi patrolling squad in March 2015. The 453 bhp 6.8-litre V12 luxury car can hit 100 km/h mark in 6.1 seconds with a top speed of 240 km/h.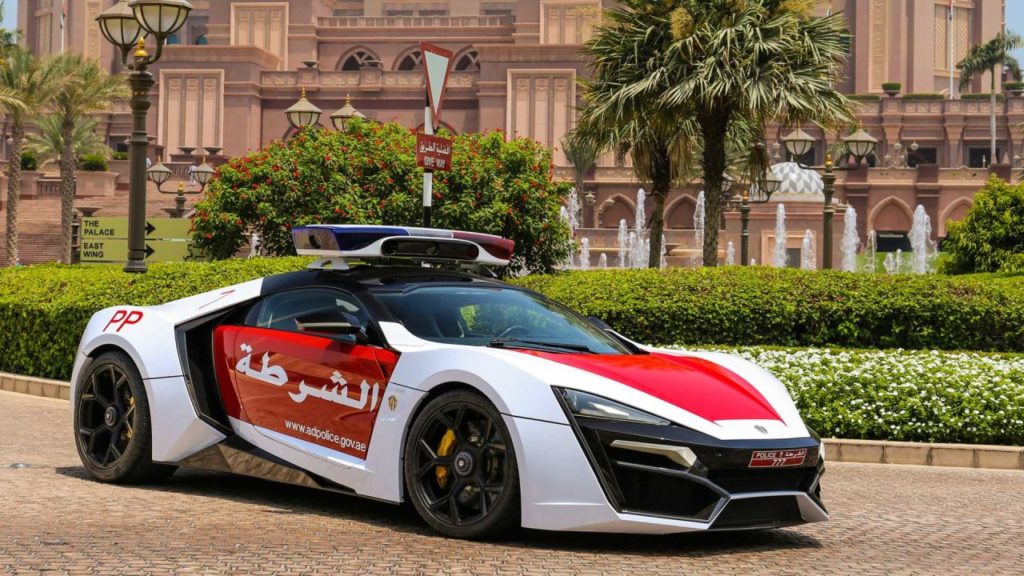 Lykan Hypersport
One of the world's most expensive and fastest supercars carrying a price tag of AED 12.5 million was recruited by the Abu Dhabi law enforcement agency last year. The Boxer Type Twin Turbocharged 3.7-litre flat-six Porsche engine is good for 770 hp and 960 Nm of torque paired with a six-speed sequential gearbox or seven-speed dual-clutch transmission enabling it to run from standstill to 100 km/h in merely 2.8 seconds and reach a mind-boggling speed of 385 km/h.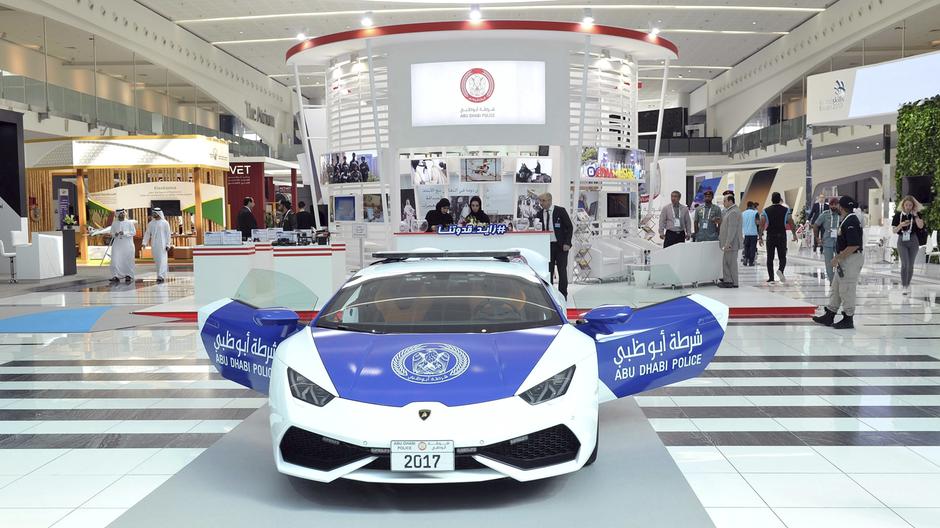 Lamborghini Huracan
Sporting a slightly different exterior, the Italian exotic was added to the fleet a few years ago.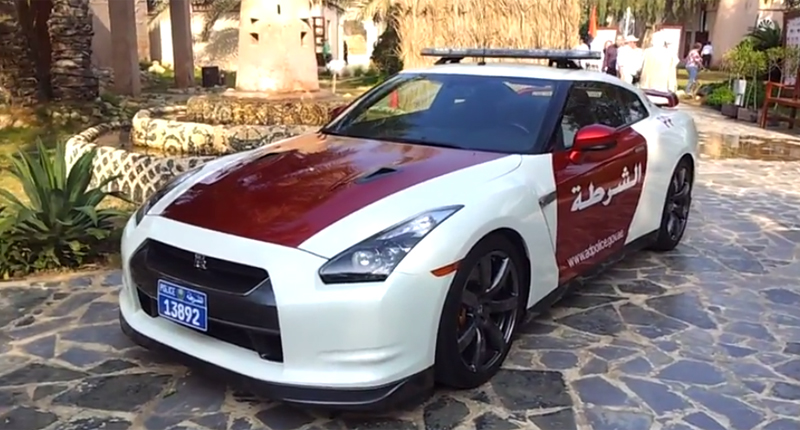 Nissan GT-R
The Nissan GT-R is one of the quickest cars in the Abu Dhabi police lineup. It has got a 3.8L V6 engine that can produce 542hp. The approximate price is DHS 500,000.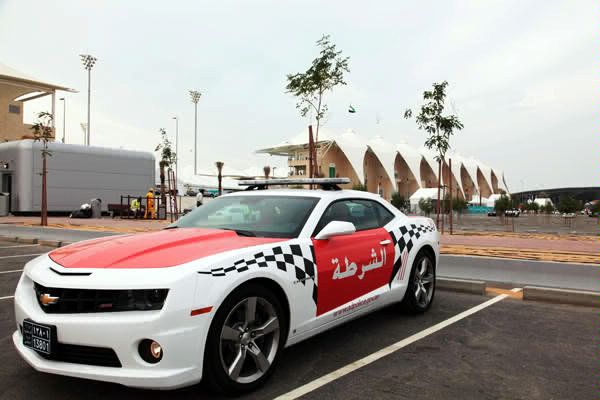 Chevrolet Camaro
Added to the fleet in 2009, the Chevrolet Camaro was the first American muscle car added for the public to gawk at. There are actually two of them with slightly different livery's.
A few years ago, Abu Dhabi police took the Camaro to the Yas Marina circuit drag strip for a special event.
Other cars in Abu Dhabi police's possession are Mercedes-Benz E-Class, Ford Taurus, VW Touareg and many more. There are also reports of a Harley Davidson and a Polaris bike too.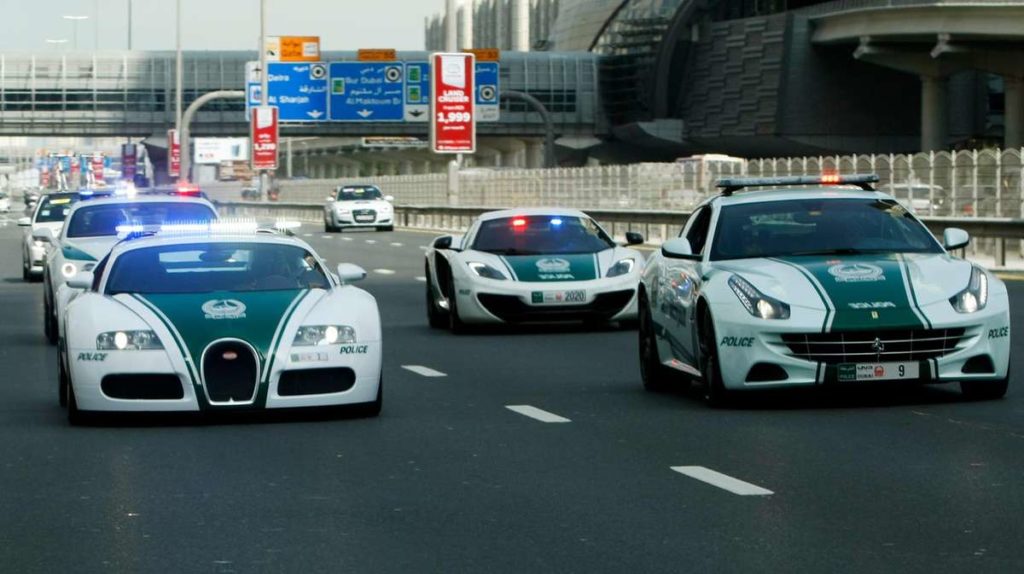 Dubai Police Squad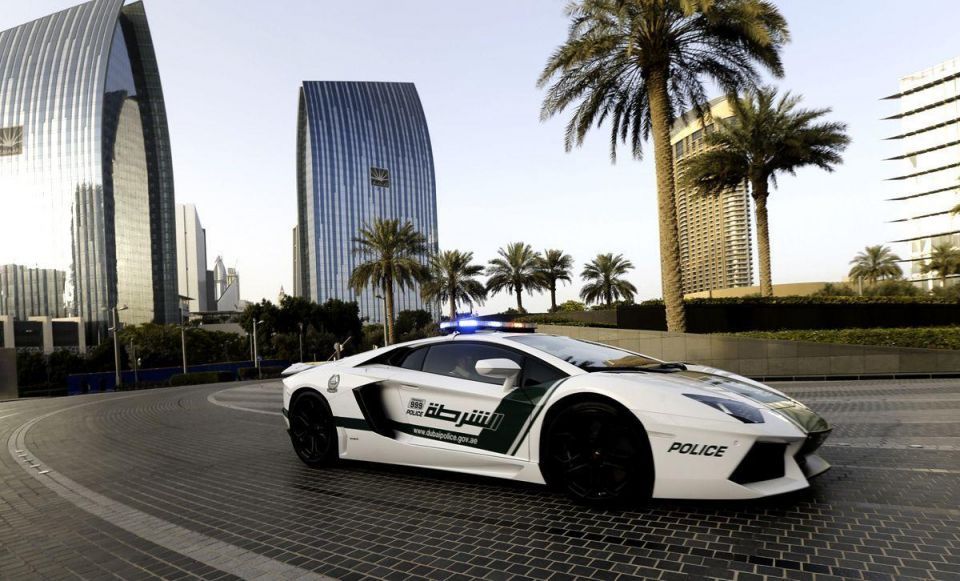 Lamborghini Aventador LP 700-4
The AED 2 million supercar was acquired by the department in April 2013 featuring a 700hp 6.5-litre V12 engine mounted on a four-wheel-drive system and connected via a seven-speed automatic transmission.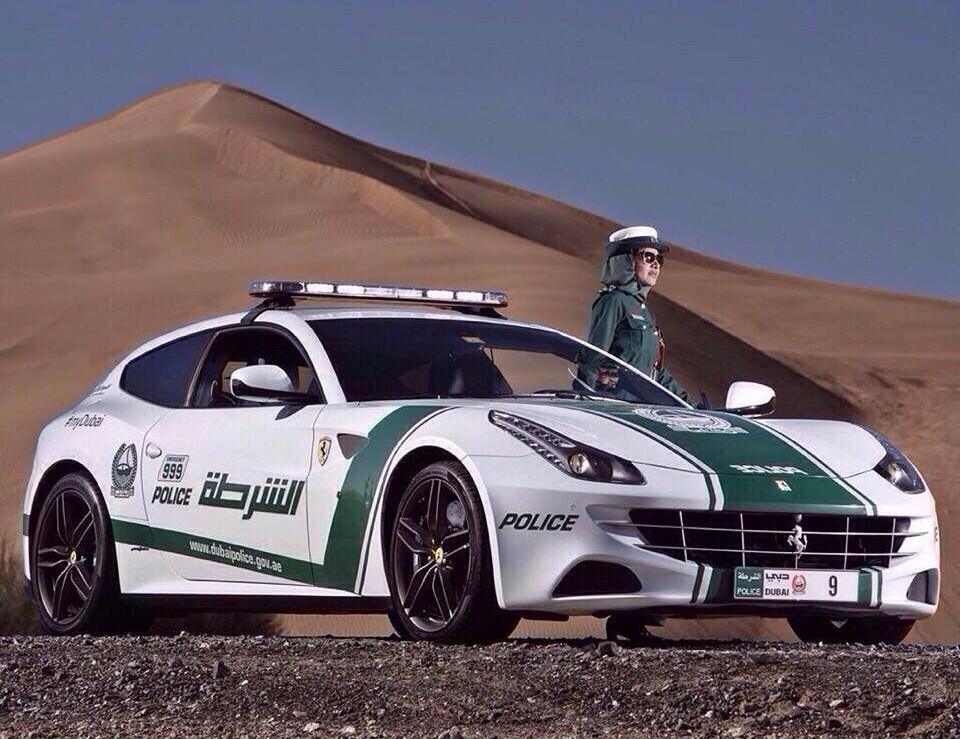 Ferrari FF
Priced at AED 1.2 million, the Ferrari Four boasts a 651 horsepower 6.3-litre V12 engine with four-wheel drive and seven-speed automatic transmission system.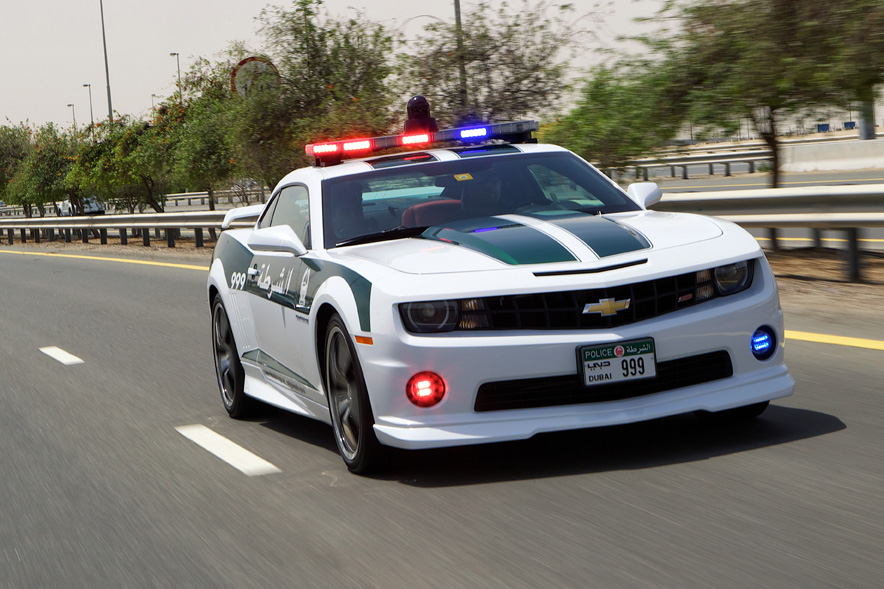 Chevrolet Camaro SS
You couldn't have a supercar fleet without some American muscle. Enlisted in the Dubai Police force is a Chevy Camaro SS with a 6.2-litre V8 engine offering 426 horsepower and 569 Nm of torque mated to a six-speed automatic transmission.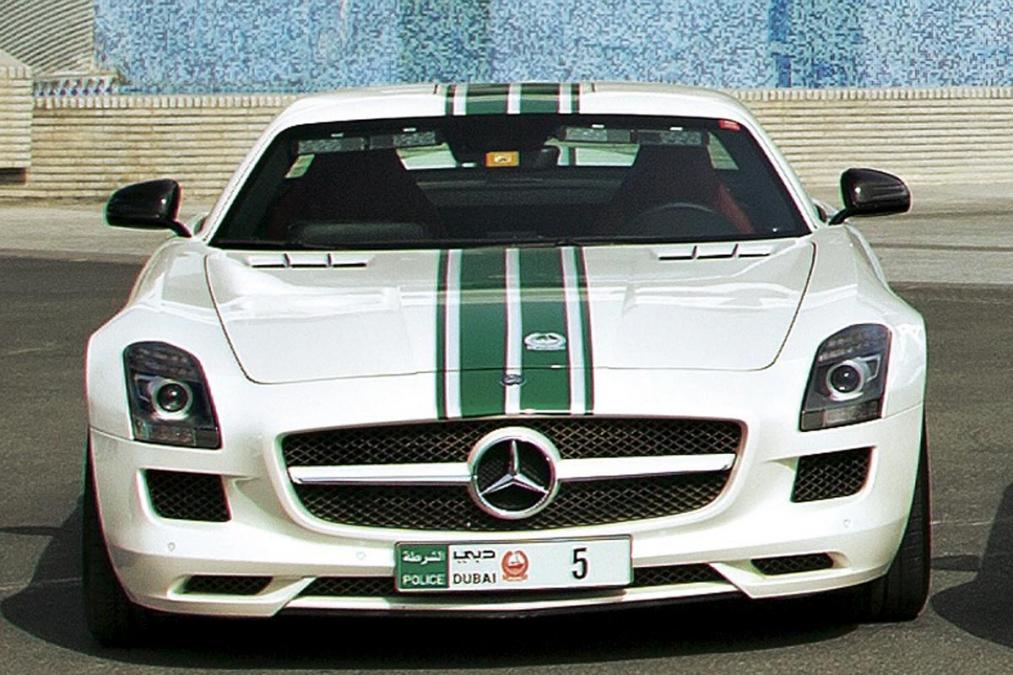 Mercedes-Benz SLS AMG
Enclosing a 591 horsepower 6.2-litre V8 engine with rear-wheel drive and seven-speed automatic transmission, the Mercedes SLS AMG costed the department more than AED 1 million.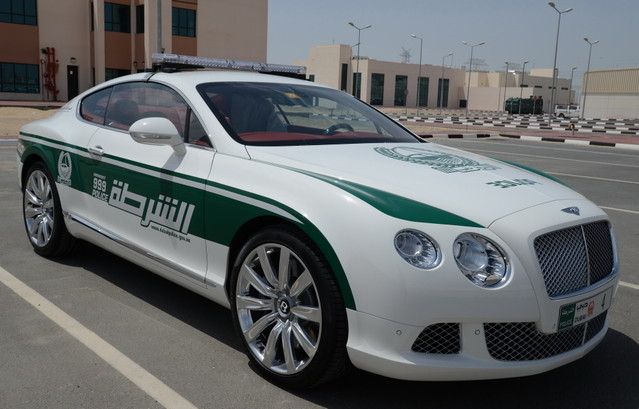 Bentley Continental GT
With a top speed of 318 km/h, the Continental GT is a super luxury car featuring a 6.0-litre V12 engine with four-wheel drive and eight-speed automatic transmission.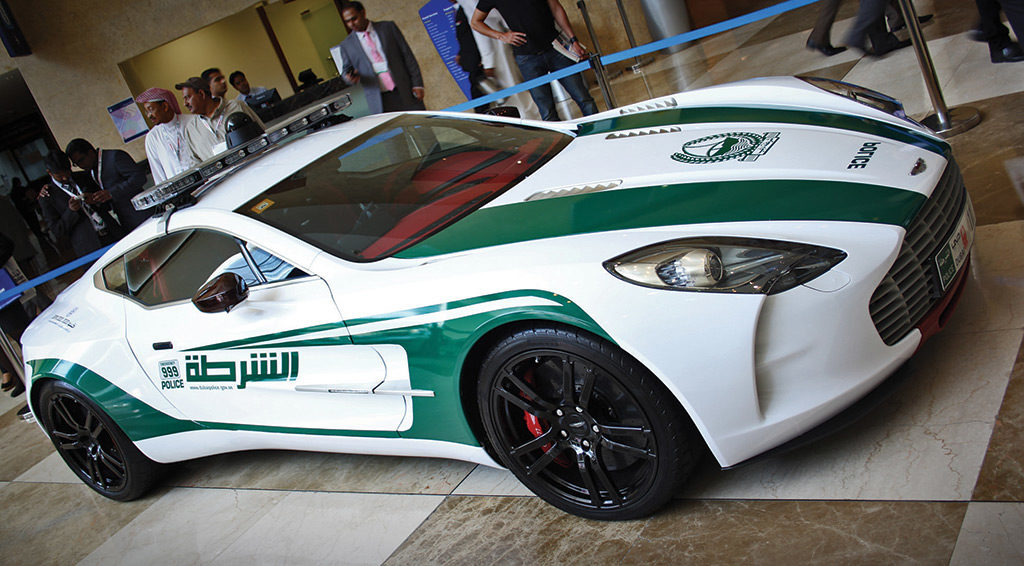 Aston Martin One-77
One of the fastest and most expensive supercars in the Dubai Police patrol fleet, the Aston Martin One-77 has a 750 horsepower 7.3-litre V12 engine. It was inducted in May 2013.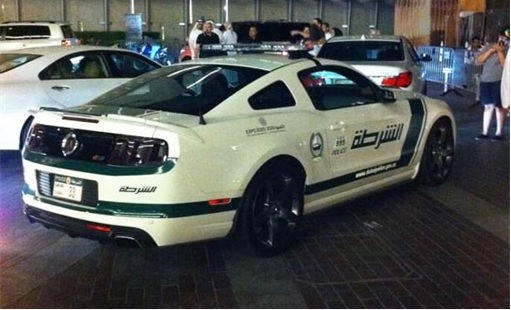 Ford Mustang GT
The Ford Mustang GT is not that fastest as other supercars in the list, but it surely is one of the best muscle cars in the world. The one included in the patrolling fleet has a 444 horsepower 5.5 litre V8 turbocharged engine that can go as fast as 240 km/h.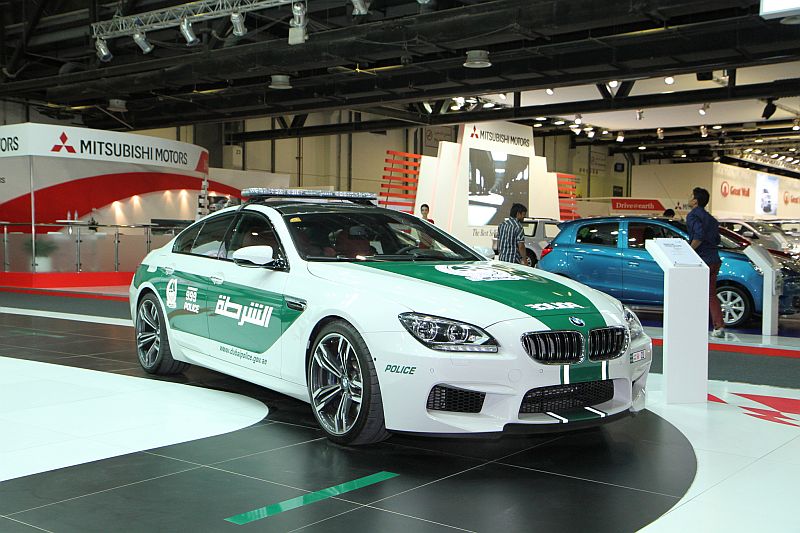 BMW M6 Gran Coupe
The BMW M6 Gran Coupe joined the Dubai Police fleet in 2013. The beauty retains a 560 horsepower 4.4-litre V8 engine with rear-wheel drive and seven-speed automatic transmission.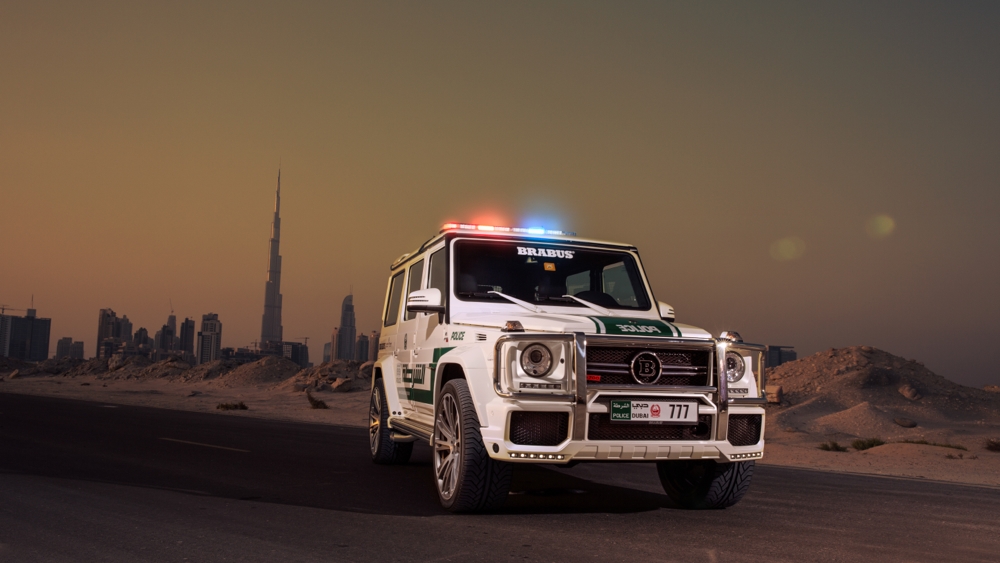 Brabus B63 S 700 Widestar
The Mercedes Brabus B63 S 700 Wildstar that was priced around AED 800,000 during the time of its purchase. The five-door wagon is not for high-speed pursuits but can go as fast as 210 km/h using the 5.5-litre V8 engine.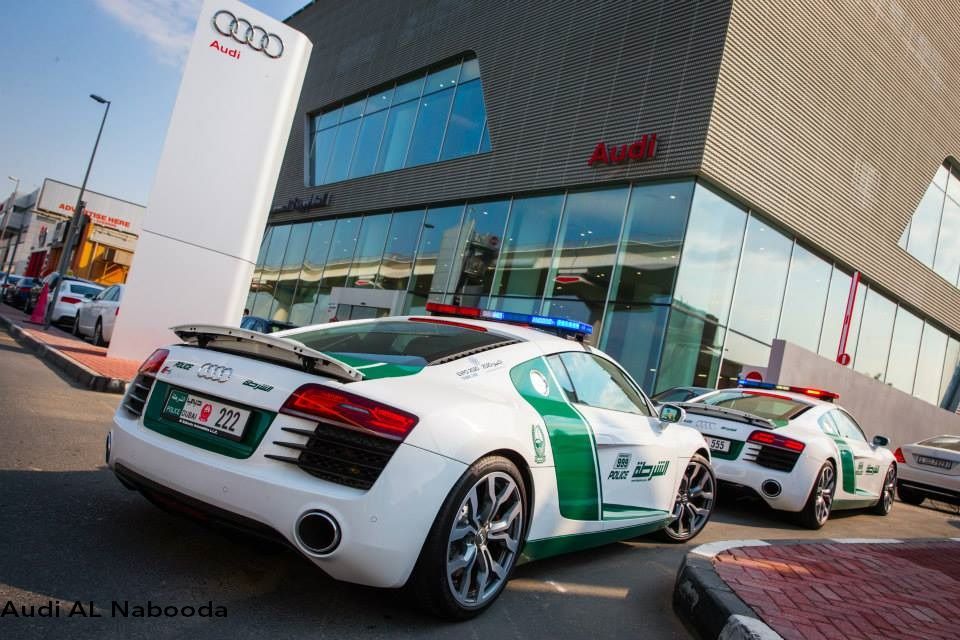 Audi R8
The 2014 Audi R8 was added to the fleet in November 2013 for AED 550,000. The 5.2-litre V10 engine is good for 525hp to take it to 316 km/h.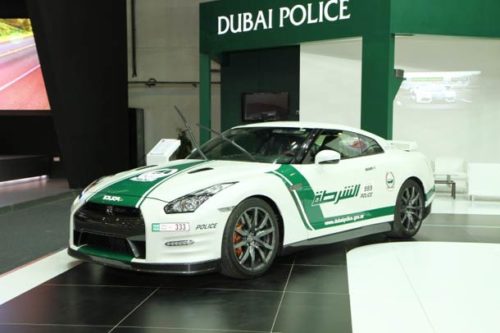 Nissan GT-R
The best from Nissan sports car lineup, the Nissan GT-R was recruited by Police department for around AED 500,000. The 3.8-litre V6 engine yields a mighty horsepower figure of 542.
Mercedes-Benz SL 63 AMG
The Mercedes SL 63 AMG also joined the league of supercars in 2013. The 5.5L V8 bi-turbo engine gives exceptional performance and can reach to 300 km/h maximum speed.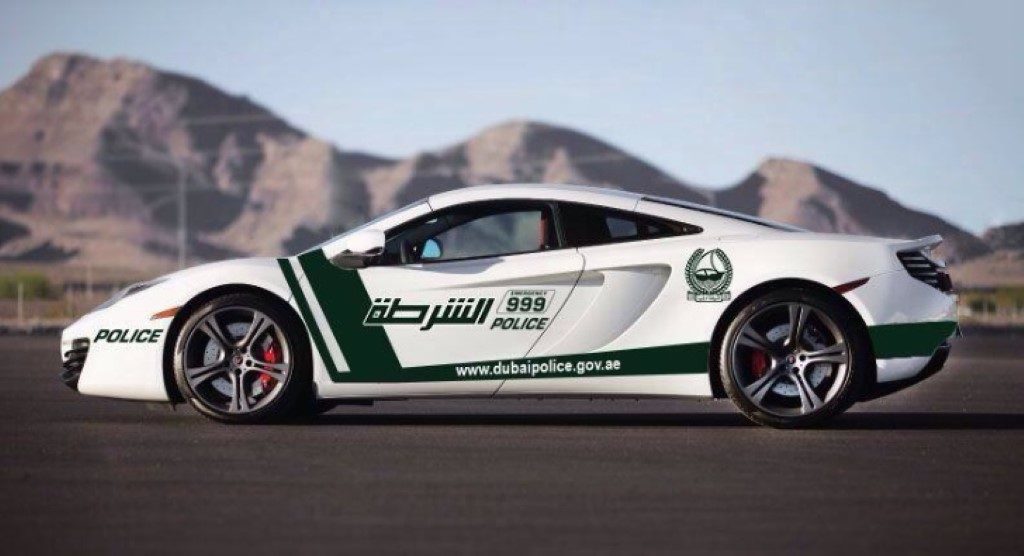 McLaren MP4-12C
One of the best from McLaren supercars, the MP4-12C joined the fleet in the last quarter of 2013 and benefits from a V8 twin-turbo engine. There's a possibility that the Dubai Police may have traded the MP4-12C in favour of a newer model.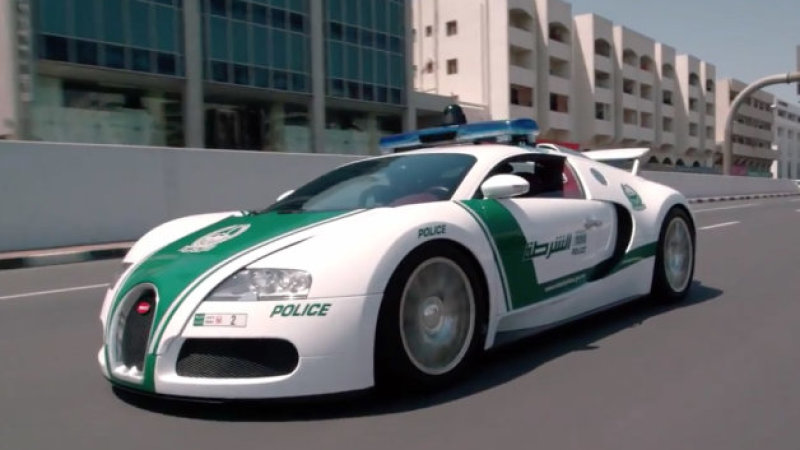 Bugatti Veyron
Once holding the record for world's fastest car, the 1,000 hp Veyron is one of the highlights of the fleet. Boasting a quad-turbo W16 petrol engine, the Bugatti grabs the attention of everyone.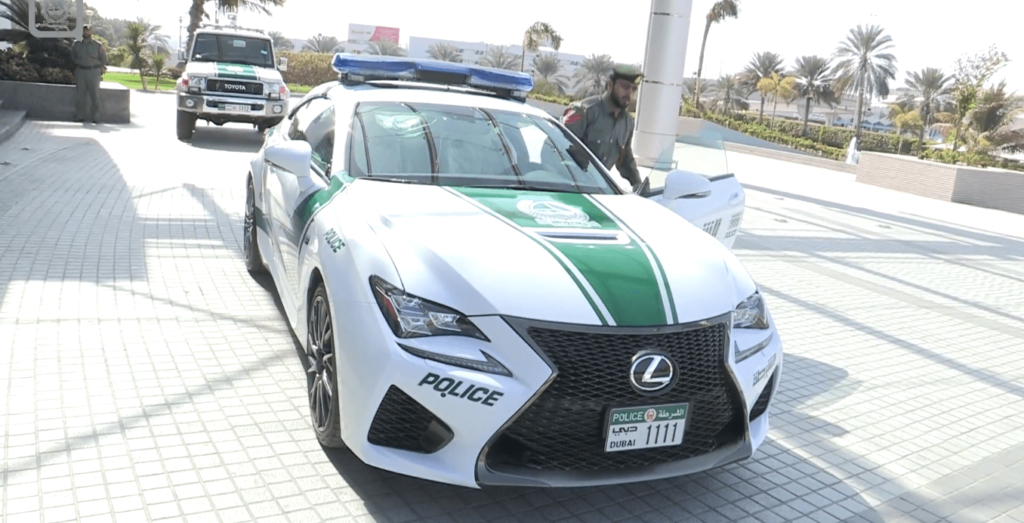 Lexus RC F
An excellent performance coupe from Lexus found its way to the Dubai Police garage at the start of 2015. The car is powered by a 5-litre V8 to pump out 467 horsepower.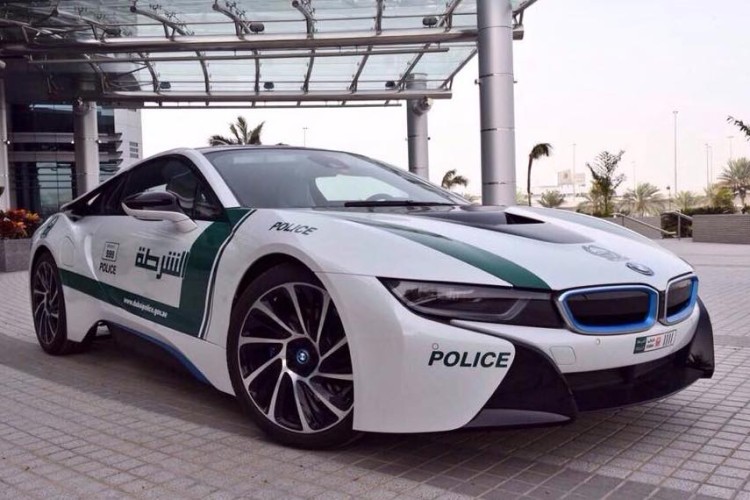 BMW i8
The BMW i8 made its way to the fleet in 2015. The plug-in hybrid sports car from the German automaker features a 1.5-litre turbocharged three-cylinder engine along with 7.1 kWh lithium-ion battery and electric motor. The car can sprint from 0-100km/h in just 4.4 seconds.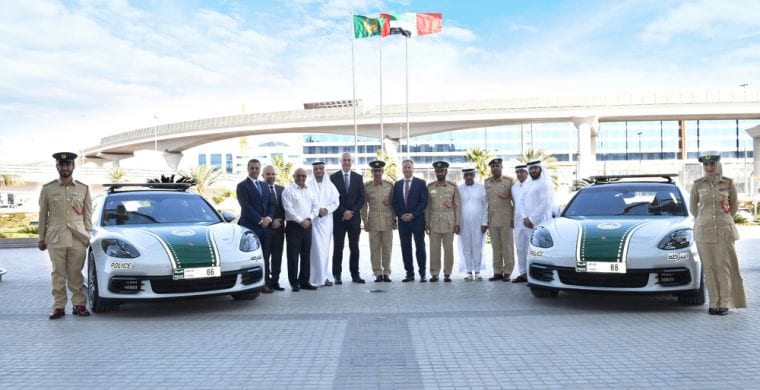 Porsche Panamera S E-Hybrids
After its first hybrid induction, the department welcomed three Porsche Panamera S E-Hybrids in the fleet. The technically advanced hybrid has a 3.0-litre supercharged V6 petrol engine that generates 416 hp and 435lb ft of torque with 0 to 100 km/h sprint in 5.5 secs.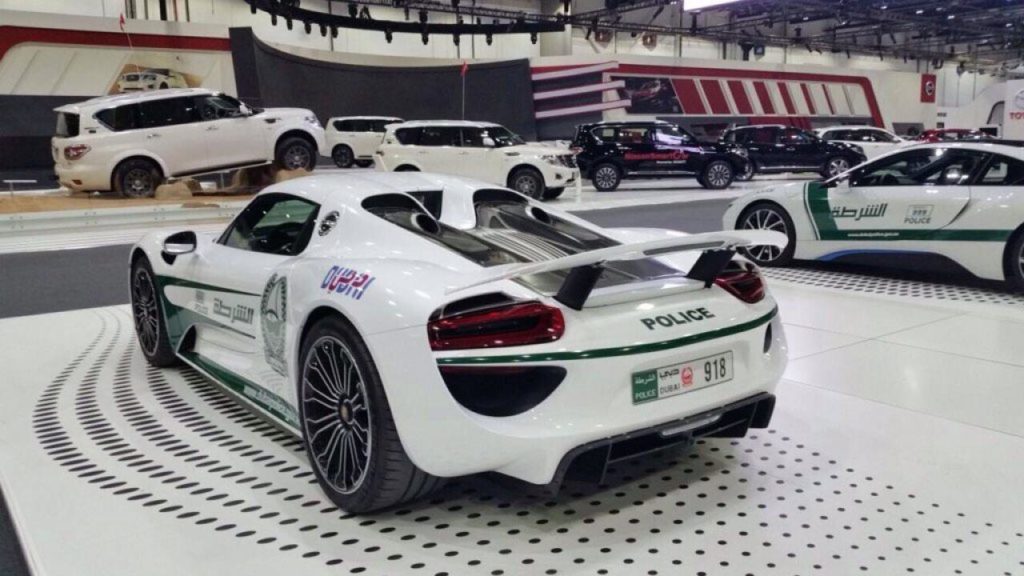 Porsche 918 Spyder Hybrid
In November 2015, the law enforcement agency added yet another hybrid car to patrol tourist's spots in Dubai. The Porsche 911 Spyder hybrid plays host to a 4.6-litre V-8 engine mated to hybrid electric drive system to churn out 887hp.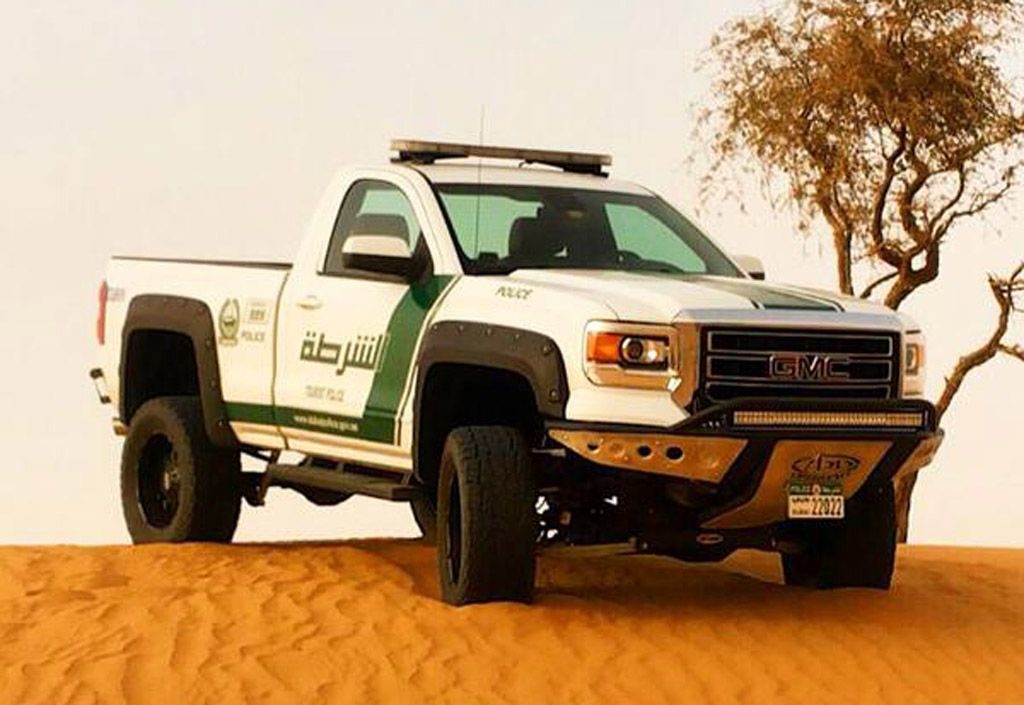 GMC Sierra Pickup Truck
Perfect for offroading pursuits, the agency inducted it in May 2015. It is one of the best options for patrolling around the desert and rocky areas and the V8 certainly helps.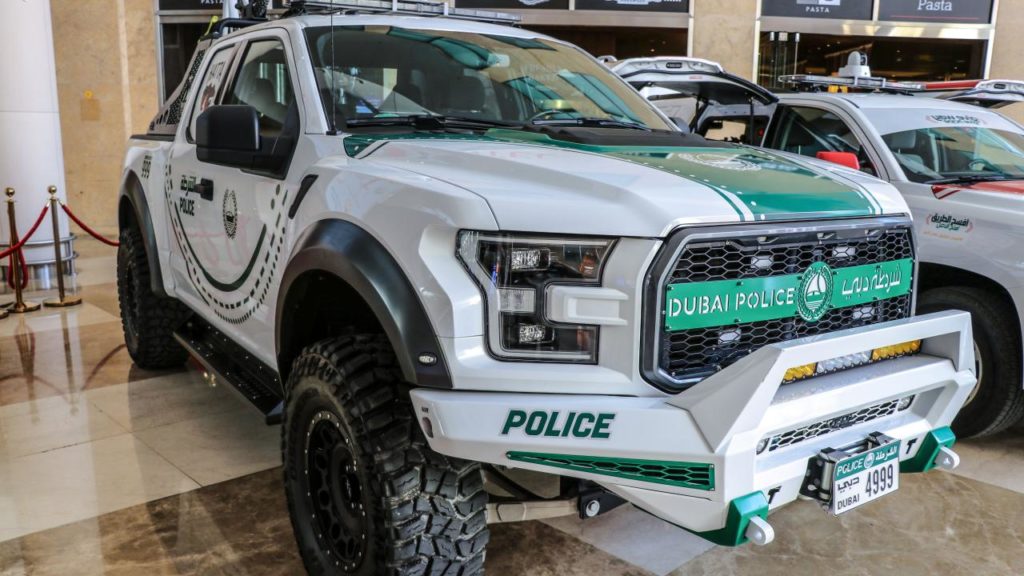 Ford Raptor
Commissioned for use in the rocky mountains, this sporty pickup joined the force not to long ago and has been a hit for tourists and residents alike. It's even got a bike rack for two bikes.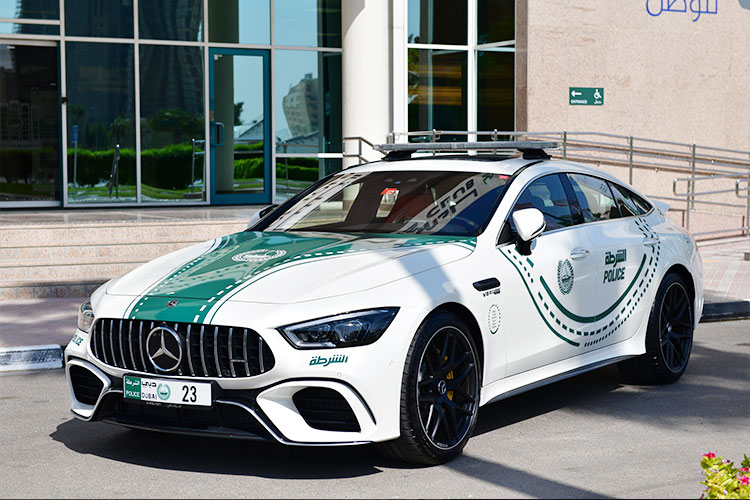 Mercedes-AMG GT 63 S
Dubai Police sure do love their German cars. In late 2019, the latest super saloon joined the Dubai Police force, and probably one of the only sports cars added that is practical.
Apart from these, the department has SUVs like Toyota Land Cruiser, Nissan Xterra, Kia Mohave along with other luxury cars such as Hyundai Genesis, Dodge Charger, Ford Explorer and Dodge Durango. Living here you would have also seen Segway SR-3, Renault Twizy electric car and Quadski.
This is the first official video from Dubai Police concerning their supercars, displaying how suitably equipped they are for high-speed chases.
What's the verdict
Comparing Abu Dhabi and Dubai Police cars, we can see Dubai Police have the volume and a more luxurious and faster fleet even though they are missing the lykan.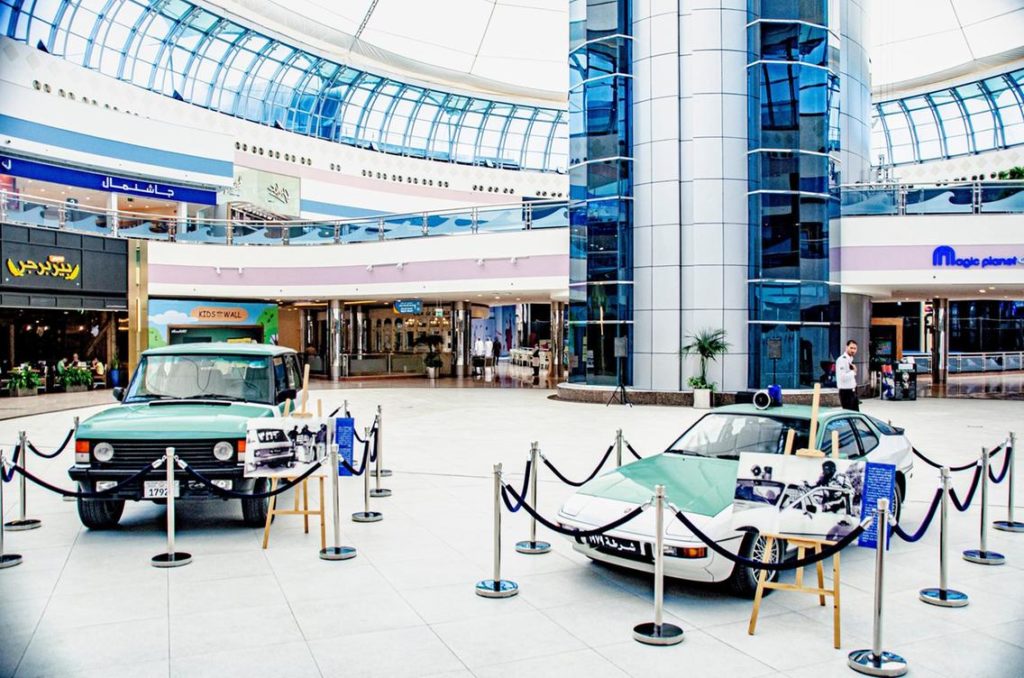 But Abu Dhabi has one up on Dubai when it comes to preservation as they still have two classic's in their fleet. A gorgeous Porsche 924 and a Range Rover have been taken care of by the Police.
We can't decide a clear winner, so let us know in the comments below which police force has the better cars.