A year or so ago, Infiniti chucked around and idea for an upmarket, sporty version of the Q50 sedan alongside regular versions. Dubbed "Infiniti Q50 Eau Rouge" named after one of the most epic corners a race track can have at Spa Francachomps in Belgium. Sporting a spectacular coat of red paint and quite a spectacular engine, it was one awesome concept we all wish to see on the roads.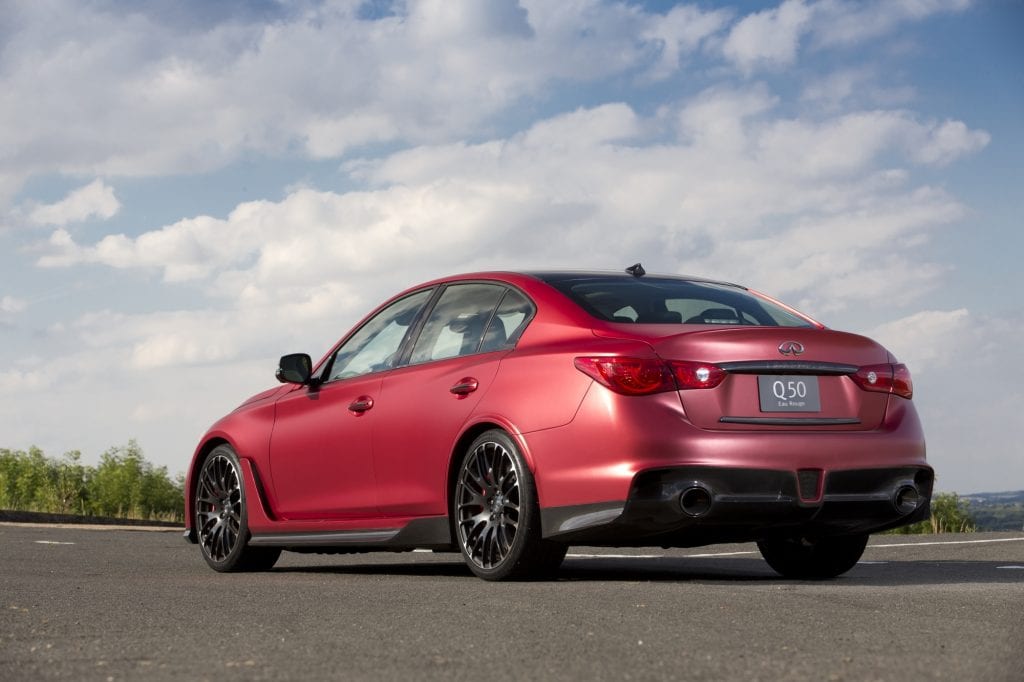 Originally unveiled in 2013 in Detroit, onlookers were taken by surprise seeing an executive vehicle in such a finish. Showing up again in Geneva later in the year, fans were anxious to see if Infiniti would announce a release date, but lips were sealed. It all went a bit quiet until mid 2015 when reports cited that the Japanese luxury manufacturer had "axed" the project causing many hearts to break. Now though, a glimmer of light is glistening off that matte red paintwork.
What's all the fuss about though, you may be wondering? It's just a feisty paint job and some extra holes in the bonnet. It's much more than that, yes it looks very similar to standard models, however when the bonnet is popped up it all makes sense. There are some other modifications that set Eau Rouge apart from other Q50's such as carbon fibre trim around the exterior, extra cuts in the body work to aid airflow and more aggressive body parts. Then there are those beautiful grey coated rims covered in performance rubber.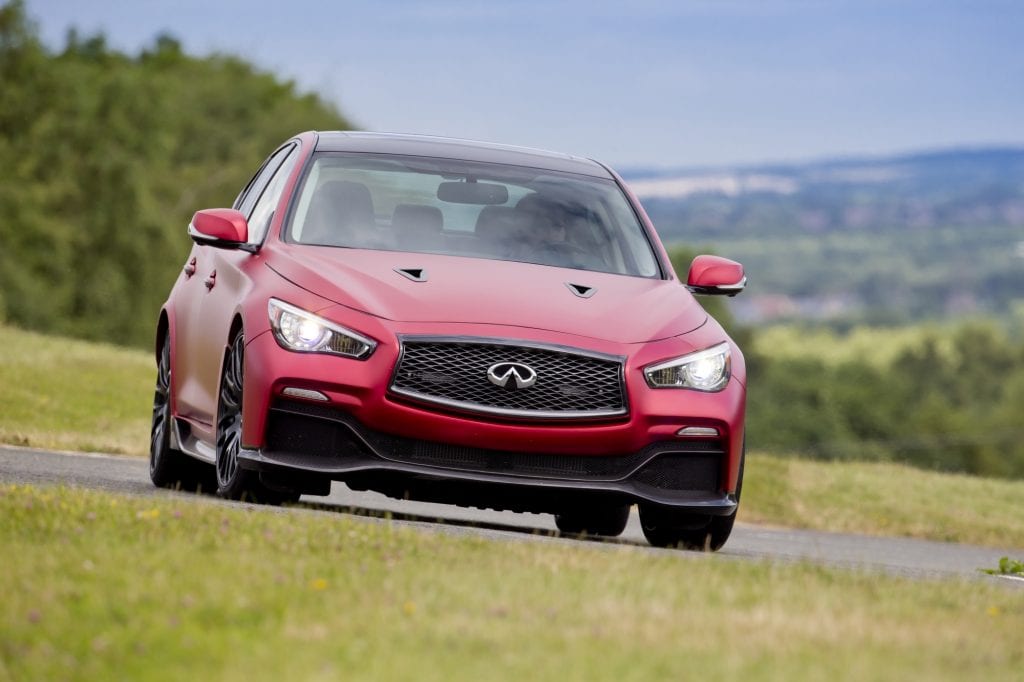 Top of the range Infiniti Q50 sedans are powered by 3.7-litre V6 petrol engine pumping out 326 horsepower, but the Eau Rouge is fitted with a fire-breathing 3.8-litre twin-turbo engine borrowed from Nissan's GTR, encased in lightweight carbon fibre for that ultra sporty appeal. With an output of over 500 horsepower, sub-four second 0-100 km/h time and a top speed exceeding 250 km/h, heads will certainly turn at the lights and rotate as it zips past, not to mention quite the desirable luxury sedan to compete with the likes of BMW and Mercedes.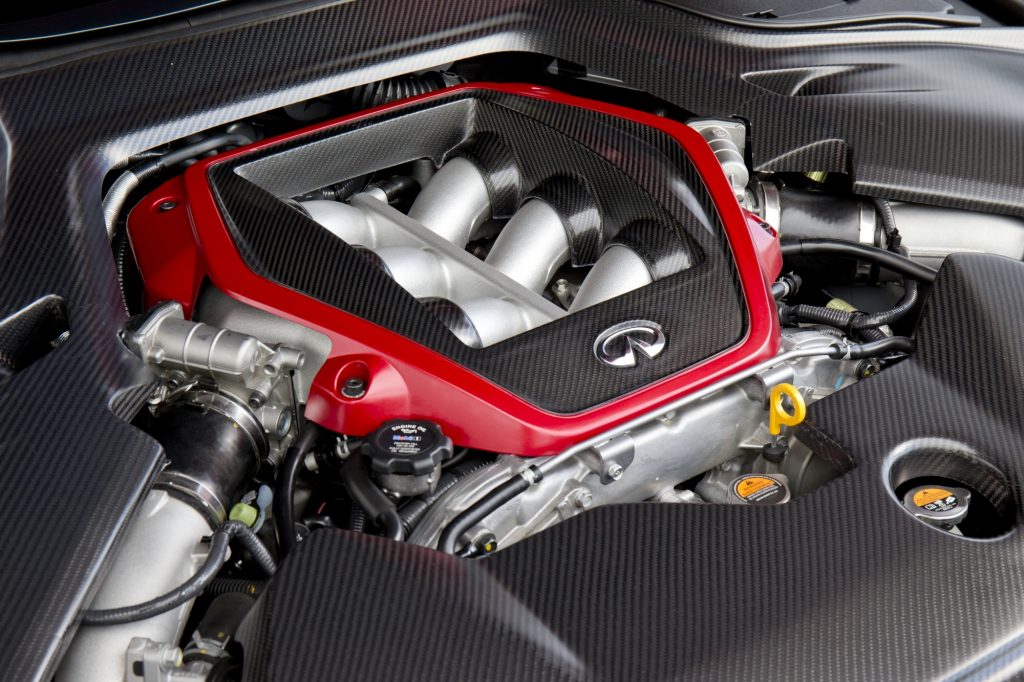 Inside, it's like any other luxury vehicle, leather seats with heating and cooling options, multi-way powered seats, large touch screen interface for media options plus navigation, space for five occupants, sunroof, keyless start, media input, Bluetooth pairing and much more. It's all still in the concept stages for now, some alterations are expected.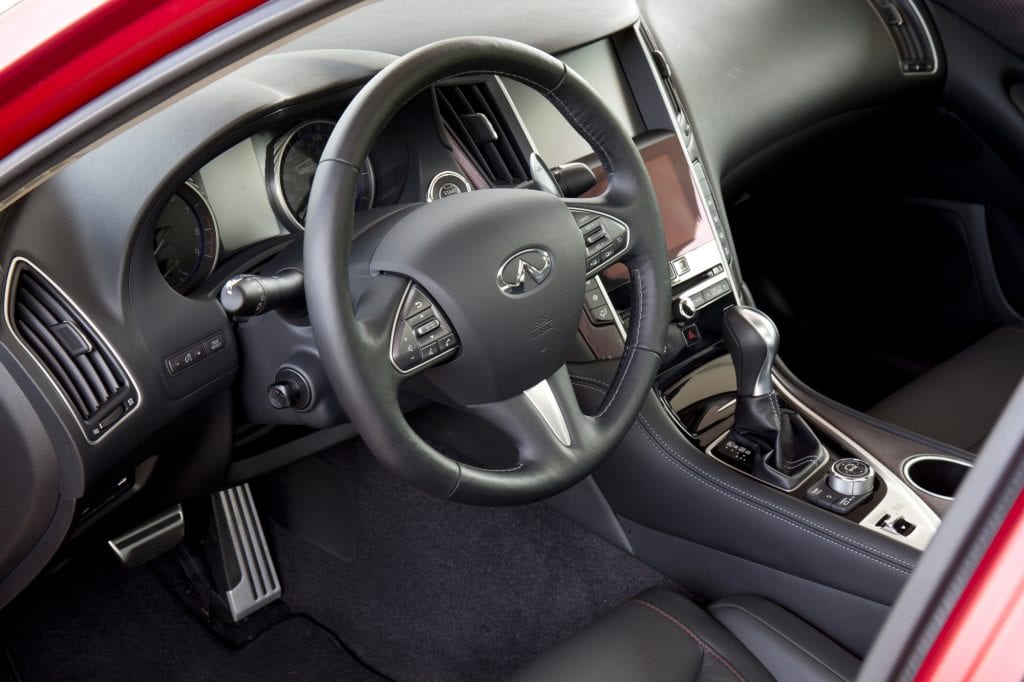 High-end luxury performance manufacturers do have some time to gather their thoughts as currently Infiniti have set their sights on launching the Q30, QX30 and Q60. Infiniti should really go ahead and put this into production as performance vehicles are all the rage right now especially if they can seat more than two people. Maybe some more sporty bits and pieces such as a larger rear spoiler to show it means business but there's plenty of time to sort that out.
Infiniti Q50 Eau Rouge vehicles are still unconfirmed as of now, we certainly hope it will be available in the near future. Interested in an Infiniti Q50? Check out all new Infiniti Q50 and used Infiniti Q50 for sale in Dubai, and Sharjah.