Everyone and their dog knows about the Hellcat series of Dodge Challenger's, Charger's and soon to be Jeep Grand Cherokee's. In case you don't know about them, they are standard coupes and sedans with a ridiculous amount of horsepower (707 hp) underneath the bonnet. There may be another SUV to join in on the monumental amount of power.
News about a Jeep Grand Cherokee Hellcat was thrown around a bunch until someone finally spilled the beans earlier in the year. Thousands rejoiced as it was seen as a cheaper alternative to Range Rover's Sport SVR. To some, it may not have been their cup of tea and were hoping for a more off-road Hellcat variant.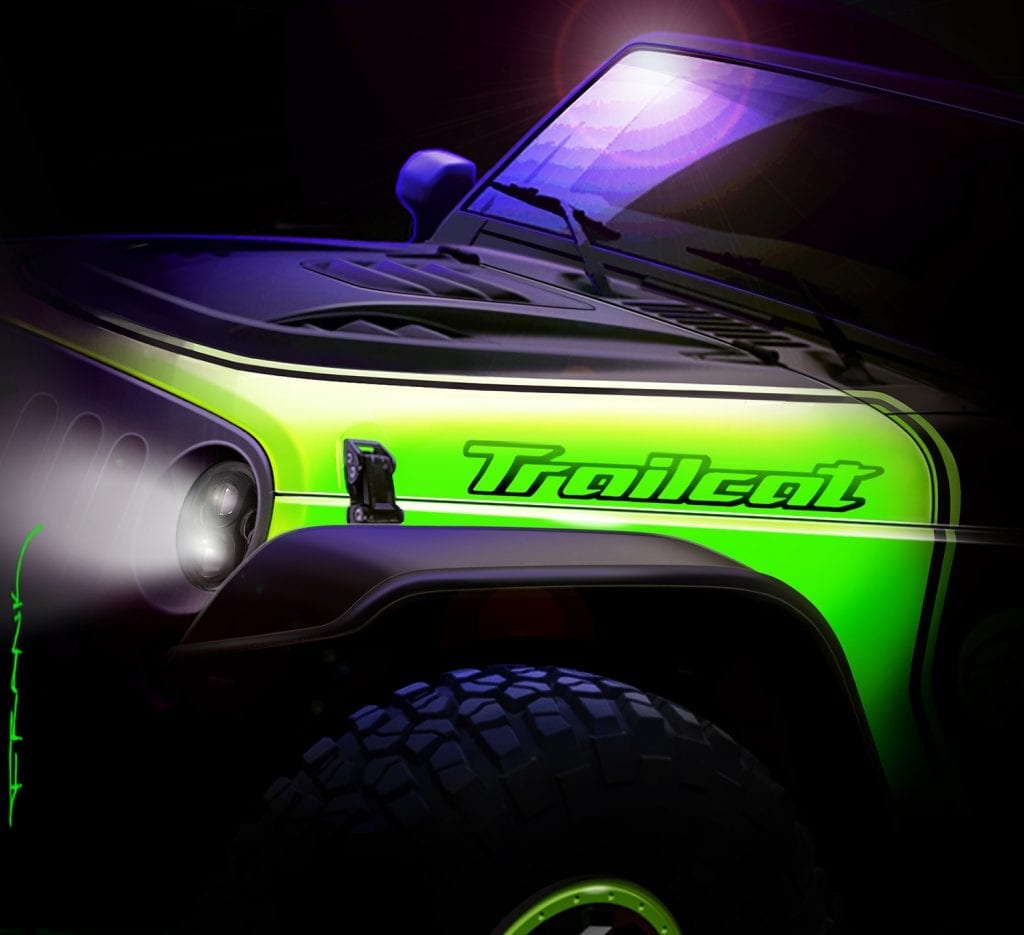 For those like-minded people, your wish may become a reality as Jeep have teased the 'Trailcat'. In all fairness, this could just be another standard Wrangler to join in alongside other models. However, one teased image of it clearly shows the bonnet with lots of extra cuts for added ventilation which could only mean one thing. A larger engine.
Seeing as it has a similar word of the feline variety in its name and it sports the hellcat logo on either side, it serves at a possible indication of a powerful 6.2 litre supercharged V8 petrol motor hidden underneath, which of course would pump out 707 horsepower.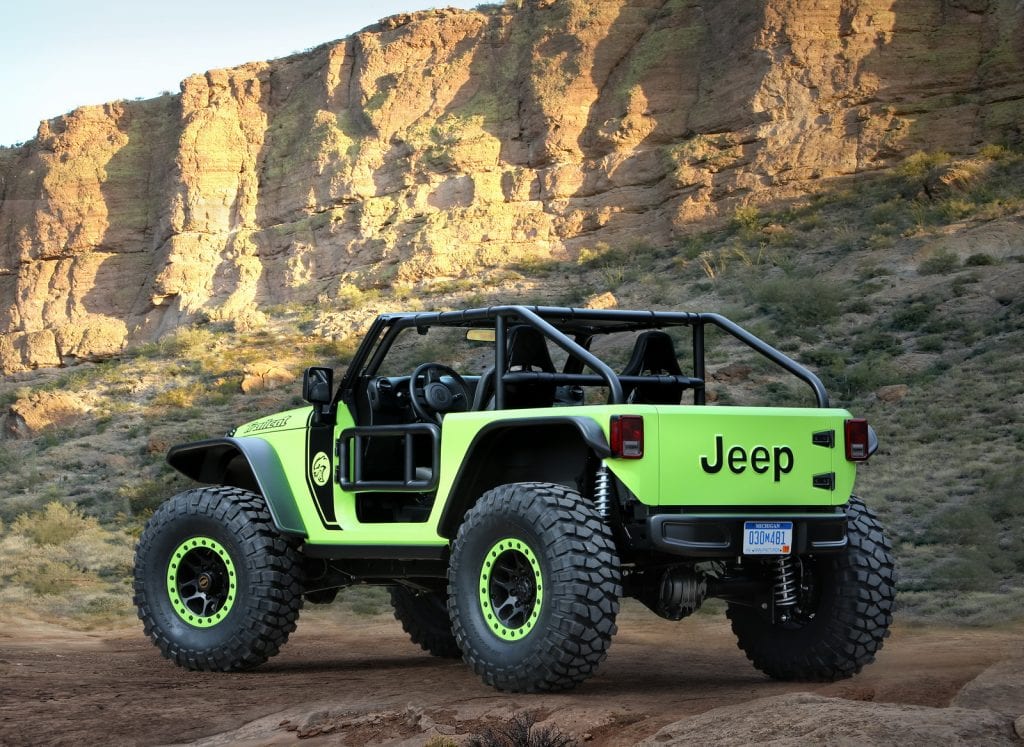 Usually, Wranglers are equipped with 3.6 litre V6 petrol motors pumping out roughly 285 horsepower. That's an increase of 422 horsepower! Going on an offroad trip and thinking that sand dune is a bit steep? Don't worry about it if you're behind the wheel of this beast as you'll no doubt sail to the top.
This manic model is equipped with massive offroad tyres, lift kit and gates for doors. Looks a bit extreme for normal road use, perfect for off-roading.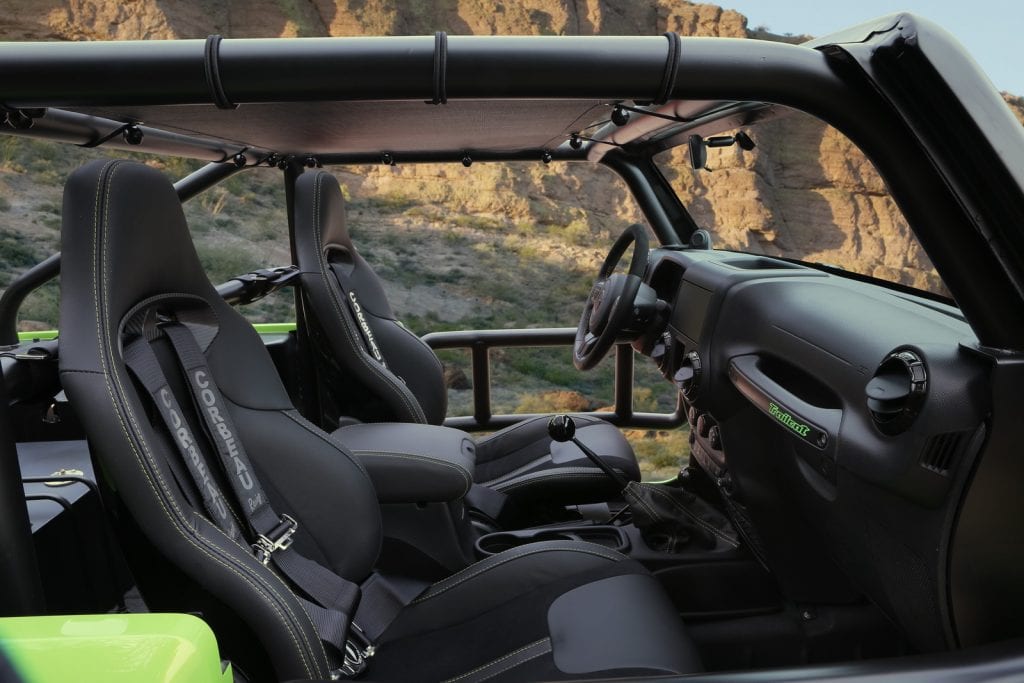 The interior has been completely stripped of any 'luxury' options even the radio tuner has been removed. There is analog climate control, though. Those four seats have been replaced with two front bucket seats with four-point racing harness's to keep those inside strapped in when the pedal hits the floor and a six-speed manual transmission.
More will be revealed come the end of March, as Jeep are holding their annual Easter Jeep Safari where they'll also unveil five other concepts. This year they are not only celebrating 75 years of the brand but also 50 years of the event.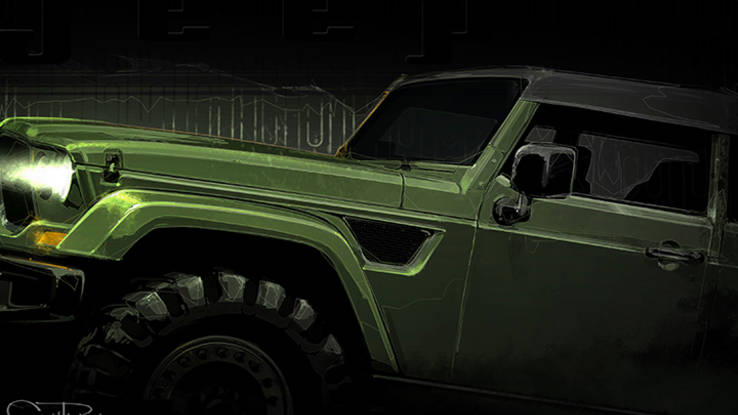 One of their other concepts to be revealed is what appears to be similar in design to the Jeep Chief Commander SUV. Sporting a 70's/80's vibe, Jeep really knows how to get us excited!
Looking for a Wrangler? Find new Jeep Wrangler and used Jeep Wrangler for sale in Dubai, Abu Dhabi and Sharjah.