It's 2016, time to celebrate a new year, stick to you resolutions and help one of America's biggest car companies celebrate a huge milestone. For 75 years, Jeep has been building off-road machines that are adored around the world by many. To celebrate, the iconic brand has added a few added bonuses to various models.
Six vehicles in the Jeep fleet are to receive 75 years anniversary additions which are a selection of green paints: Sarge, Recon or Jungle alongside standard colours, low gloss bronze wheels and contrasting orange or bronze accents and commemorative badges to signify the occasion. On top of that, there's the 75th-anniversary logo stitched in the headrests.
First off is the 2016 Jeep Wrangler and Wrangler Unlimited variants, sporting 17-inch tyres, brand new steel tow hooks and bumpers finished in the same low gloss bronze as the rims, new off-road rock rails, power dome bonnet with extra vents and Dana 30 front axle paired with a Dana 44 heavy-duty rear axle. Extras continue inside with a 6.5-inch touchscreen multimedia system and leather trimmed seats with sport inserts.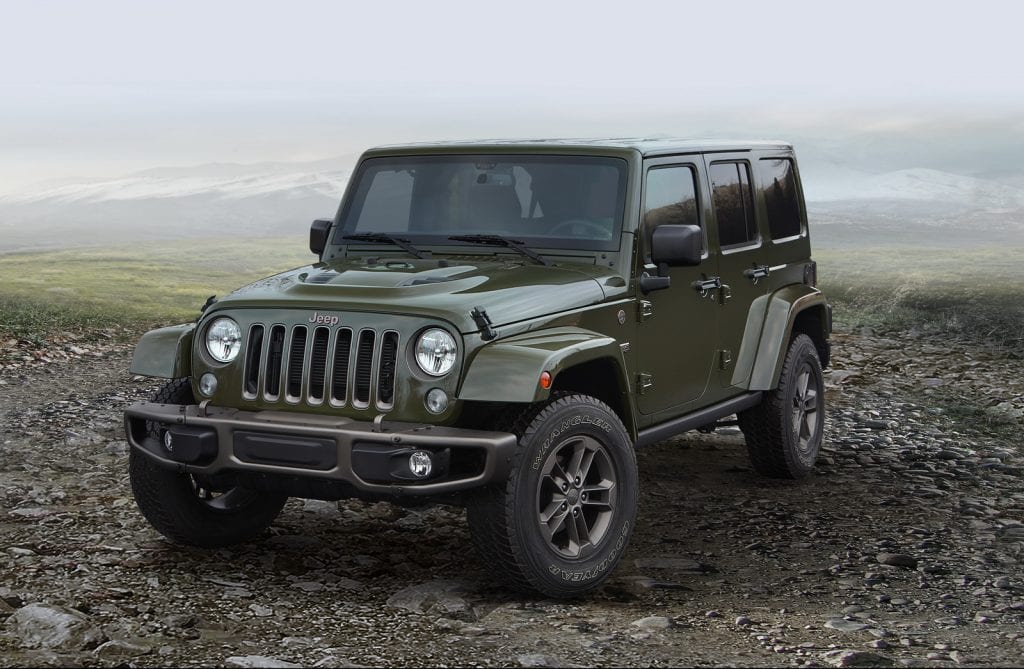 The newest addition to the lineup isn't left out as 2016 Jeep Renegade's with 18-inch rims, Beats premium sound system, MySky sunroof and bronze badges on the exterior. Not to mention bronze outlining the fog lamps, rear tail lamps and serves as a contrast inside.
2016 Jeep Grand Cherokee's have the option of either 18 or 20-inch tyres to roll on, bronze accents on the grille, front fender, fog lamps and badges. Inside, 8.4-inch touchscreen multimedia screen with navigation, Bluetooth pairing, leather or cloth seats with tangerine accents and blind spot detection system. 2016 Jeep Cherokee 75th anniversary editions are based of latitude models with 18-inch tyres, dual-pane sunroof, 8.4-inch touchscreen and similar seat coverings found in the Grand Cherokee.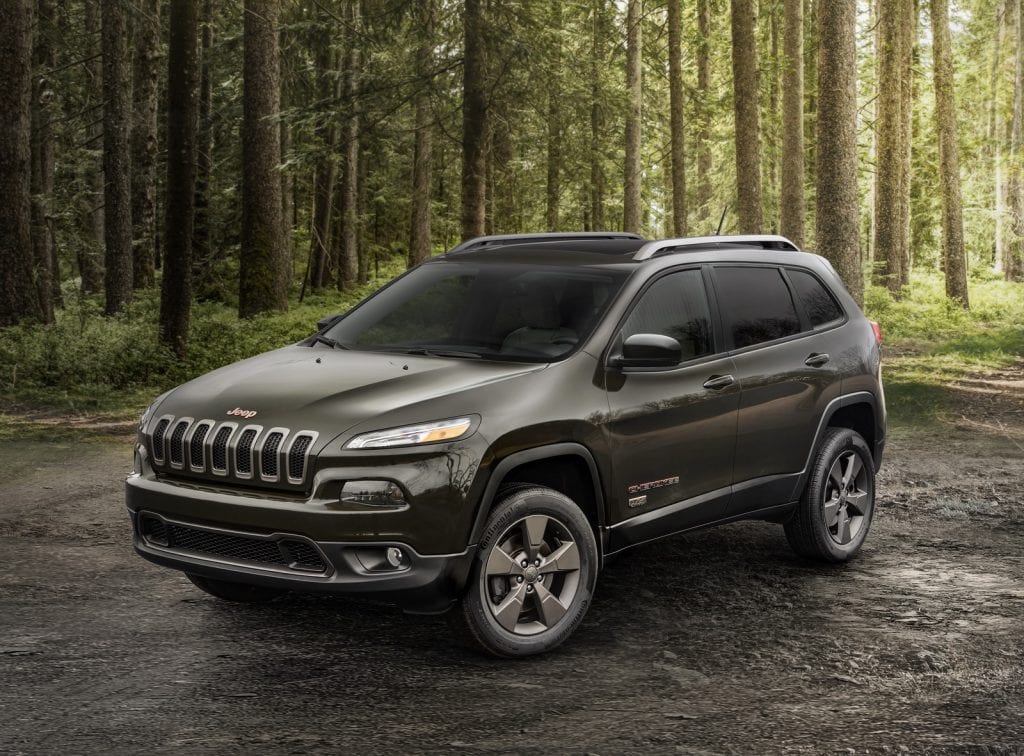 Moving on to 2016 Jeep Compass and 2016 Jeep Patriot models, the two feature bronze trimmings, 17 and 18-inch tyres respectively, leather-wrapped steering wheel, remote start and power sunroof plus some other extras.
Engine units, transmissions and other related specifications are left unchanged.
All these new fancy additions do make quite an impression across the line-up especially those bronze touches.
75th-anniversary edition Jeep's are to roll out this year to celebrate the occasion (March in the US), prices have been announced in the US and are as follow:
| | | |
| --- | --- | --- |
| Vehicle | Price in USD | Price in AED (Approx.) |
|  Jeep Wrangler |  34,575 |  126,990 |
|  Jeep Wrangler Unlimited |  38,375 |  140,950 |
|  Jeep Renegade |  25,375 |  93,200 |
|  Jeep Grand Chreokee |  36,775 |  135,070 |
| Jeep Cherokee |  25,375 |  93,200 |
| Jeep Compass |  24,475 |  89,895 |
| Jeep Patriot |  22,475 |  82,549 |
Note, these are subject to change at any time and do not reflect the retail price of 2016 Jeep 75th-Anniversary editions for sale in the UAE.
Aside from it being their official 75th anniversary, they technically existed before 1941. Willys Overland MB obtained a lucrative military contract to develop a rugged military vehicle capable of tackling any terrain, nicknamed Jeep. Due to its popularity during that time, a civilian version was put into production and branded as Jeep and the rest is history.
Are you interested in a Jeep vehicle? Check out all new Jeep and used Jeep vehicles for sale in Dubai, Abu Dhabi and Sharjah.