| | |
| --- | --- |
| Starting price: | 619 000 AED |
| Engine volume: | 5.0L |
| Cylinders: | 8 |
| Torque: | 680 Nm |
| Horsepower: | 550 hp |
| 0 to 100 km/h: | 4,7 sec |
| Maximum speed: | 260 km/h |
With all major car manufacturers creating performance divisions and cars, Land Rover are the latest to join the trend with SVO (Special Vehicle Operations) and their first vehicle titled Range Rover Sport SVR. This new iteration in the luxury SUV marque can lap the Nurburgring Nordschleife in 8 minutes and 14 seconds.
Exterior wise, the Range Rover Sport SVR has been given a new front bumper and splitter to allow more airflow to the intercoolers and front brakes. You will also find a different front grille, a new rear spoiler which improves downforce at high speeds and is removable for off-road driving. Four exhausts pipes stick out of the rear bumper which is exclusive to the SVR. It rides on 21 inch performance tyres with the option to upgrade to 22 inch Continental tyres, and has been fitted with Brembo brakes with six-piston calipers.
The suspension, chassis and steering have be all been modified to deliver a quicker response than the standard Range Rover Sport. The exhaust system has electronically controlled valves which open more at higher speeds to generate a louder sound and if you're in a quiet and calm environment there is a button to control the sound (a bit).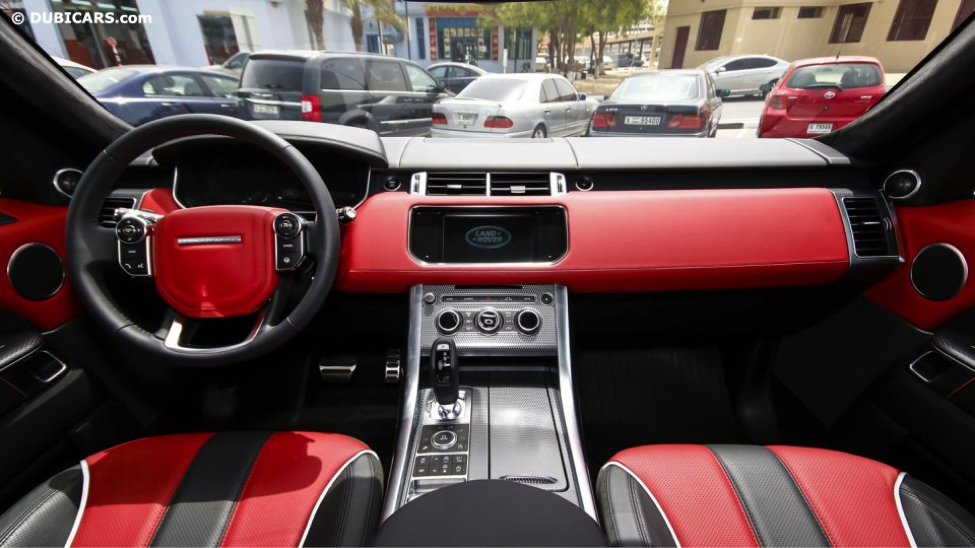 Inside, the typical Range Rover instruments, navigation system, digital dashboard and multi-offroad selector can be found. However the standard leather seats have been replaced with lighter racing-style seats quilted in the softest Oxford perforated leather with a unique pattern and the SVR logo embossed into them and they are still powered with memory functions. Meridian has supplied a 19 speaker premium audio system with inputs for a USB device and AUX cable, and the trim inside is a choice between aluminum or carbon fibre. Four unique colour combinations are available for the interior.
The SVR Range Rover gearbox is only available as a ZF 8 speed automatic which has been tampered with to speed the shifts up by 50 percent. Even with all the modifications to make the vehicle go faster it's still got air suspensors in the front and rear to raise the SUV up to a maximum clearance of 9.3 inches, so its still capable of tackling terrain other than asphalt.
With an added 41 horsepower from the regular Range Rover Sport, the Range Rover SVR produces 550 horsepower from its supercharged 5 litre 8 cylinder engine. It can accelerate from 0-100 km/h in 4.7 seconds according to Land Rover, making it one of the fastest accelerating SUV's in the market with no aftermarket parts. SVO has done this by altering the ECU (Engine Control Unit), extracting some extra boost from the supercharger and the new front end helps as well. The SVR can reach a top speed of an estimated 260 km/h.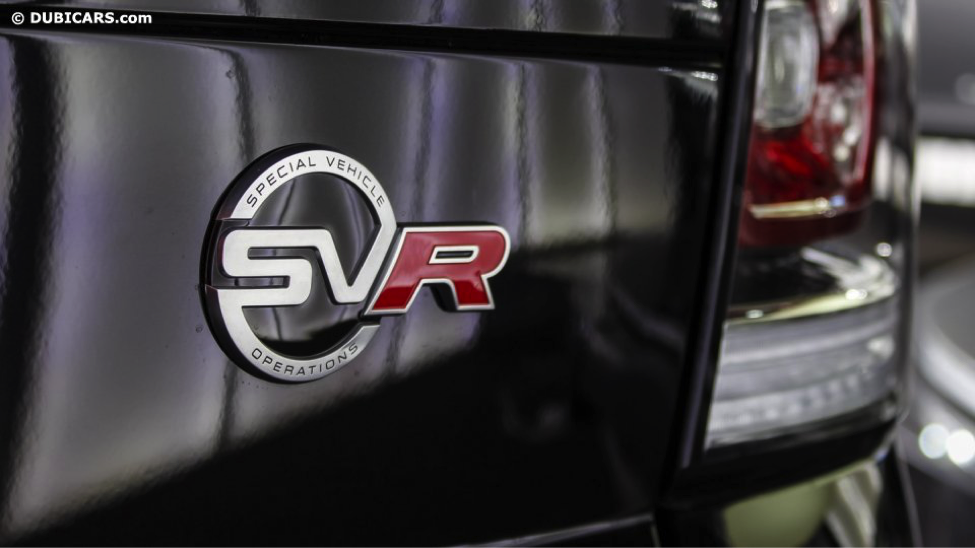 As this is the first SVO vehicle to be produced and has proved to be popular, the performance division will have a few ideas on the table for other vehicles coming soon. Maybe a Jaguar is in the pipeline?
Check out one of our 2015 Range Rover Sport SVR for sale in Dubai! While you're at it check out our video for the Range Rover Sport SVR