Geneva is certainly the place to be at the beginning of March. Auto manufacturers flock to the popular European destination to showcase their latest models, most of which have automatic gearboxes. Porsche brought with them an exceptional 911 that's sure to make car nuts go nuts.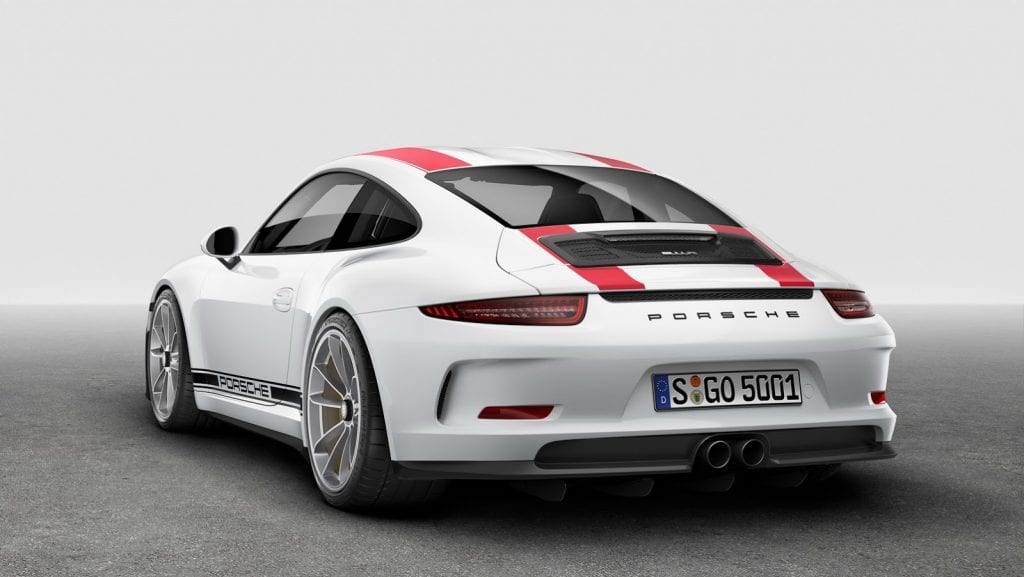 Many hardcore driving enthusiasts cried out when Porsche said "no" to a Porsche GT3 controlled via a manual transmission. After many claimed to have 'hated' the PDK dual-clutch transmission, Porsche executives went back to the drawing board and within one year came up with the Porsche 911 R.
Paying tribute to a vehicle that debuted in 1967, known as the Porsche 911 R. It was Porsche's lightest model then and with its rebirth, it weighs in at 1,370 kilos, again making it the latest Porsche available. It's not just the about the name.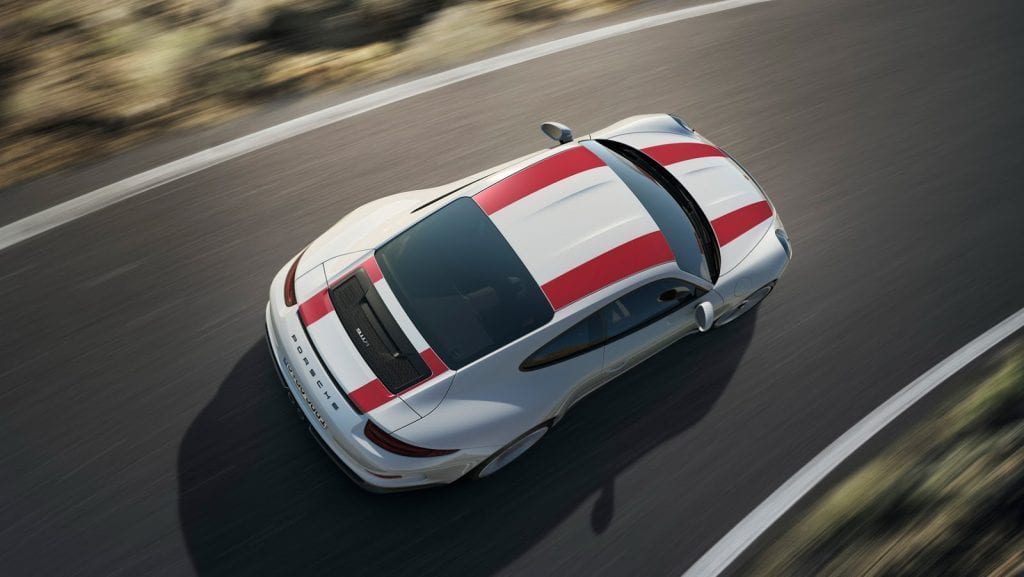 49 years ago, 911 R's ran with a white coat of paint, two red stripes and a multitude of company logo's whilst racing around various international circuits. 2016 models will sport a similar paint job (without sponsorship decals of course) and similar looking seats. A real throwback to the 60's.
A mix between Porsche GT3 and GT3 RS models, the German Manufacturer have stripped off the majority of aero bits ie: the rear spoiler and wheel arches for a tamer look. Instead of a fixed wing, much like stand 911 models, the spoiler can be raised or lowered electronically.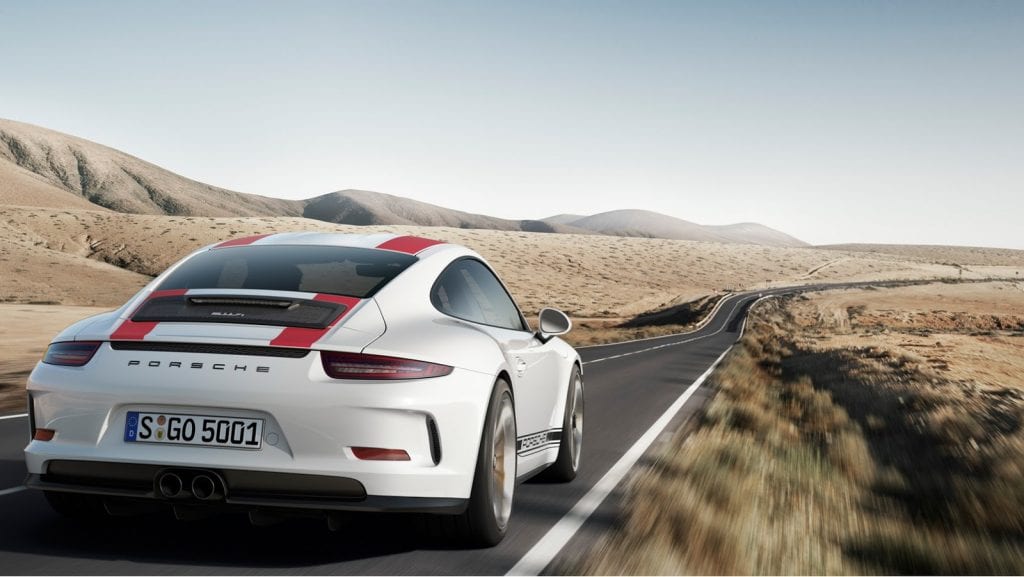 Porsche 911 R model's aren't just separated from other such sport cars with it's manual transmission. Its naturally aspirated 4.0-litre flat six-cylinder petrol motor sure does. In an era where every vehicle is going supercharged or turbocharged, Porsche decided against it with this hardcore model.
That 4.0-litre engine is said to pump out around 500 horsepower, 25 more than GT3 models. With such an engine 0-100 km/h is achieved in just 3.8 seconds. Paired with a top speed of 323 km/h, it's quicker than GT3 RS models. Convinced yet?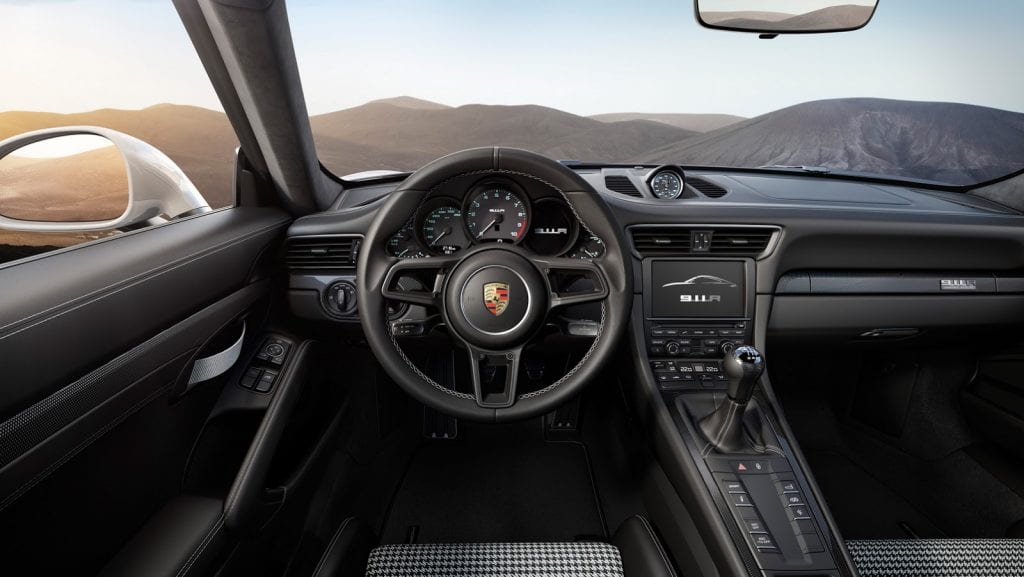 Interior wise, it's identical to other 911's except with one obvious change. That being said, Porsche's high-tech touchscreen interface features navigation, Bluetooth pairing, audio setup and more. Suspension, traction control and exhaust adjustment buttons lay behind the gear lever. Straps have replaced door handles, full carbon fibre bucket seats, carbon trim lines the interior and a new GT-Sport steering wheel.
Pricing starts at $185,950 (Approx. AED 682,985). Allegedly each one is accounted for, even though not a single one has rolled out of the factory. It's unknown how many there are exactly, but if you want one, you'll have to wait a while until one pops up in the second market. All we know is that those lucky motoring enthusiasts are going to have the widest grin imaginable.
A perfect car for track days, not so much for everyday commuting. Unless you live a couple of kilometres away from where you work. Cruising around town would be greatly appreciated by all.
It'll be a while before any Porsche 911 R models are listed for sale, during all that free time, find dozens of new Porsche 911 and used Porsche 911 for sale in Dubai and Sharjah.