| | |
| --- | --- |
| Starting price: |  Starting from 390,621 USD (1,434,809 AED approx) |
| Engine volume: |  6.75 litre |
| Cylinders: |  12 |
| Torque: |  799 Nm |
| Horsepower: |  563 hp |
| 0 to 100 km/h: |  4.9 seconds |
| Maximum speed: |  250 km/h |
Early 2015, Rolls Royce Motor company announced they would add a fifth car to their sophisticated line-up of luxury vehicles. With it came a revival of a name that had not been used since 1954. Rolls Royce Dawn will be the latest to join the ranks with its soft convertible roof alongside the Phantom, Phantom Drophead Coupe, Wraith and Ghost.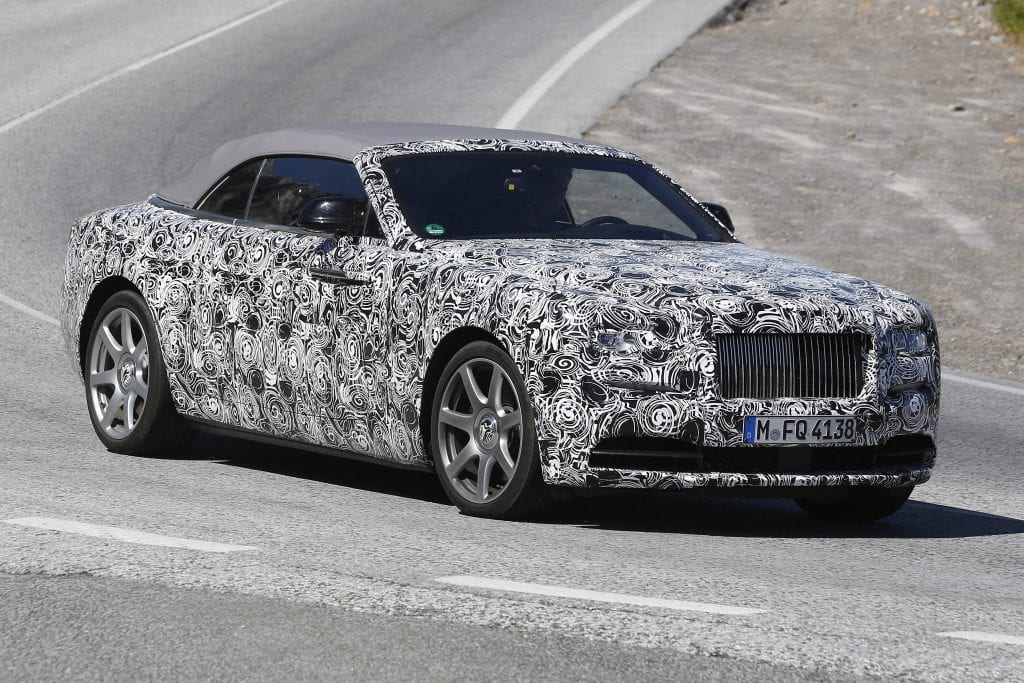 Early spy shots of the Dawn surfaced shortly after the reveal with a hard top roof, however recently it has been spotted in heavy camouflage with a soft retractable roof. Just like the Phantom Drophead Coupe, its roof is made up of six layers of cloth and is said to retract quietly into an underneath a wooden covering. It's an automated system, so no manual labour required and takes just 22 seconds.
Inside, it's exactly like a Wraith except there will be no optional starlight roof or sunroof, ample space for four occupants as well as options such as temperature controlled leather seats, AUX and USB inputs, Bluetooth pairing, navigation, and all other standard features along with multiple finishes.
Exterior-wise there are minute changes to distinguish this sophisticated soft top from its hardtop brethren, with the most obvious being the roof part. An adjusted boot to accommodate the roof that also appears to have been shrunk, meaning less space for your luxurious goodies. Other than these it's got the same features as the Wraith weighted wheel caps, soft-closing doors, multiple cameras, parking sensors, adaptive headlights and rear LED taillights. 16 individually acoustically tuned speakers have been placed inside the cabin for high-quality audio for devices plugged in via USB or AUX inputs or paired via Bluetooth. Two bass speakers are positioned in the boot.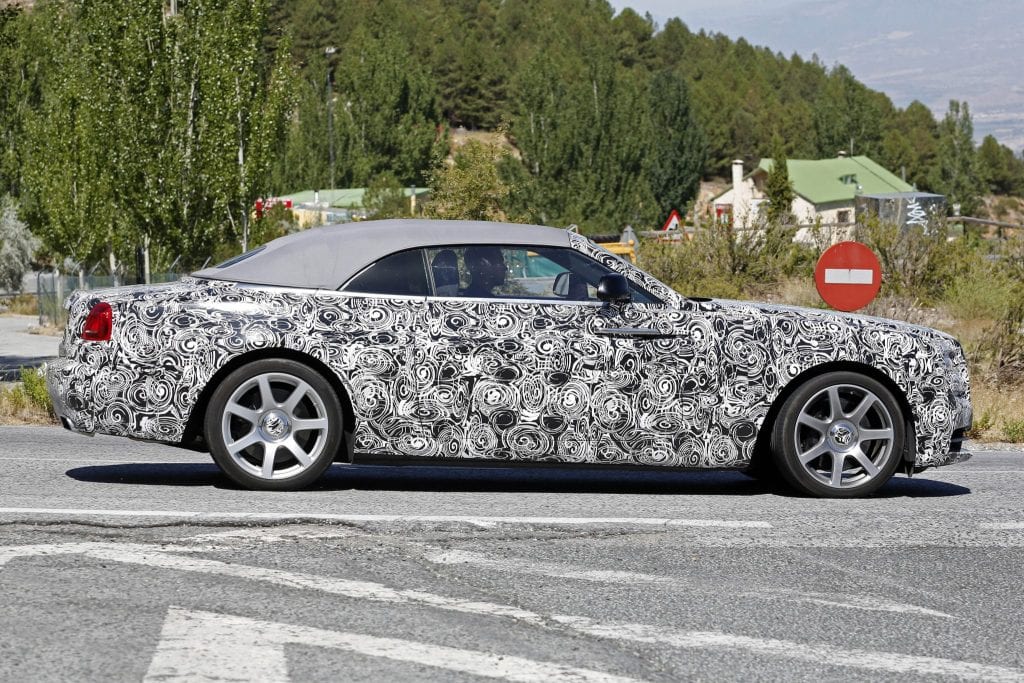 Expect the Dawn to come with the same power unit as the Wraith, 12 cylinder 6.75-litre petrol engine producing 563 horsepower with a 0-100 time of around the 4.9 second mark which makes this quite a quick convertible. Top speed is capped at 250 km/h.
With the addition of the cloth roof, the vehicle loses some of its structural components meaning its body is more likely to flex, to stop this from happening Rolls Royce has added more weight to its base. In effect this increases the 0-100 time compared to the Wraith.
80% of the body work is brand new according to Rolls Royce, it's hard to tell from the naked eye if the Wraith and Dawn stood shoulder to shoulder though. The remaining percentage are the doors, which are identical. From its hard top compatriot, the front end has grown by no less than 53mm with the grille embedded roughly 43mm further back.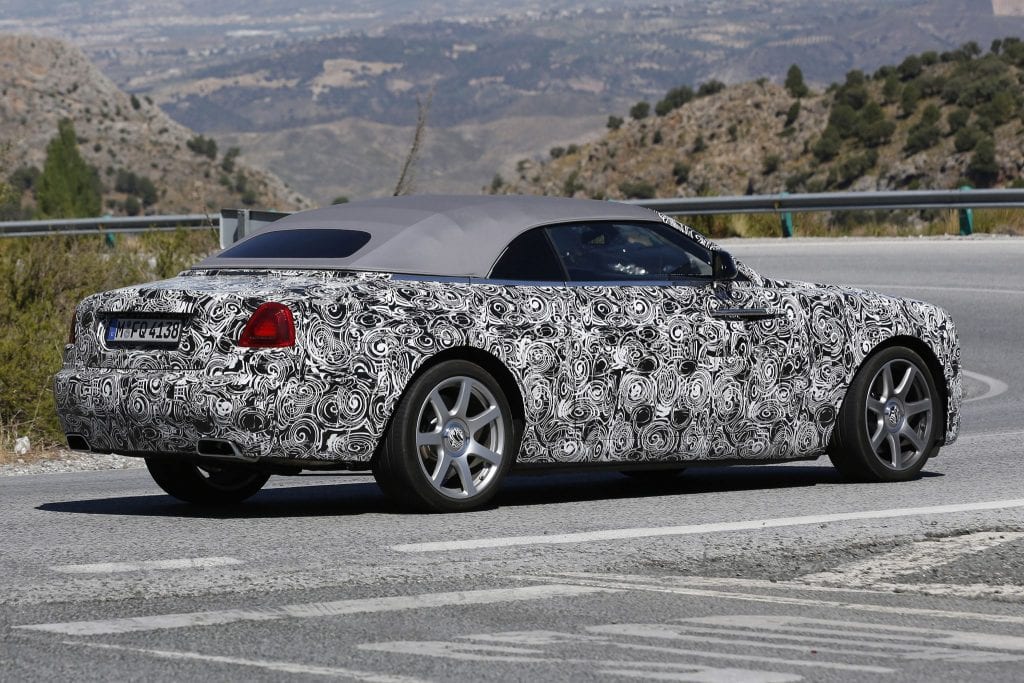 The Dawn title hasn't been used in some 60 years, this classic drop-top is an absolutely gorgeous car and only 760 were built, out of those built only 28 of them were droptop variants making them heavily sought after. With the reincarnation, Rolls Royce plans to build far more than 28 this time around.
Dawn was not the only name this drophead could have received, Wraith Drophead Coupe was considered as they're based on the same platform as well as another revival name was thrown into the mix, Corniche.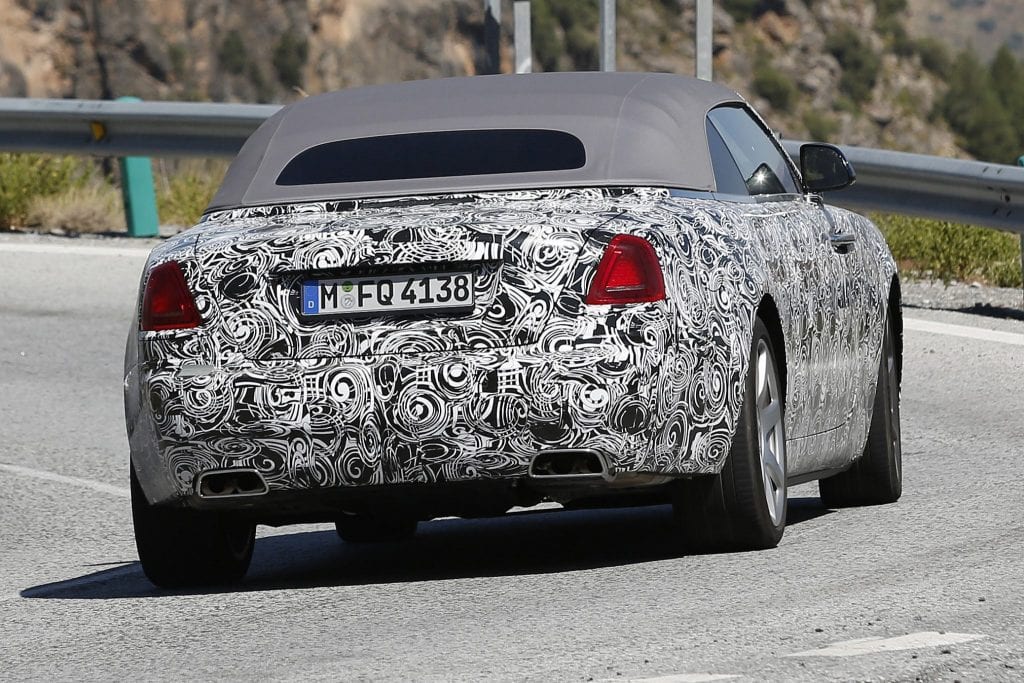 With the Frankfurt Motorshow just around the corner, Rolls Royce will possibly show off the Dawn without black and white swirls to the general public. Seeing as other manufacturers have jumped the gun, don't be surprised if pictures come out earlier. If you're looking at buying a Rolls Royce check out new Rolls Royce and used Rolls Royce for sale in Dubai, UAE listings on dubicars.com.
Let us know what you think about the Dawn and which one you prefer below!