The pandemic forced many people into isolation, we are working remotely more than ever, and this new lifestyle has ultimately been a game-changer for how we shop online, and buying cars is no exception.
Buyers EXPECT to be able to buy their cars online. This change in consumer habits has been swift, and the automotive industry has had to move fast, by improving the online buying experience, ensuring it's trustworthy while adding additional bonus features, like offering home delivery services.
The automotive e-commerce industry has seen steady growth year on year, which has encouraged car market places, like our own, to create a smooth car shopping experience and to ensure customers have a seamless, transparent shopping journey, helping not only the dealers but also the buyers.
Enter: Dubi Cars' new Virtual Showroom.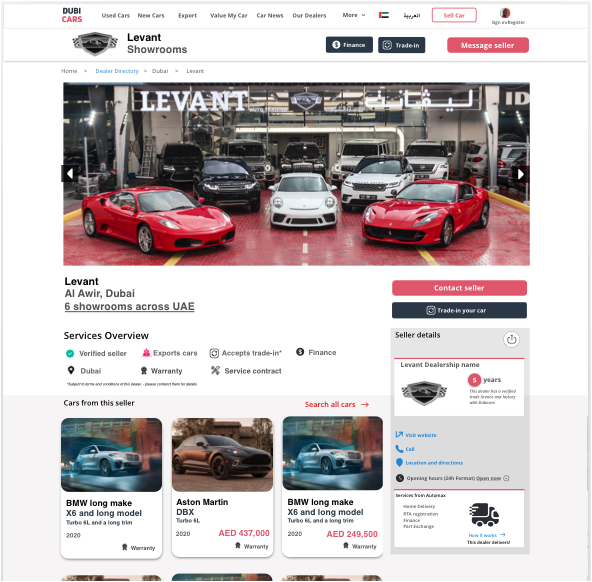 This is big news for buyers. You now have access to a seamless and transparent online car buying experience, where extra features like rating highlights and deliveries give you the assurance you need to move ahead with a purchase, from the comfort of your home.
It's a fast market. Cars are being sold, on average, within 20 days. Prices are increasing as demand outstrips supply, so as a buyer you also have to move quickly. This is possible once you trust you're shopping in a safe and secure digital e-commerce environment. You're looking for a dealer you know you can trust and a service that's completely transparent.
At the Virtual Showroom, dealers display all of their cars in one place. There's also a feature that allows you to view each showroom using a virtual 3D tool. It's a ratings business and you'll know exactly what you're buying through tried and tested dealers, who have been approved by the rating feature. 
The new Virtual Showroom – a game-changing digital car buying experience for customers from dealers.