| | |
| --- | --- |
| Starting price: | Starting from 48,695 USD (Approx. 178,864 AED) |
| Engine volume: | 5.2 Litre |
| Cylinders: | V8 |
| Torque: | 582 Nm |
| Horsepower: | 526 hp |
| 0 to 100 km/h: | 4.1 seconds (estimated) |
| Maximum speed: | 299 km/h (estimated) |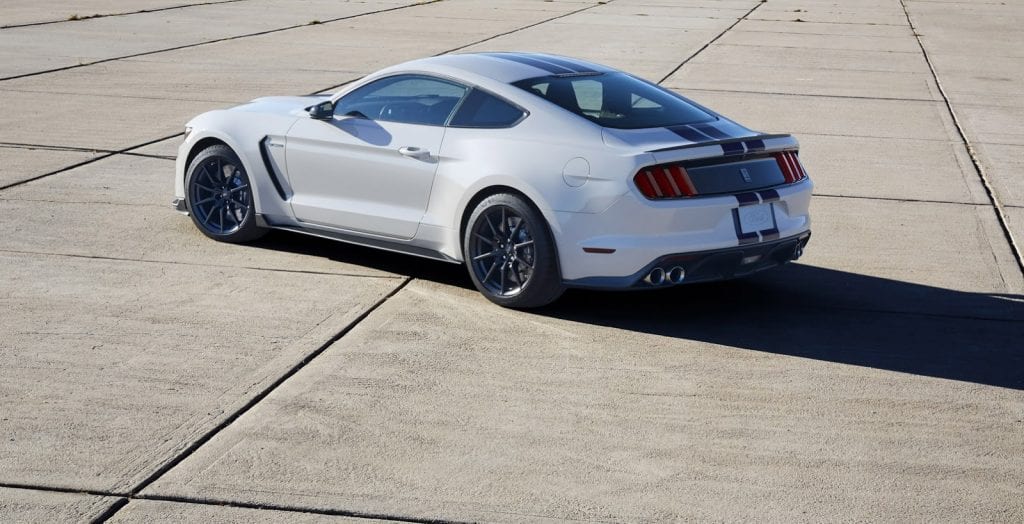 Ford Mustangs have dominated the ranks of the muscle car category but have faced stiff competition over 50 years from fellow American manufacturers such as Dodge, Chevrolet and a few European brands. They are the current leaders in their category at the moment but that doesn't stop Ford continuing to improve and outpace competitors: with the 2016 line up an enhanced GT350 and a lightweight GT350R have been added to the line-up.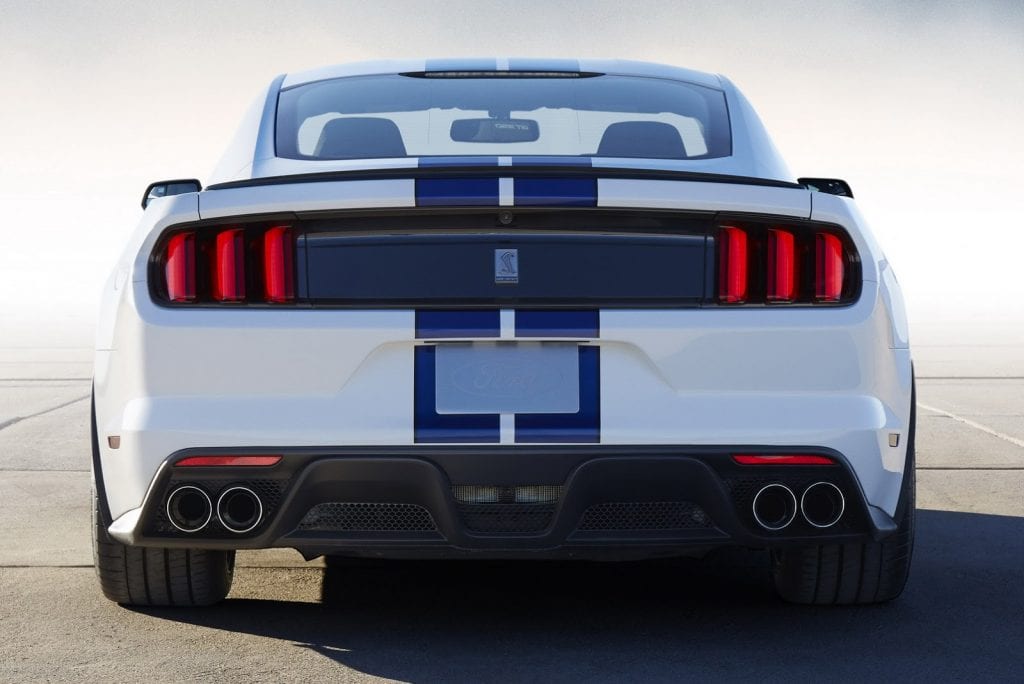 Alongside the standard Mustangs, Ford will conveniently offer a Shelby GT350 packed with a V8 5.2-litre petrol engine producing 562 horsepower. Additionally an R package will be available to lighten the load by removing unnecessary parts such as the rear seats, air-conditioning, boot carpeting and the rear camera as well as adding carbon fibre trims to each corner of the vehicle. All this manages to bring down the total weight by 59kg. The only transmission available is a six-speed automatic.
New additions include a front nose extended by 35mm and sits 25mm closer to the ground, tweaks to the aerodynamics are included even though they may not be visible. New technology makes an appearance too with Ford implementing MagneRide, adjusting the dampers in real time. A similar system has been present in top of the range Chevrolets. Rim size is set at 19″inches with Michelin performance tyres wrapped around them.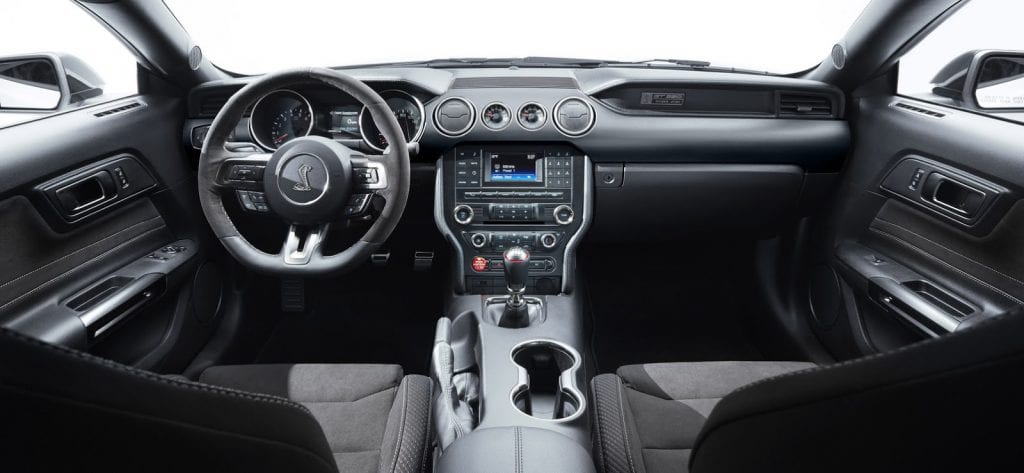 Inside an optional Electronic package is available adding an eight-inch touchscreen infotainment system with navigation and other apps, a seven-speaker Shaker sound system, dual-zone air conditioning and much more. Measuring performance is also available in the software to clock in lap times, acceleration and braking times.
Eight exterior paint schemes are available including Competition Orange, Oxford White, Deep Impact Blue and a Triple Yellow Tri-Coat all with options to add racing stripes or a solid black roof.
Ford has come out saying the GT350R can match lap times of a Porsche 911 GT3 and can beat Chevrolet Camaro Z/28's! If that's the case lets see how the stack up against one another.
| | | | |
| --- | --- | --- | --- |
| Cars | Ford Mustang GT350R | Porsche 911 GT3 | Chevrolet Camaro Z/28 (2015) |
| Engine volume: |  5.2 litre/V8 |  3.8 litre/flat 6 |  7 litre twin turbo/V8 |
| Horsepower: |  526 hp |  475 hp |  505 hp |
| Torque: |  582 Nm |  441 Nm |  652 Nm |
| Maximum speed: |  305 km/h |  315 km/h |  300+ km/h |
| 0 to 100 km/h: |  3.6 Seconds |  3.5 seconds |  4 seconds |
| Drivetrain |  Rear wheel drive |  All wheel drive |  Rear wheel drive |
| Starting price ($) |  62,670 USD | 114,593 USD |  75,000 USD |
A Ford Mustang GT350R bearing the serial #001 sold earlier this year at a Barret-Jackson Auction in the United States and was sold for a whopping 1,000,000 USD! All proceeds went to charity. For those waiting on a convertible version being announced, you'll have to suck it up and get a coupe as Ford has not included a topless version in their plans.
Expect 2016 Ford Mustang GT350 and R packaged versions will roll into showrooms later this year, with 137 of them being 2015 models to pay homage to the original 1965 Shelby GT350, once built they'll be 2016 models. Check out dubicars.com listings for used Ford Mustang for sale in Dubai and new Ford Mustang, there are even some classic's available!
What do you think of Ford's offering of the GT 350 and GT 350R?