| | |
| --- | --- |
| Starting price: |  Starting at 89,920 USD (approx 330,289 AED) |
| Engine volume: |  5.7 Litre |
| Cylinders: |  8 |
| Torque: |  546 Nm |
| Horsepower: |  383 hp |
| 0 to 100 km/h: |  6.5 Seconds (estimated) |
| Maximum speed: |  220 km/h (estimated) |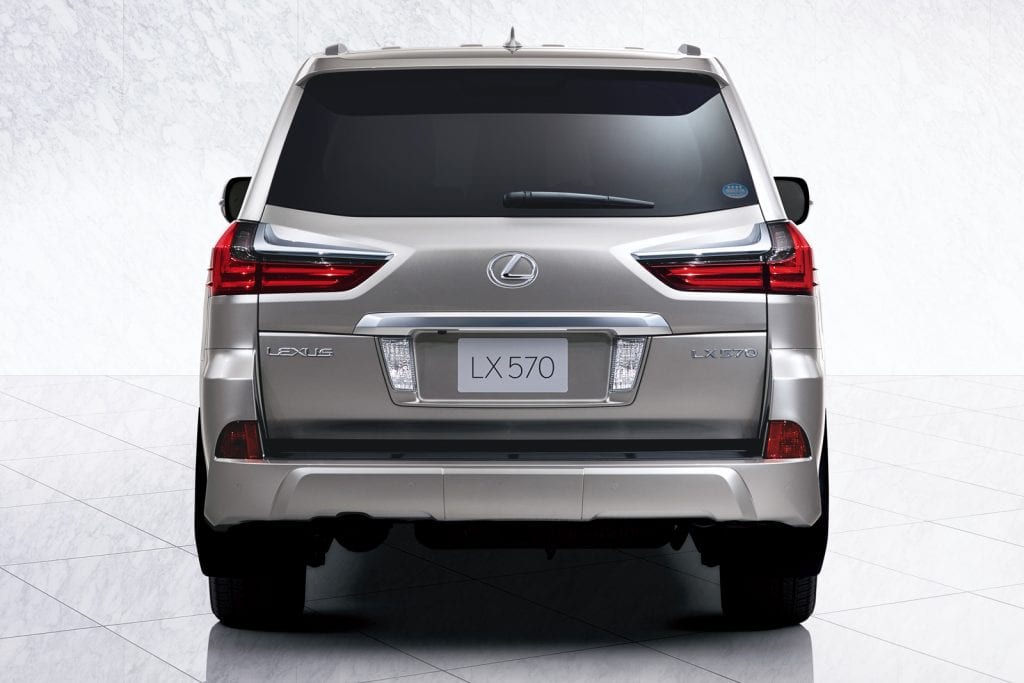 Over the past few months, Lexus LX570 pictures leaked out all over social media and were snapped in brochures of Japanese origin, renderings off the net and finally photos taken via a phone camera, presumably in Jebel Ali port showing off the SUV in the flesh. Now that the luxury SUV has been officially revealed at the 2015 Pebble Beach Concours D'Elegance all leaks were spot on.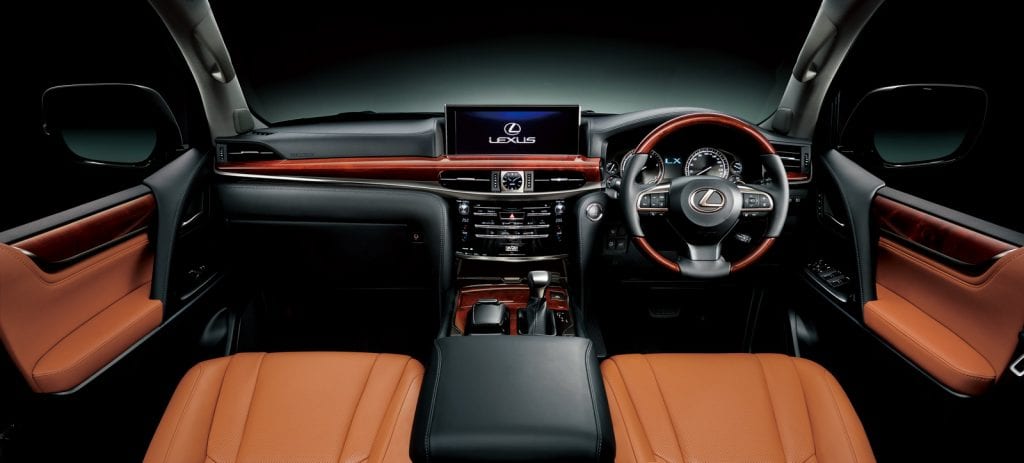 As previously mentioned, massive front grille, pincer-like LED fog lights and redesigned headlights are here to stay. Redesigned rear end and lights, as well as new features, are identical. We could have said they were official back then, it's best not to step on anyone's toes though.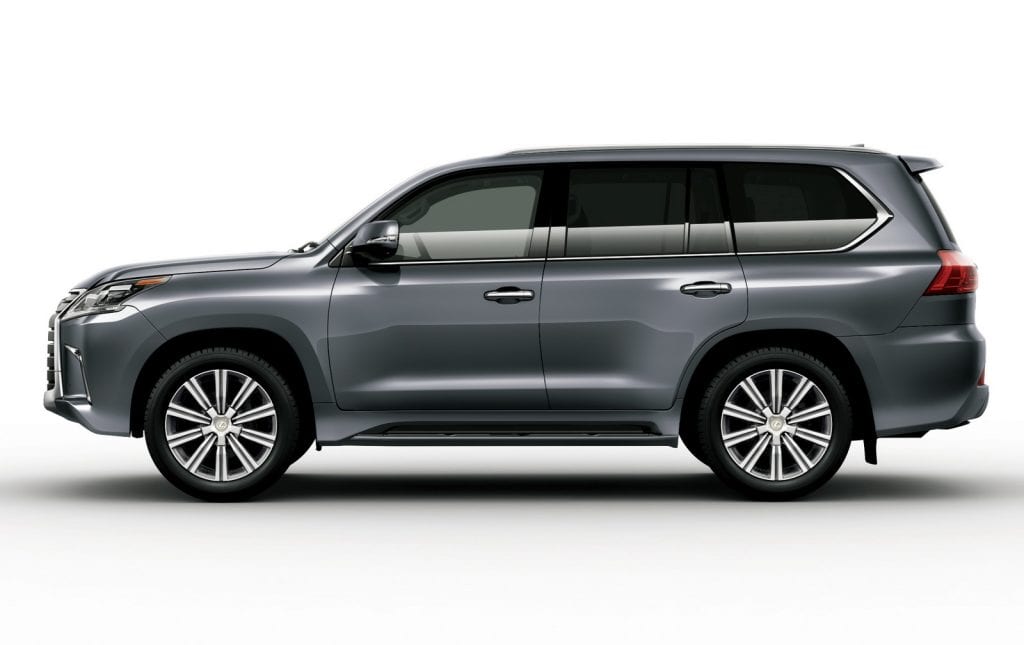 Additionally some new information has surfaced, standard 20-inch alloy wheels can be swapped out for 21-inch 10 spoked alloys. New interior trims to complement the leather inside will be available including matte walnut, linear dark mocha, dark brown walnut and linear espresso. If the luxury package is purchased, passengers sat on the middle can choose a cold or hot rear end. Previous models had a fridge inside only of it had a luxury package, with the 2016 Lexus LX570 it's a standard option.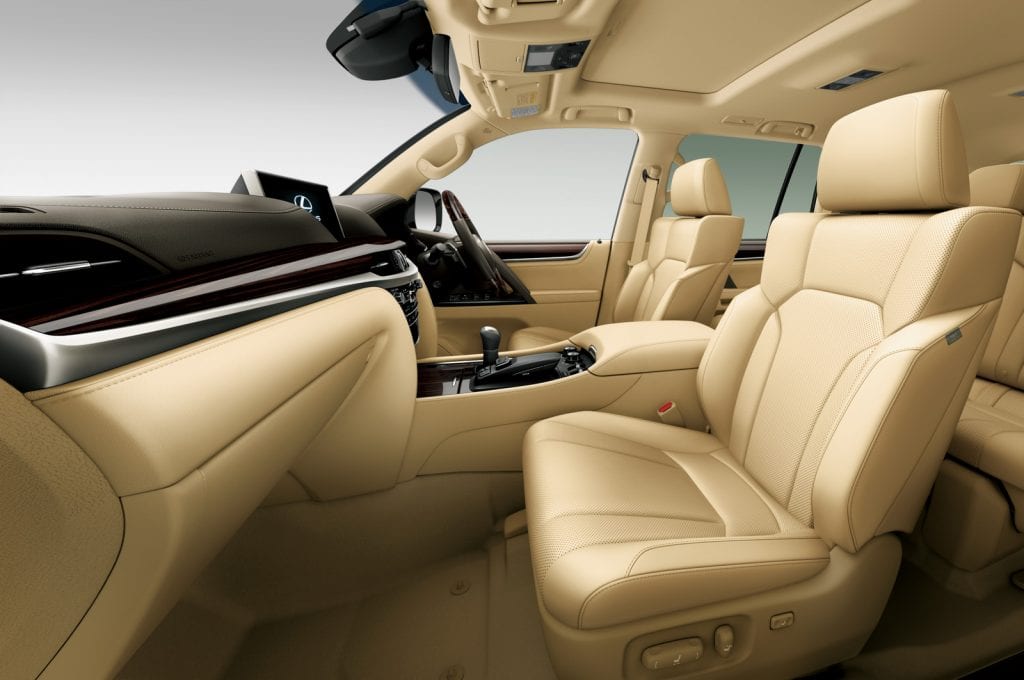 Powering the 2016 LX570 is the same V8 5.7-litre petrol engine now mated to an eight-speed automatic gearbox instead of a six-speed. Various areas of the luxury SUV can be adjusted to create a smooth and comfortable ride on and off-road, due to an upgraded drive mode selector for the 2016 model.
Rear entertainment features are similar to ones found in the 2016 Land Cruiser, 11.2-inch screens with HDMI and USB inputs. Ambient lighting has also been implemented inside. Numerous safety features are present ranging from pre-collision warning system with pedestrian detection, lane departure assist, 10 airbags and much more.
All these fancy upgrades, but what about its off-road capabilities you may ask? It's still got spunk and features all new equipment to tackle any terrain it comes across. This video below gives a little more information and demonstrates it's not limited to just asphalt.
2016 Lexus LX570's are expected to show up around the end of the year here in the UAE, keep an eye on new Lexus LX570 and used Lexus LX570 for sale in UAE listings on dubicars.com.