| | |
| --- | --- |
| Starting price: | 49,704 USD (182,560 AED approx.) |
| Engine volume: | 2.0 Litre turbocharged |
| Cylinders: | 4 |
| Torque: | 370 Nm |
| Horsepower: | 208hp and 241hp |
| 0 to 100 km/h: | 7.3 seconds |
| Maximum speed: | 240 km/h |
With Mercedes-Benz phasing out their GLK series, the German car manufacturer has already ushered in its replacement, the GLC class. Shedding its boxy exterior, the GLC Mercedes-Benz will enter the market with a curvier shape and compete with the likes of Audi's Q5 and BMW's X3.
The Mercedes-Benz GLC weighs in at 80 kilos lighter than the outgoing GLK series. Mercedes was able to achieve this by making the body out of ultra-high strength steel, aluminium and plastic and by adding a lighter transmission case as well as slimming down the suspension.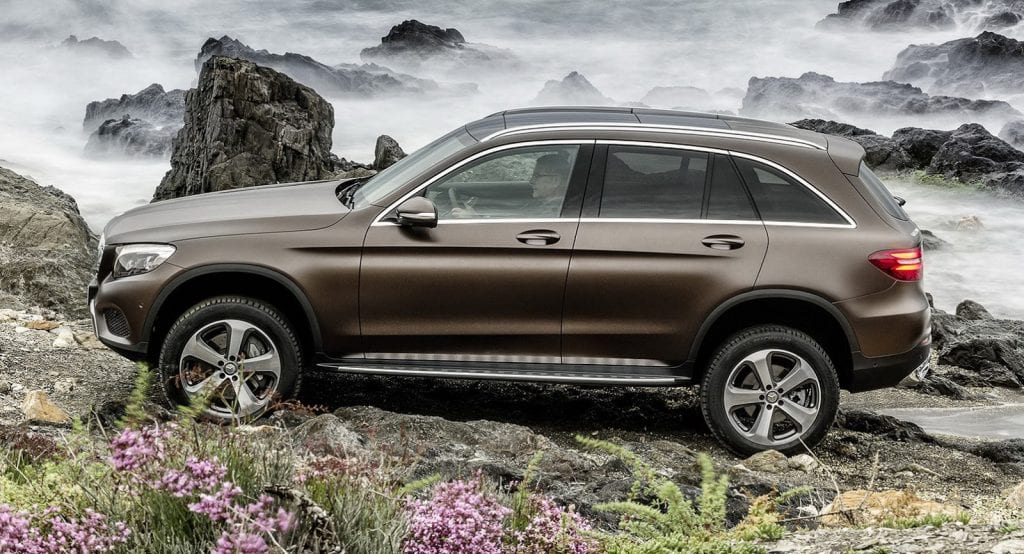 Comfort for the occupants is a key factor for the GLC Mercedes 2016. Optional air suspension gives the compact SUV a smoother ride and also improves handling. It's 11.9cm longer, 5cm wider and almost 0,8cm taller than its predecessor. With these dimension adjustments leg room in the rear has increased by 5.5cm and in the front, elbow and shoulder room have increased by 5.5cm. So in conclusion, the GLC is bigger in every way than the GLK with added comfort, but still manages to be lighter!
Safety features include many options found in the latest Mercedes-Benz SUV's such as blind spot detection mirrors and lane keeping assist. It also comes with some new features like nine airbags around the cabin, including an airbag located near the drivers knee's and a device embedded into the front passenger seat to detect a baby seat. If a baby seat is detected, the passenger airbag will be turned off automatically.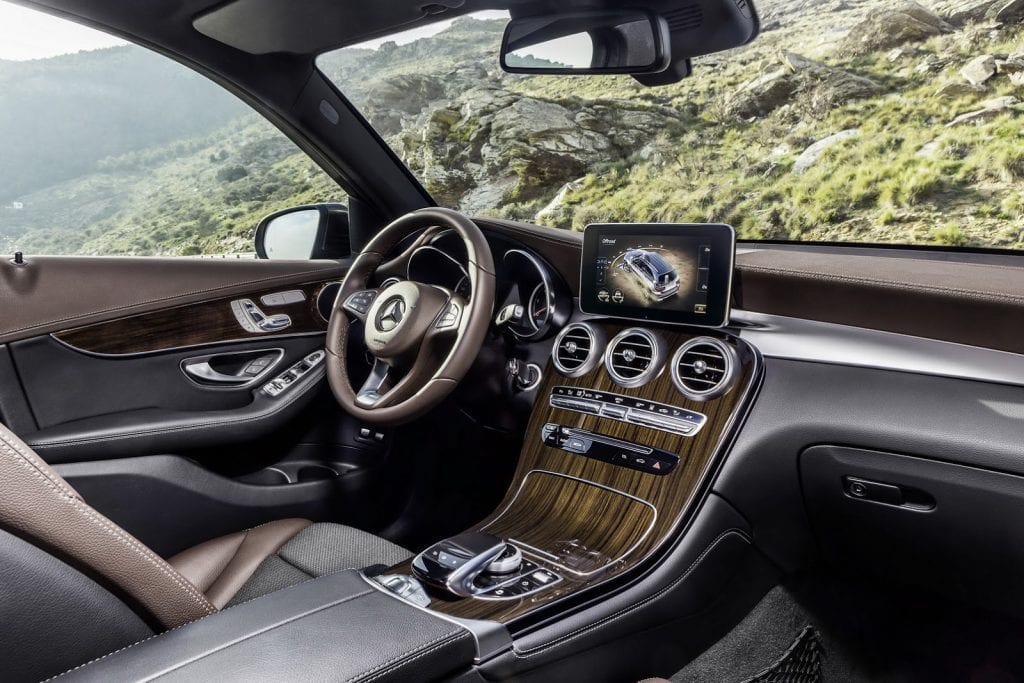 Inside the cabin, the Mercedes-Benz GLC strafes very far away from the boxy interior of the GLK and moves to a more up-to-date C-Class like interior. The slanted centre console houses a seven-inch screen that displays navigation, vehicle settings and media options. Further down there is a touchpad COMAND controller to control functions on the screen as well as a dial that alters the driving setup of the vehicle. Five drive modes are selectable: Eco, Sport, Sport+, Individual and comfort.
A new feature implemented into the 2016 Mercedes-Benz GLC is the heads-up display or HUD for short. It projects useful information such as speed, revs and even navigation on to the base of the windshield. As an optional extra, Mercedes Benz's Distronic Adaptive Cruise control will be available adding multiple cameras around the vehicle and radar that can warn the driver of an impending crash in front or behind. With this system, the vehicle can self control braking, speed and can even adjust the steering wheel to prevent an accident. All in all this makes the GLC quite high tech and impressive!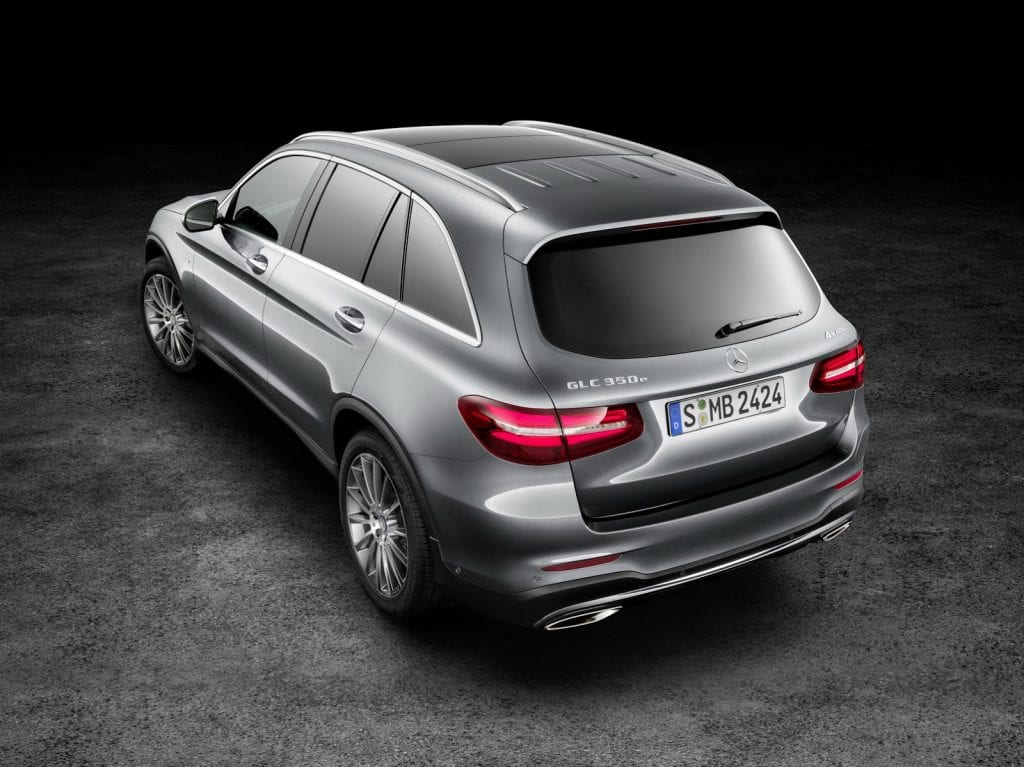 Mercedes will launch two versions to begin with. The GLC 250 produces 208 horsepower and the GLC 300 produces 241 horsepower. Drive-trains available for the models will be, front-wheel drive (FWD), rear-wheel drive (RWD) or Mercedes-Benz's 4Matic system which is MB's name for all-wheel drive. All versions will come mated to a nine-speed automatic gearbox. For those of you out there that prefer manual transmission, unfortunately there will be no option for it. Diesel and Hybrid variants have also been announced with the latter known as the GLC 350e, equipped with the same 2.0 litre engine as well as an electric motor to generate a combined 323 horsepower and a 0-100 time of 5.9 seconds. It will be able to travel an estimated 33.7 kilometres on electric power alone.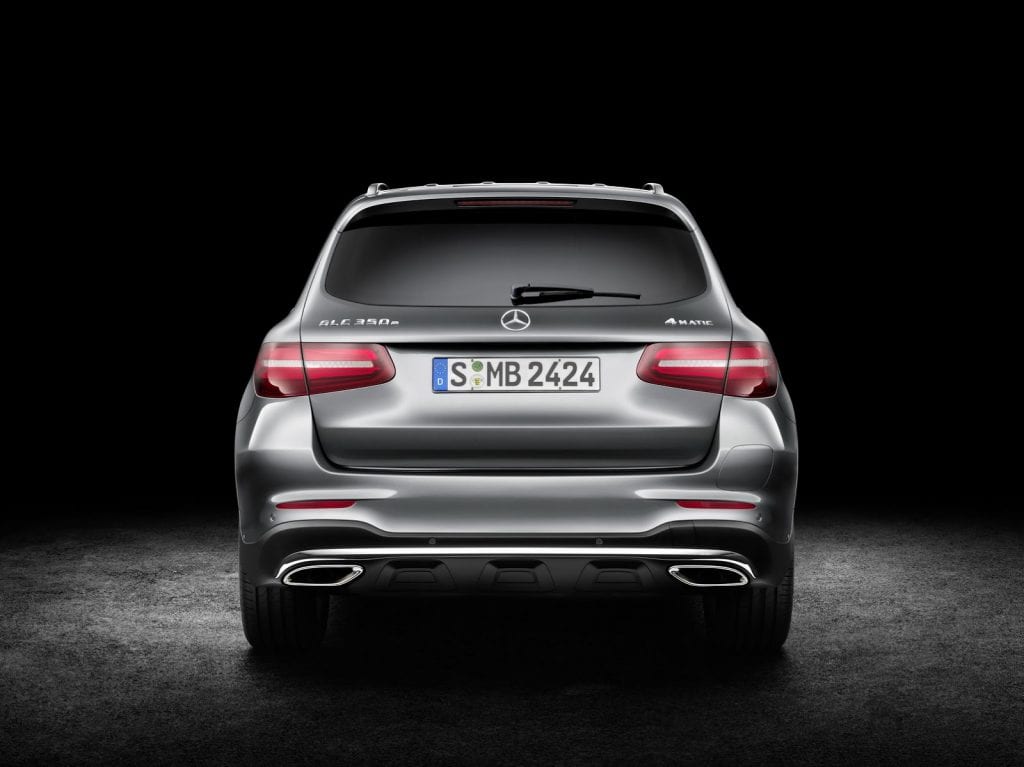 No Mercedes-Benz GLC 2016 release date has been set in stone as of yet, why not check some of the used Mercedes-Benz GLK for sale in Dubai on dubicars.com.