Now in its third generation and second nameplate, the GLS is Mercedes's largest offering in the SUV segment in terms of seating. What is commonly referred to as the "S-Class of SUV's" the 2020 Mercedes-Benz GLS 450 certainly fits the bill on paper, but is it just a phrase Mercedes is trying to coin, or can it actually be used to define the GLS Series?
Well, there is already one indication that this is the case. The 'S' was added to the GL lineup in 2016 to symbolise the GLS is the S-Class of SUVs. But that's just a moniker.
Available in the UAE in two variants – GLS 450 and GLS 580, we jumped behind the wheel of the 450 kitted out with the AMG line package.
Did you know that the GL/GLS SUV was supposed to replace the iconic G-Class, but due to demand from the Middle East, America and Europe, the G-Wagen was retained.
The Good
Plenty of power
Three rows of electric seats
Handling
The Bad
The third row is a bit of squeeze
Infotainment system takes time to figure out
Rear entertainment system is not an option
As always, a massive shout out to Mercedes-Benz UAE for lending us the vehicle.
Need a place to sell your car? Sell your car faster with Dubicars.
Is the GLS 450 worthy of the title "S-Class of SUV's"? Join us in our review of the seven-seater SUV and let's find out together.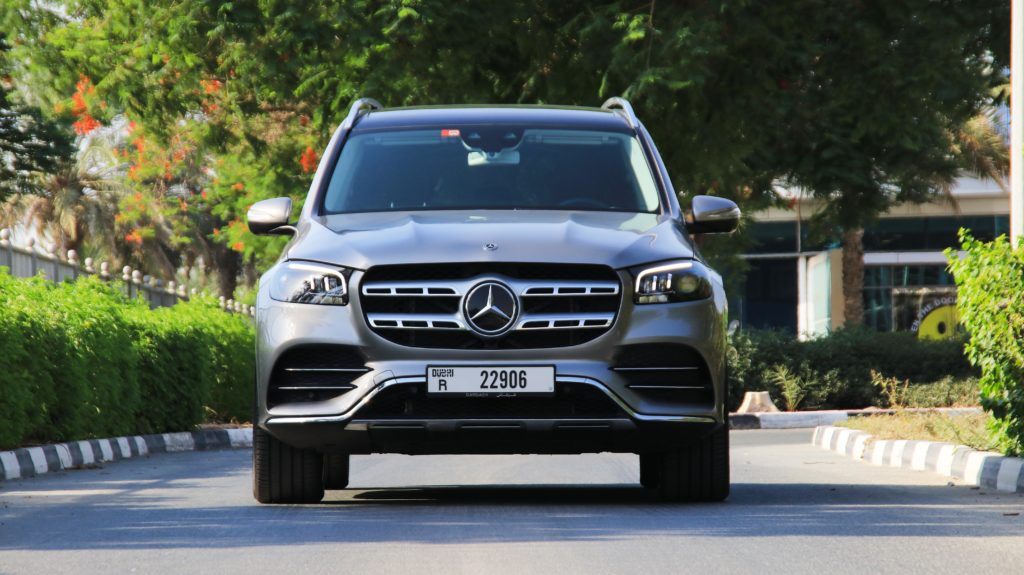 Driving the 2020 Mercedes-Benz GLS 450
Powered by a mild-hybrid inline-six-cylinder turbocharged petrol engine. Pushing out a combined 362 horsepower, one would forgive the GLS 450 for not moving anywhere in a hurry. But you would be wrong.
When we put our foot down, we were moving and moving FAST. For a vehicle that weighs 2,410 kilos, the GLS 450 can really move. It takes just 6.2 seconds to hit 100 km/h from standstill and that's mighty impressive for something so big.
The 48-Volt battery system may be small, but adds an additional 21 horsepower and kicks in when you put your foot down and takes away any hint of turbo lag. It also aids the powertrain when the air-con is blowing.
Another shock we had when driving is the handling/cornering. Body roll is minimal, and the handling is supreme for a vehicle this big. It doesn't make sense.
Oh wait, it does. German cars are known for their precise and accurate controls, and somehow, Mercedes found a way to transition it to their biggest SUV.
Driving around in comfort mode is the ultimate setting for maximum comfort as it floats over bumps while Sport and Sport+ tighten the suspension creating a stiffer environment. Putting it in individual mode is ideal as it can be configured to include the best of both worlds.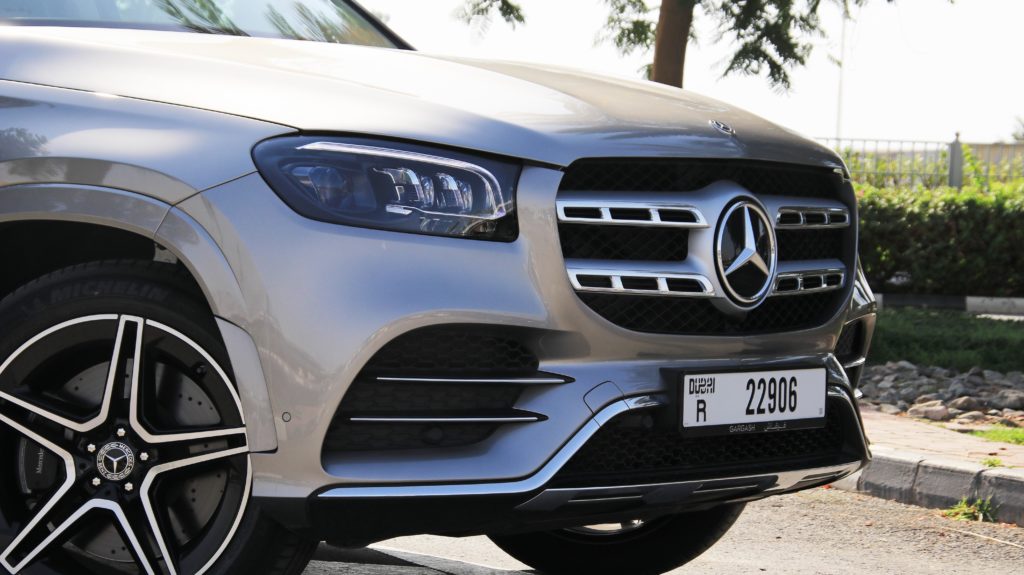 Outside the 2020 Mercedes-Benz GLS 450
With its sculpted bonnet and flared wheel arches, it has presence but doesn't throw it in everyone's face like some rivals do. It perfectly fits into the parking lot outside schools.
The front grille is stylish with round edges and is flanked by LED headlights. Around the rear, the GLS benefits from clean lines and rounded LED taillights.
Without the outlandish curves and angles competitors have, the 2020 GLS 450 won't age as bad compared to others. Mercedes found a sweet spot with the GLS by including modern lines without comprising the SUV's overall shape.
Our test vehicle has the optional AMG Line package which adds the sharp 5-spoke 21-inch alloys and AMG styling cues.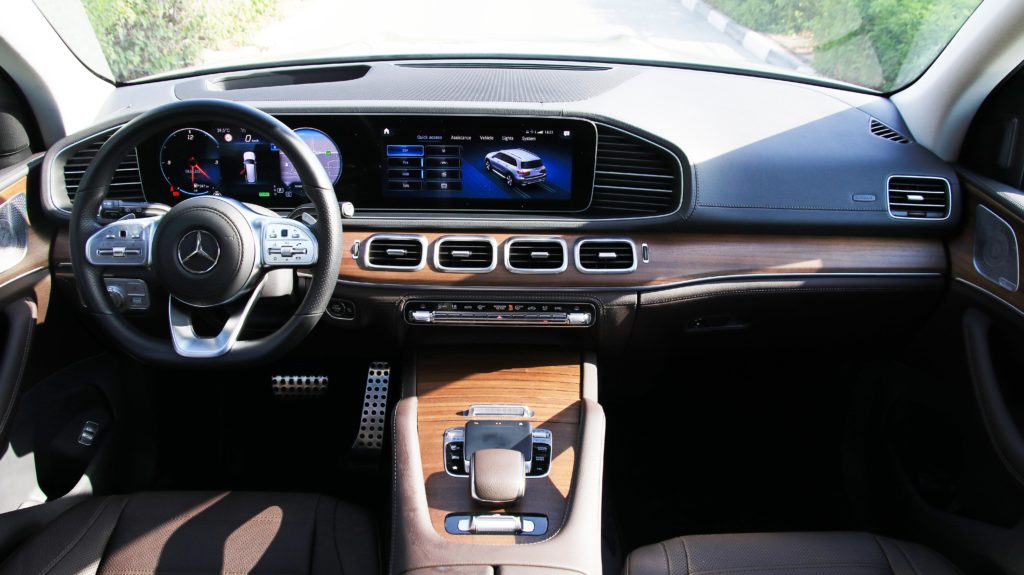 Inside the 2020 Mercedes-Benz GLS 450
The 2020 GLS is the largest SUV Mercedes has to offer, and in Mercedes's eyes, it serves as the S-Class of SUV's
What caught our eye first were the two 12.3-inch touchscreens. Both extremely configurable with vibrant colour display, but at times is hard to navigate through.
In total, seven people can fill up the seats inside the 2020 GLS 450.
Upfront driver and passenger areas are spacious, and both are surrounded by a mix of soft-touch leather, metal and wood surfaces.
The second row is spacious even with the front seats pushed back as far as they can go. In fact the average human could put an apple between their knee and the back of the seat. Not sure why you would need to or why we tried this, but you can.
Those three seats can be moved forward via a button, providing more legroom but compromising the third row.
The third row is a bit cramped unless you push the second row forward, but why would you want to do that. It does have USB-C ports that take ones mind off the space.
Speaking of tight spaces, the rear cargo space isn't anything to write home about, that is until you fiddle with a few buttons. Both the second- and third-row seats can be folded down electronically to increase boot space which is perfect for flat-packed items.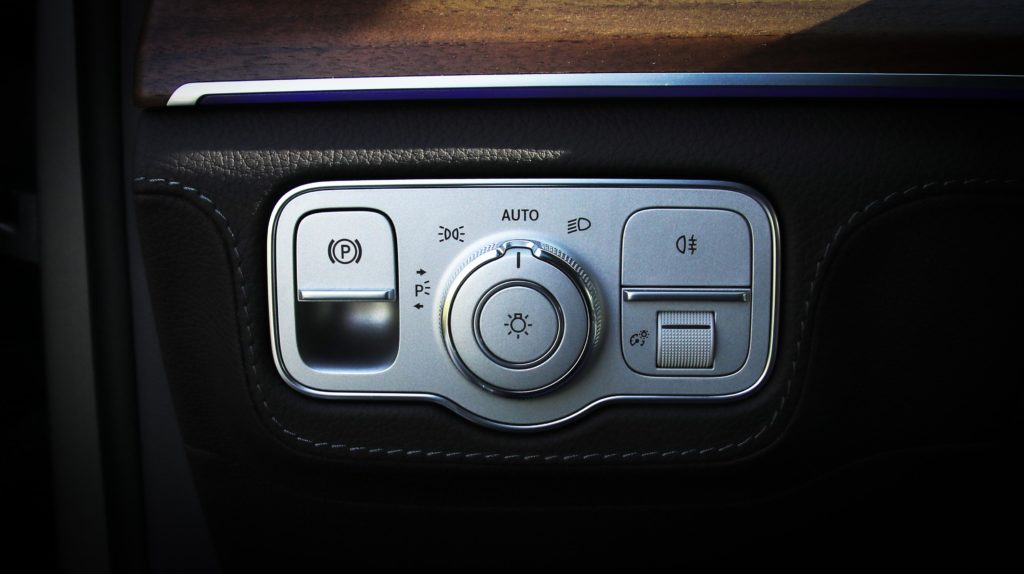 Safety & tech
Where to start? Do you want to hear about the massage seats, the dual-screen MBUX system or the panoramic sunroof? There are so many features; we don't even know what to tell you about first, it has pretty much everything except the kitchen sink and TV screens.
The GLS 450 shines bright in many aspects and is fitted with all the usual features you'd come to expect from a Mercedes, and at times one can get overwhelmed by all the options.
Gesture control was our biggest frustration as it is hard to master. But as it isn't a necessary feature to use, it can easily be ignored.
On the safety front, the GLS has once again, pretty much got everything apart from autonomous driving options.
It likes to chime in when you might be getting to close to someone and show you many red symbols to signify you're to close to another car.
With it being such a large vehicle, the blind spot detection system and multitude of cameras are extremely helpful when navigating the parking lot and the road.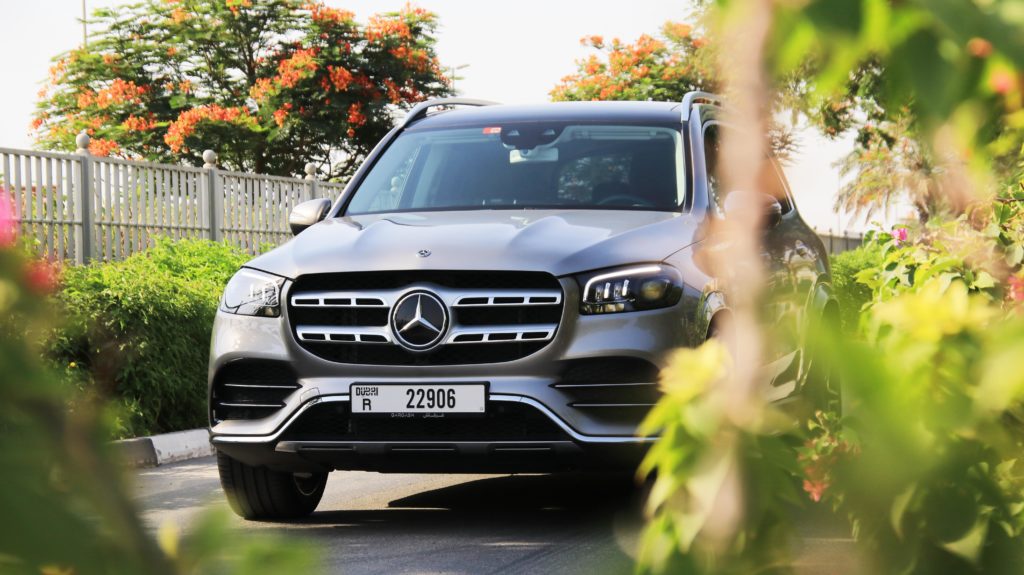 Final verdict
For the "base model" in the GLS lineup, the GLS 450 is well equipped, spacious and stylish. It's an ideal family car for those with larger pockets, and in its class, it sits at the very top of the ladder and offers the best handling and quickest sprint time.
If you're looking for a mix of handling, speed and enough room for a trip to Carrefour, then the GLS 450 is the right car for you. If you on the lookout for a vehicle that would be suitable for long distances, the GLS does fill that gap too. However, rivals offer options to keep everyone entertained not just driver and passenger.
But we do have to say, Mercedes are 100% right when they say it is the S-Class of SUV's. No other family SUV handles this well.
2020 Mercedes-Benz GLS 450 price in UAE: Starting from AED 380,000.
Dubicars new Mercedes-Benz and used Mercedes-Benz for sale in Dubai, Sharjah, Ajman and Abu Dhabi.
Photo credit: Rajitha Perera (Dubicars)