2020 has been a big year for cars. The legendary Defender has returned with swish rounded corners, Jeep has bought back the Gladiator moniker, but those have all been outshined by the 2021 Ford Bronco.
An offroad icon and a vehicle suited for the soft sands of the UAE, after a 20+ year hiatus, the Bronco is back with its LED headlights firmly set on the Wrangler.
The return sees the SUV in both 2- and 4-door guises and already, its offering best in class statistics.
Starting with the exterior, the 2020 Bronco sits 294mm off the ground and can withstand wading through 851mm of water, making it the ideal SUV for a trip to Wadi B.
In terms of power, Ford is offering two engines with EcoBoost; a 2.3-litre inline 4-cylinder with an expected output of 270 horsepower and a 2.7-litre V6 rated at 310hp.
As for the transmission, there's a choice of two; a 10-speed auto, or a seven-speed manual.
Both body styles will offer something else others don't have; frameless doors. According to Ford, they are easier to remove compared to the Wrangler and can be stored in protective bags so the paint won't get scratched. And you don't have to worry about the door mirrors as they are mounted just below the A-pillar.
As for the roof, the two-door Bronco will feature a removable three-piece hardtop whereas the four-door will feature a soft or hardtop.
Ford will allow buyers to customise their 2021 Ford Bronco till their heart's content. The list includes different doors, LED light bars, various front grille designs and a range of fender flares.
Much like the exterior, the interior is inspired by the original Bronco and modernised with digital screens and gauges. The cabin is weatherproof at least against water. We'll have to wait and see how it copes with the sand.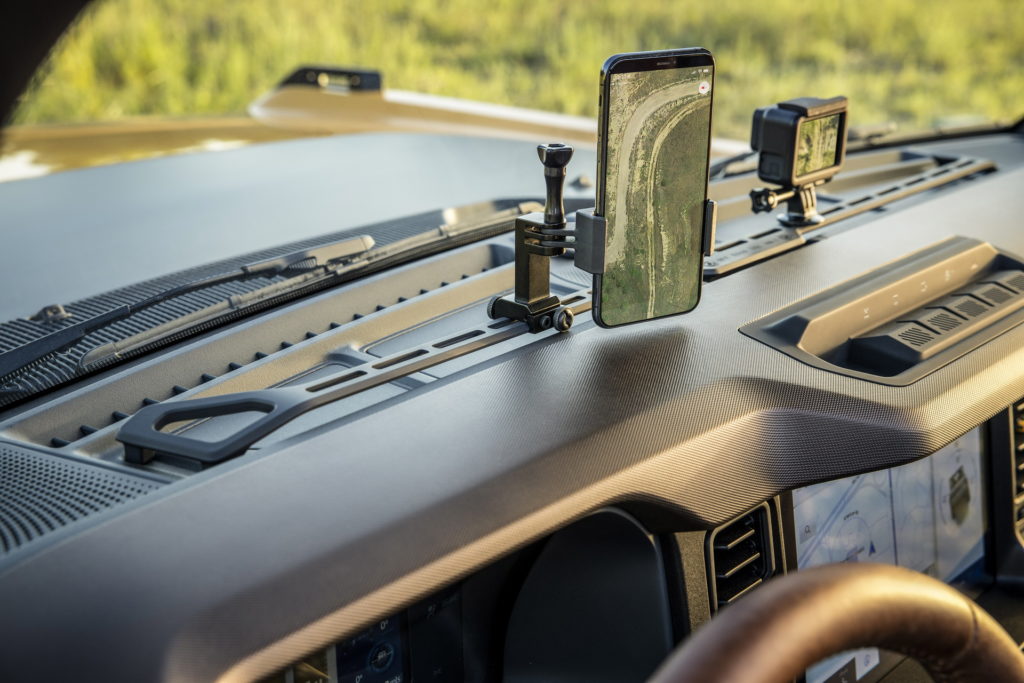 A unique optional extra can be fitted to the dashboard; a mounting rack for phones, action cameras and more.
Despite its off-road appeal, the 2021 Bronco comes with a long list of comfort and tech-related features. An 8-inch touchscreen display is standard and can be upgraded to a 12-inch unit with off-road navigation. A 360-degree camera is on the list too.
2021 Ford Bronco price in UAE; Not yet known. In the US, pricing starts at $29,995 for the two-door four-cylinder EcoBoost.
Production for the 2021 Bronco will start early next year with the model expected to arrive in the US shortly after. UAE customers will have to hold out for a little while longer.
Dubicars has new Ford and used Ford for sale in Dubai, Sharjah, Ajman and Abu Dhabi.