Crossovers and SUV's are the norm, and every manufacturer is starting to churn them out. While some are uninspiring to look at or sluggish due to underpowered engines, the 2021 Mazda CX30 doesn't fit into either of those categories.
Whoever is head of design at Mazda has their head screwed on as the new design language of Mazda vehicles is nothing short of stunning, and their latest model is no exception. Feast your eyes on our gallery below.
Slotting in between the CX3 and CX5, the 2021 Mazda CX30 is the medium-sized crossover in the lineup but where did the CX4 go? That is a China-exclusive and to avoid confusion, Mazda chose the CX30 moniker instead.
Not only is the 2021 CX30 great to look at, its practical too with five seats and a sizable boot. But is that enough to warrant a purchase?
Need space in your garage? Sell your car faster on Dubicars!
With all that out of the way, let's see if the 2021 Mazda CX30 is worth your time.
The good
Stylish
Fuel economy
Cabin materials
The bad
Connectivity
No turbo in the UAE
No touchscreen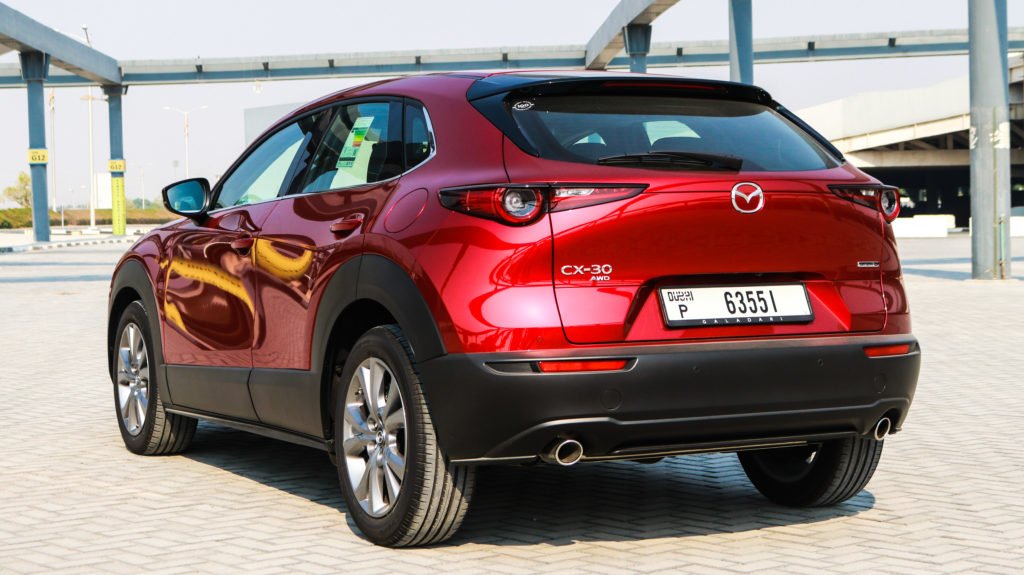 Driving the 2021 Mazda CX30
Under the bonnet is a 2-litre four-cylinder motor connected to a 6-speed automatic that sends 135 horsepower to all-four-wheels. It's fun to drive, and with the added bonus of AWD, the CX30 sticks to the road and through the corners. But if it had a turbo, it would be a whole lot better.
Out on the road, it feels more like a hatchback rather than an SUV and is fun to drive. It's not as high as other crossovers and doesn't throw its weight around.
It's surprisingly quiet behind the wheel as the interior acoustics do a great job of blocking out most exterior sounds. Despite not having a turbo, the CX30 is frugal when it comes to fuel consumption as long as you don't sit idle for too long. We managed to get 16.1 km/L while behind the wheel.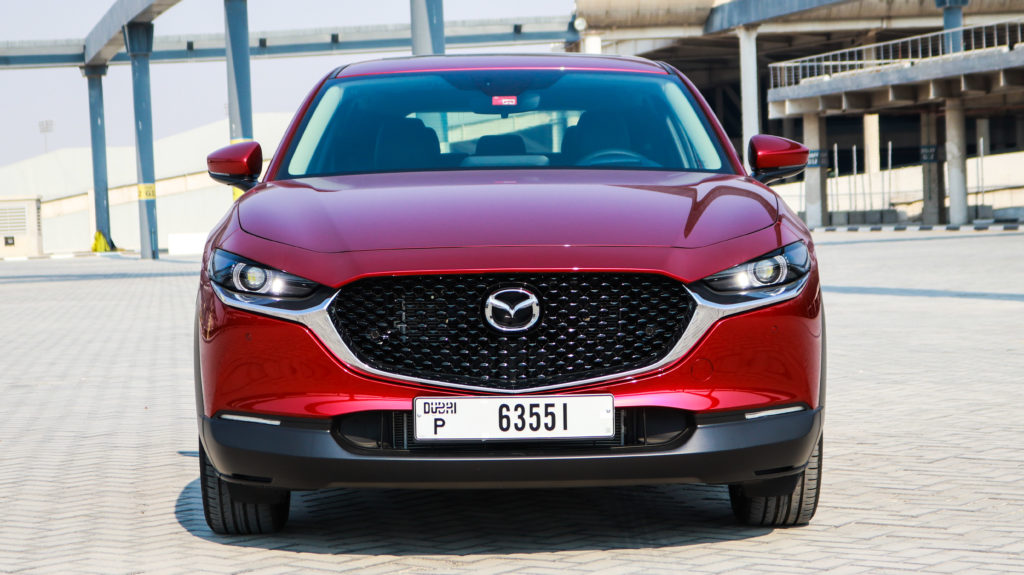 Outside the 2021 Mazda CX30
Without a doubt, Mazda has some of the best exterior styling in the business and the CX30 benefits from that. It does look remarkably similar to the Mazda 3 hatchback, but it's easy to spot the difference as the CX30 gets plastic cladding on the door panels and fenders.
The front end is highlighted by a striking grille flanked by bold headlights underlined with chrome which gives the front end a cheeky look.
As you move towards the rear, lines run uninterrupted and streamline their way towards Mazda's signature taillamps.
The one thing that makes any Mazda stand out is the gorgeous red metallic paint finish. It's a phenomenal colour that we can't get enough of.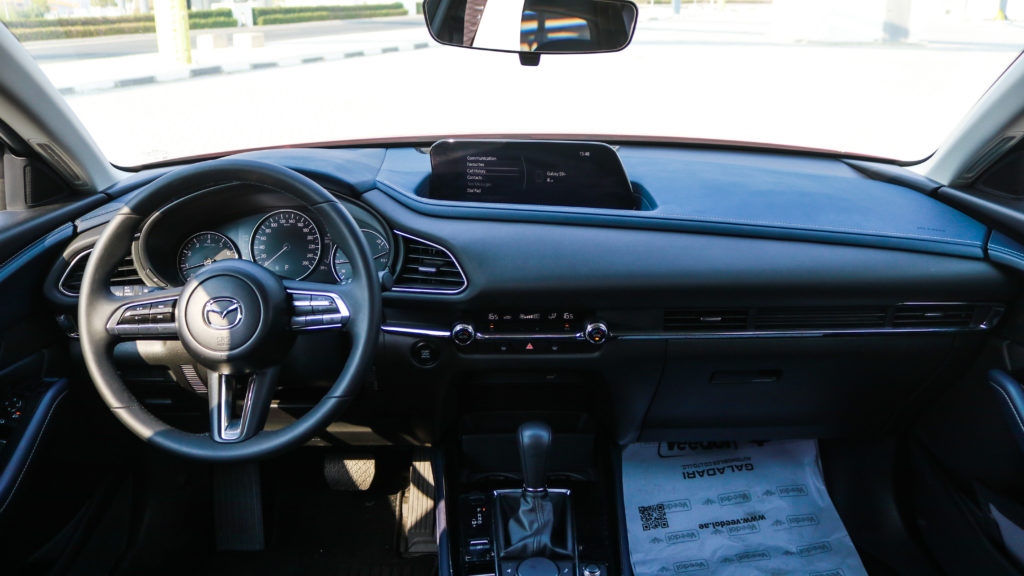 Inside the 2021 Mazda CX30
We've seen two-tone interiors but not a three-tone at least from the official dealer. The Mazda's cockpit does indeed comprise of three colours. Beige lines the roof, black makes up part of the dashboard, and blue takes up the other part of the dash. An interesting choice, but it works well.
Materials used are high quality, is well built and soft to touch, which are all big plus points in this category.
Seats are manually adjustable which seems quite odd for a car at this price point, but at least the car is comfortable.
Rear seats offer slightly more space and headroom compared to the Mazda 3 hatchback despite the sloping roofline. Rear passengers get cup holders and a/c vents but no charging outlets.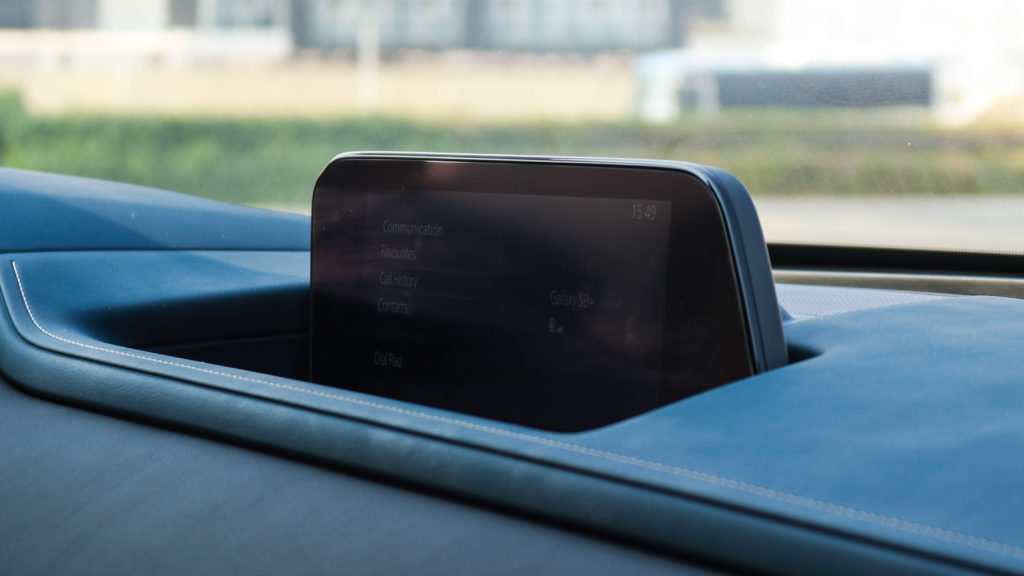 Safety and tech
Nestled into the middle of the dashboard is an 8.8-inch infotainment system which you can control via controls on the steering wheel or via the rotary dial in the centre console.
Flicking through the menus is smooth, but connectivity is a slight issue when using Bluetooth. In all fairness, this is actually a useful feature if you're alone in the car, but if your passenger wants to connect to Bluetooth, you have to stop the vehicle.
On the plus side, if you have a cable, Android Auto and Apple CarPlay are available.
Last but not least is the rear cross-traffic alert system which works in real-time to detect what's behind you. A useful piece of tech when reversing, but where it works wonders is out on the road. While active, indicators flash up on the HUD or the digital speedometer displaying how close a vehicle is behind you.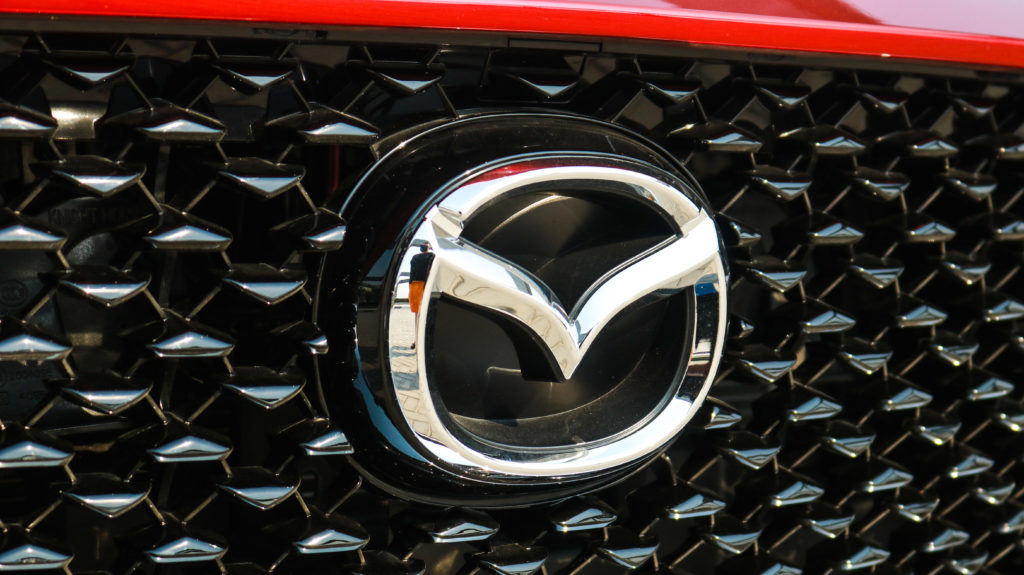 Final Verdict
It's a looker for sure and will grab attention where ever it goes, but does it have enough to keep it one step ahead of the rest? With good looks and a plush interior, yes, but when it comes to the price, it's a bit high compared to its rivals.
We'd say it's one to consider.
2021 Mazda CX30 price in UAE; Starting at AED 99,900.
Dubicars has new Mazda and used Mazda for sale in Dubai, Sharjah and Abu Dhabi.