A first in the Middle East, finance search on Dubicars is here to make your car buying experience 10 times easier! Why have 10 tabs open when you can have just the one!
But what is this new revolutionary way of car finding have we created, we hear you ask! It's a simple search function that allows you to customise your search according to finance options!
In order to make it even better, we have a guide below on how to finance your car via our exclusive finance search.
Dubicars won't be providing any finance. Many banks provide car loans (subject to your credit status and their terms and conditions). Here are just a few links to bank car loans: FAB car loan, Emirates NBD car loan and HSBC car loan.
Step 0: Change the search options
On our home page, you have two options when it comes to refining your search results. For this guide, you want to select Finance it.
Step 1: Set your parameters

Once you've changed the search option you'll notice a few changes at the top;
Monthly payment (min-max)
Car type (body style)
Down payment
Loan period
Monthly payment allows you to set your minimum and maximum payment per month. AED 200 a month is the lowest, with AED 10,000 being the highest.
Car type is the shape of the vehicle. SUV, saloon (sedan), hatchback, coupe etc.
Down payment sets how much money you want to put down alongside the loan, this is mandatory no matter what and most banks require 20%. Values range from AED 5,000 to AED 200,000.
Loan period is for the duration of how many months you want to repay the loan. The minimum is 12 months, the maximum is 60 months.
Once you've defined your options, hit search and off you go!
Note: As per our understanding, cars older than five years can't be financed by any bank according to the Central Bank.
Step 2: Find your dream car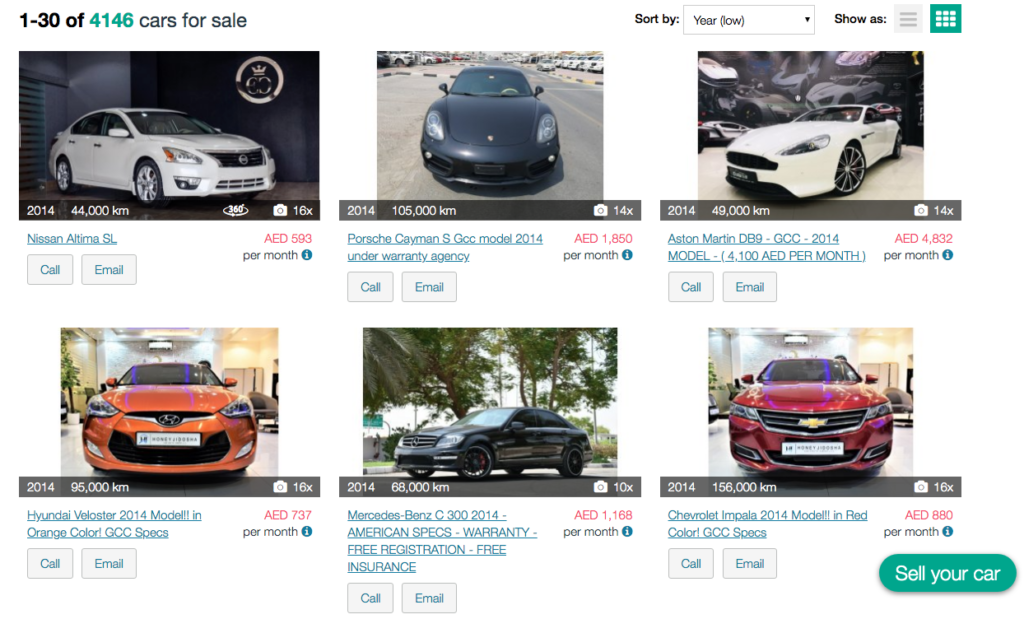 Selecting the previously mentioned options, you'll be shown all the vehicles that can be financed on Dubicars.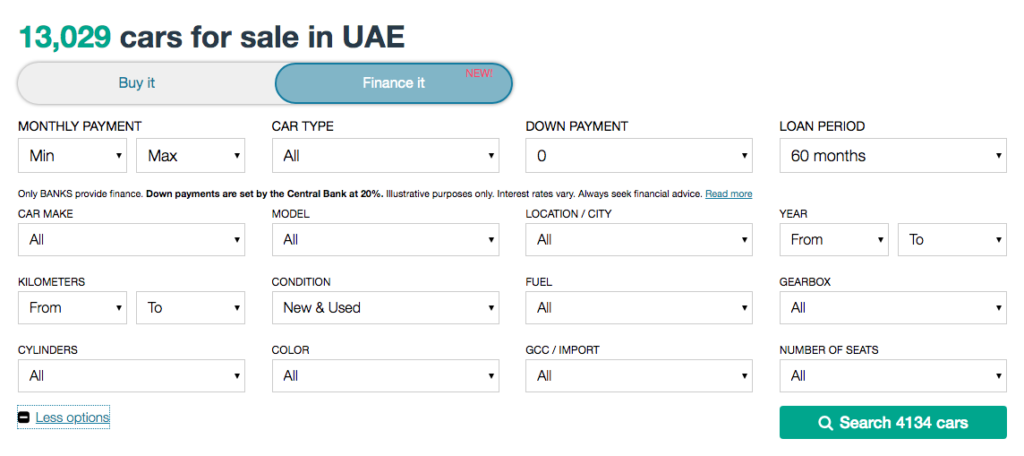 In case you are looking for a certain vehicle, you can select;
Car make (manufacturer/brand of the vehicle)
Model
Location/City (what Emirate or city the vehicle is located in)
Year
Kilometres
Condition (new and used selectable only)
Fuel
Gearbox
Cylinders
Color
GCC/Import
Number of seats

Further refine your search sort by;
Newly added
Year (high) – Newer cars will be shown first.
Year (low) – Older cars will be shown first.
Price (high)
Price (low)
Mileage (high)
Mileage (low)
Video & Panomara – Exclusive to Dubicars and shows only cars with premium videos and full 360 interior pictures.
Now that you found your dream car, it's time to send off a finance lead to the seller.
Step 3: Sending a lead to the seller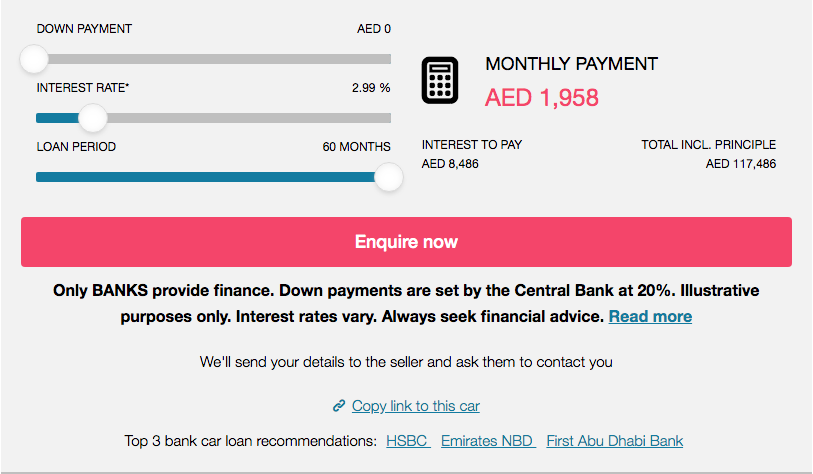 Once you've found the perfect car you, click the link and scroll down. Underneath the specs, you'll find the box pictured above.
Here you can configure the down payment, interest rate and the loan period.
On the right, you'll notice the amount you need to pay monthly. This value changes depending on where you move the individual sliders too.
Changing the position will adjust the interest you'll pay over the loan period and the total amount you'll pay throughout the loan duration.
Note: These numbers are only for illustrative purposes only, please contact the bank directly for exact figures.
Step 4: Obtaining the loan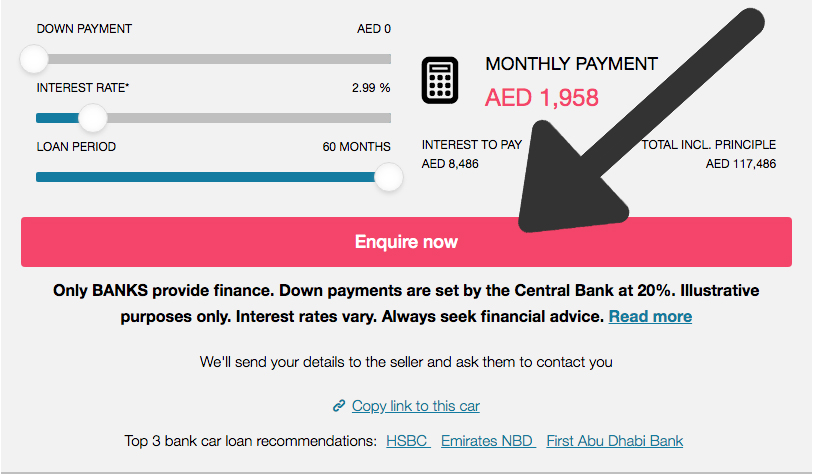 Now that's all been configured, click the Enquire now button on car listing and a finance lead will be sent to the seller.
Note: Neither Dubicars nor the dealers provide the money for financing a car, you will still need to contact the bank. Click here for more.
For more information about financing a car in the UAE and what paperwork you need, click here.
Finance your new car or used car for sale in Dubai, Sharjah, Abu Dhabi and Ajman.