Dubai International Motor Show has finally kicked off with the Media day, car manufacturers from around the world have flocked to show off their latest additions of Sport Cars, SUVs, Sedan's, Hatchbacks and Crossovers. We've got loads of information to share with you over the next couple of days so stay tuned. First off, Nissan has unveiled their new Patrol alongside their NISMO tuned SUV, this one dubbed Desert Edition.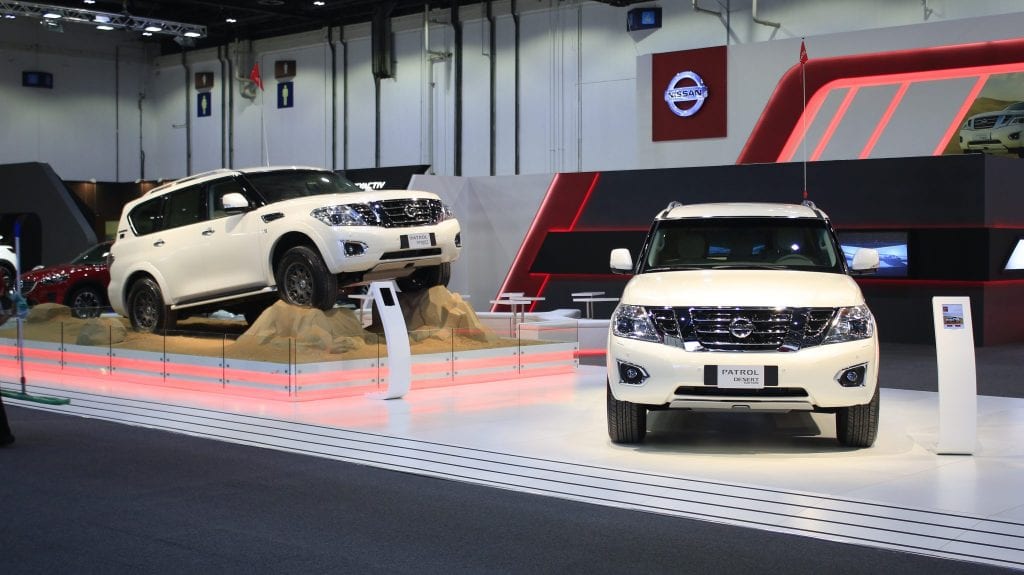 Built specifically for the region, it features all new equipment to tackle the great dunes of Big Red, Fossil Rock or even Wadi Bashing in Hatta. Front and rear skid plates have been added underneath to further protect the bumpers, axles and most importantly engine. Over fenders have been added to the wheel arches for a more aggressive posture and underneath said wheel arches are 18-inch bead-lock wheels allowing drivers to lower the pressure and not having to worry about the rubber coming off.
There also is a specially designed suspension tuned by none other than local racing hero Dr. Mohammed Bin Sulayem, who is also an international rally champion as well. This suspension is suited specifically for dune bashing. A "Desert Edition" badge has been placed on the rear tailgate complete with the rally champion's signature.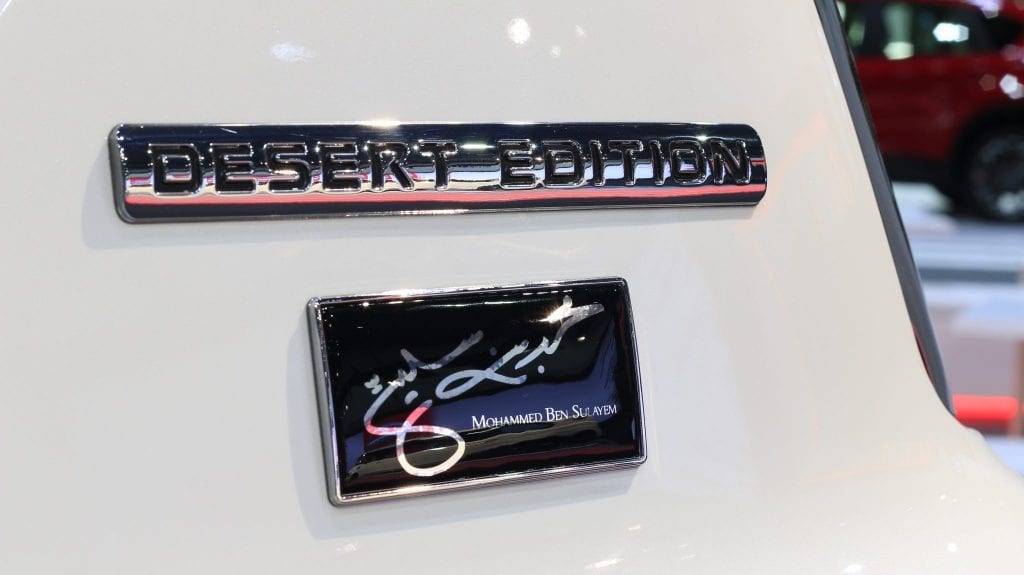 It is also packed with standard features found on road going variants such as parking sensors, navigation, Bluetooth pairing, eight seats, multiple cameras scattered around the exterior, roof rails and powered seats plus a whole lot more. There are some additional features exclusive to this model: a desert flag for offroad driving, built-in tire inflator complete with a hose mounted in the rear, kinetic rope and sand ramp.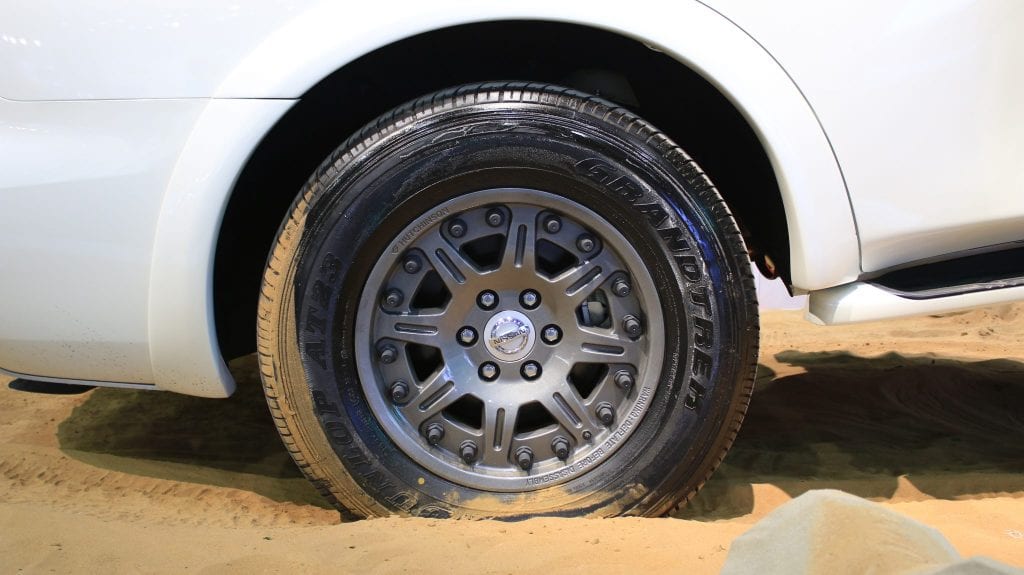 The engine is mounted up front as usual and is an 8 cylinder 5.6 litre with direct fuel injection. It produces a respectable 400 horsepower and power is sent via a seven-speed automatic transmission to all four wheels. 0-100km/h is estimated at less than 7.5 seconds and can reach a top speed of over 200 km/h.
Only one exterior option is available for the time being which is White Pearl QAB and two cloth options are available to cover the seats which are Beige and Black.
Pricing for the Desert Edition starts at $69,430 in the UAE. This is one of three special edition Nissan Patrol's to be launched with the first being the Nissan Patrol Nismo and the third being a Nissan Patrol Black Edition. Its launch comes in at perfect timing, as Toyota have recently launched their mighty 2016 Land Cruiser. We've yet to hear if Toyota could potentially launch a special edition of the Land Cruiser, however that's all speculation for the time being.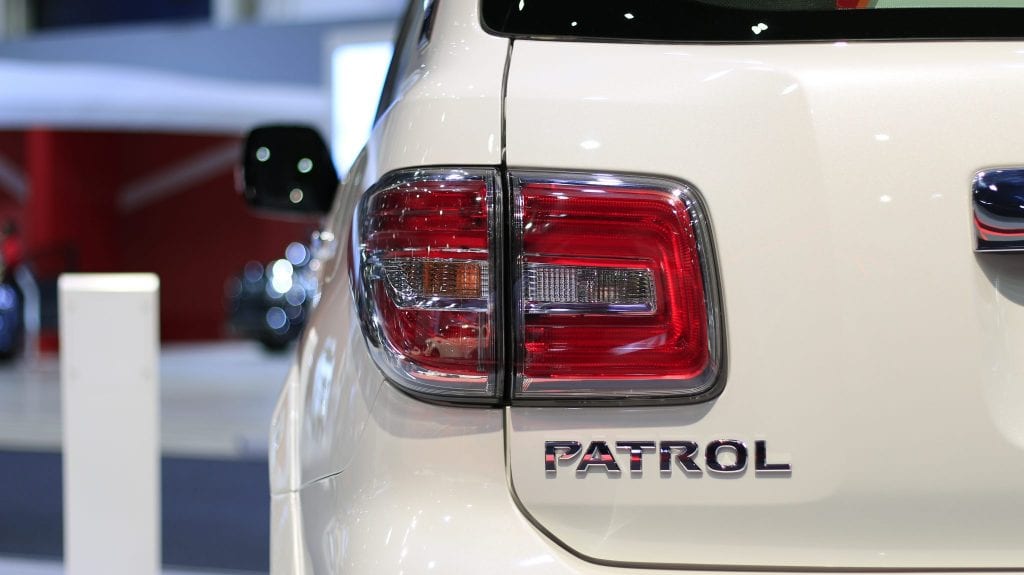 No date for Nissan Patrol Desert Edition's has been set in stone and pricing has been kept on the down low for now. Keep an eye on Dubicars in the near future on is bound to show up for sale. If you just can't wait for the Desert Edition you can check out all new Nissan Patrol and used Nissan Patrol listings in Dubai, Abu Dhabi and Sharjah.