| | |
| --- | --- |
| Starting price: |  TBA |
| Engine volume: |  5.6 litre |
| Cylinders: |  8 cylinders |
| Torque: |  560 Nm (estimated) |
| Horsepower: |  428 hp |
| 0 to 100 km/h: |  7.3 seconds (estimated) |
| Maximum speed: |  200+ km/h |
There is no doubt about it the Nissan Patrol is extremely popular here in the UAE and around the GCC region, even the old styled new models (if that makes any sense) is immensely popular. Nismo has stepped in and worked its magic on this popular SUV and where to better to launch it than the UAE.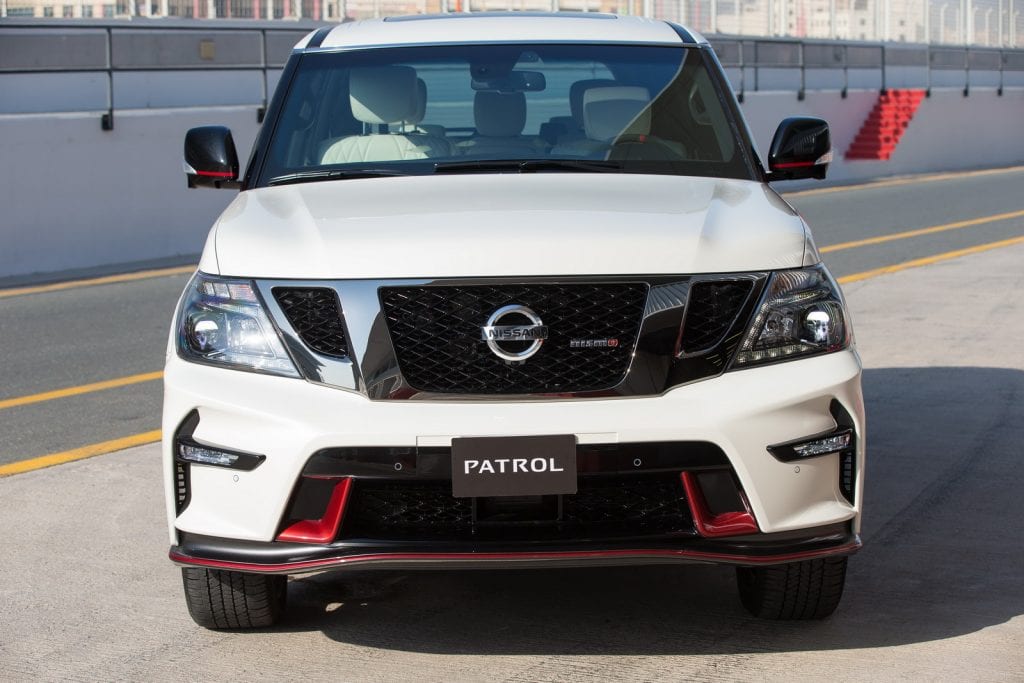 NISMO has slapped on a more aerodynamic body and a few touches of red to set NISMO Patrol's from standard versions and just in case onlookers think it's just a kit, NISMO badges adorn the front grille and left hand side of the rear tailgate. Those red bits really do make a difference, highlighting new black wing mirrors, front splitter and side steps. Not to mention round exhaust tips and an altered rear end fused with a diffuser.
Underneath the bonnet is 5.6-litre eight-cylinder petrol engine tuned by Takumi to produce an extra 28 horsepower from the standard 400 hp, exact technical specs such as 0-100 km/h time and top speed has yet to be revealed, except a slight boost from the standard 7.3 seconds and 200 km/h. Note NISMO is Nissan's in-house tuning division.
Bilstein suspension has been tuned and fitted to the undercarriage to improve the as well as updated steering for optimal responsiveness.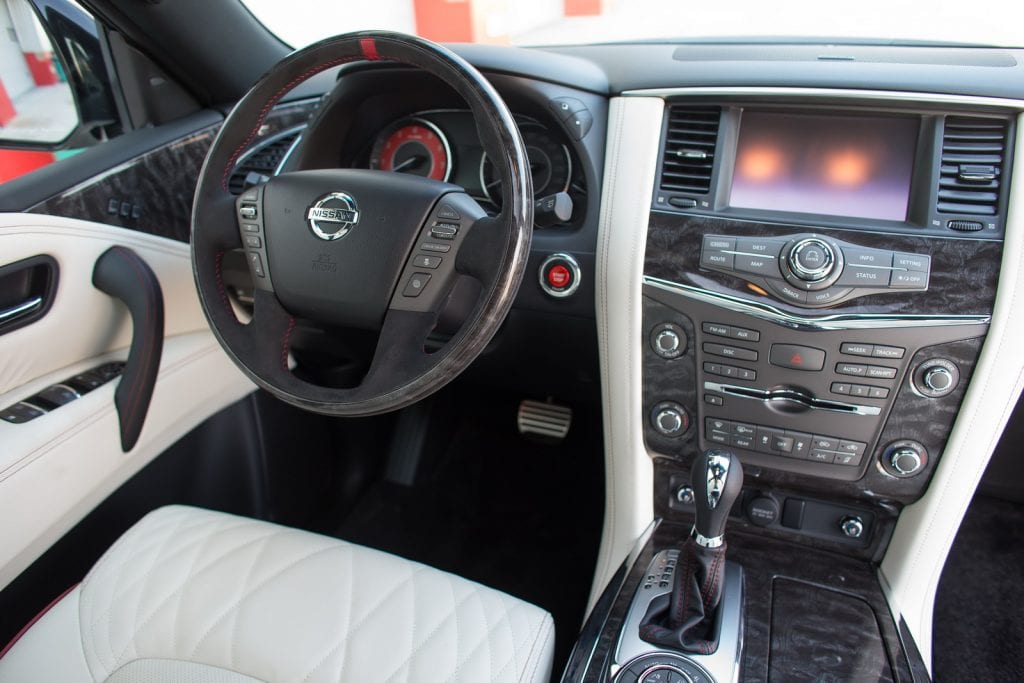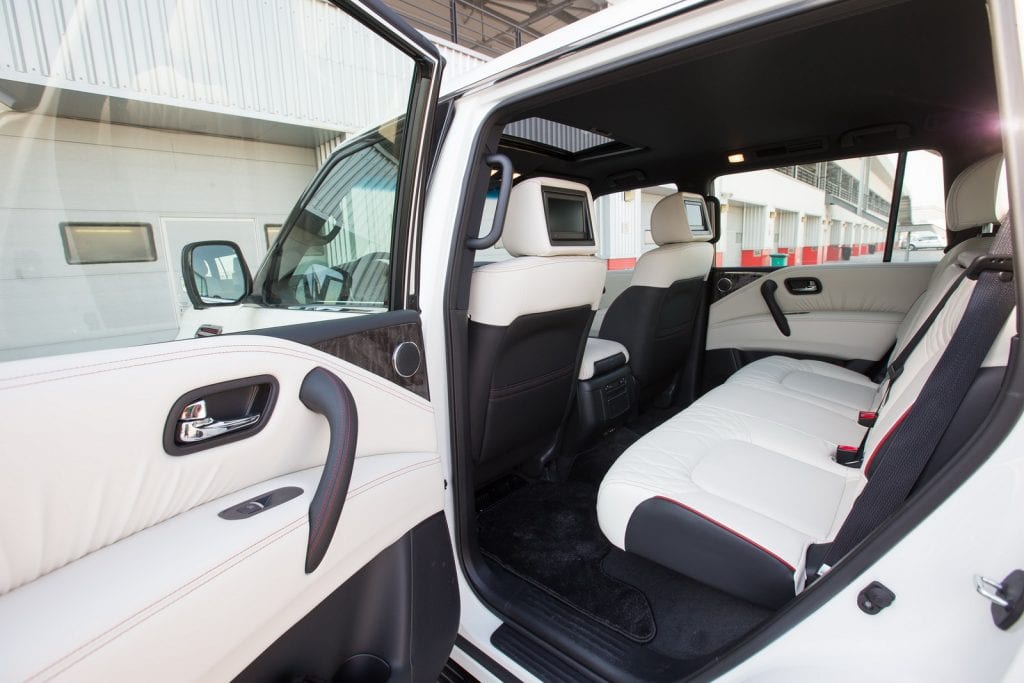 Still equipped with rear TV screens, ventilated seats, keyless go, navigation, Bluetooth pairing and multi offroad selector for sifting through the dunes of Big Red. All fancy exterior options have been retained: parking sensors, cameras, blind spot detection mirrors, adaptive headlights and space to mount a trailer coupling to haul dune buggies or a caravan.
There are enhancements inside, new white and black leather seats and door panels, NISMO inspired dashboard with red tachometer and let's not forget red stitching to highlight.
With NISMO enhancing the Patrol, fingers crossed TRD will do the same with the Land Cruiser, but for now it's got Range Rover's o so mouth watering Sport SVR to do battle with.
| | | |
| --- | --- | --- |
| Cars | Nissan Patrol NISMO | Range Rover Sport SVR |
| Engine volume: |  5.6 litre/V8 |  5.0 litre/V8 |
| Horsepower: |  428 hp |  550 hp |
| Torque: |  560 Nm (estimated) |  680 Nm |
| Maximum speed: |  200+ km/h |  250 km/h |
| 0 to 100 km/h: | 7.3 seconds (estimated) |  4.4 Seconds |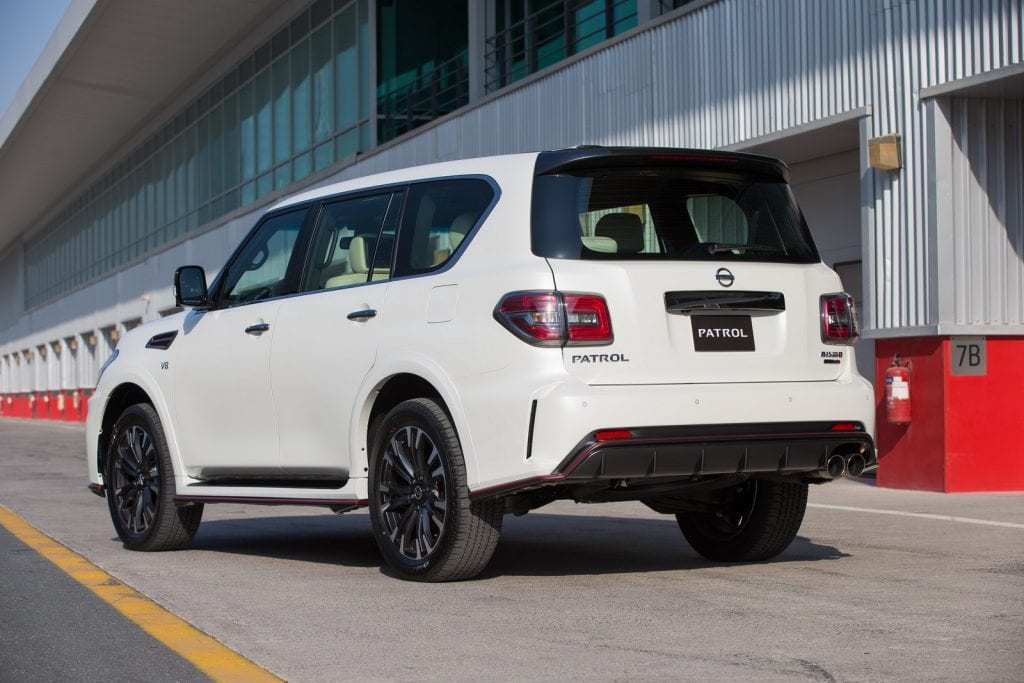 Patrol's are the latest to receive to upgrade treatments, other popular Nissan's have received touch ups; Juke, 370Z and of course the mighty GT-R. NISMO started back in 1984 as a specialist company to provide support for Nissan's Motorsport involvement and have been doing a fantastic job ever since.
Rumour has it, that its exclusive to the Middle East much like the Aston Martin Lagonda was supposed to be. However feedback from around the world is quite favourable, but we would like it to stay exclusive!
NISMO-tuned Nissan Patrol models are said to be available sometime soon. Keep you eyes peeled and keep browsing dubicars.com as it's a short time before one shows up. Can't wait? Check out new Nissan Patrol and used Nissan Patrol for sale in Dubai, Sharjah and Abu Dhabi.