New traffic rules and fines in the UAE are here. The government of the UAE has introduced new rules and fines that will only be applicable when the weather is adverse and there are chances of flooding when it rains.
The UAE is one of the most well-governed states in the world. There are rules that make absolute sense and it is ensured that everyone follows these rules. One of the greatest deterrents to those who intend to break the law is the extraordinarily high traffic fines. Now, there are three new traffic rules and three new fines to go with them to deter motorists from breaking the rules.
The new rules and fines implemented in the UAE are:
Motorists must not gather near valleys, flooded areas, and dams during rainy weather. Motorists who do so will be fined AED 1,000 and will receive six black points on their license.
Motorists must not enter flooded valleys overflowing with rainwater, regardless of their level of danger. Motorists who do so will be fined AED 2,000 and will receive 23 black points on their license. In addition, they will also have their vehicle impounded for 60 days.
Motorists must not obstruct the relevant authorities from regulating traffic; or ambulance and rescue vehicles during emergencies, disasters, crises, and rains; and in flooded valleys. Motorists who do so will be fined AED 1,000 and will receive four black points. In addition, their vehicle will be impounded for 60 days.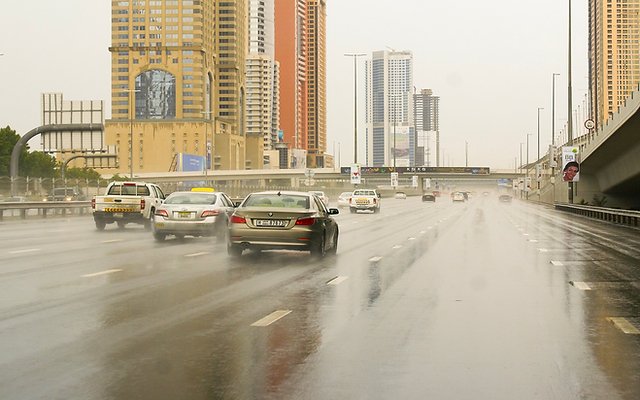 The new rules came into effect on 18 May 2023. It is quite clear that these rules have been implemented with the safety of motorists in mind. While it has been hot and sunny in Dubai, a few other areas of the UAE faced rains, dust storms, and gusts in recent weeks. The weather report also reveals that more rain could be headed to some areas of the UAE.
Until now, authorities in the UAE only issued alerts and advised motorists to stay away from areas prone to flash floods. Now, the government has decided to enforce the rule with fines, black points, and even impounding of the vehicle. As a result, the safety of motorists during inclement weather is expected to increase.
Also Read:
– All You Need To Know About The Mercedes-Benz G-Class
– Top 10 SUVs To Buy In The UAE
– All You Need To Know About The Toyota Land Cruiser