| | |
| --- | --- |
| Starting price: | Approx. 97,327 AED (26,500 USD) |
| Engine volume: | 2.0 Litre |
| Cylinders: | 4 |
| Torque: | 280 Nm |
| Horsepower: | 123 to 227 hp |
| 0 to 100 km/h: | 11 seconds |
| Maximum speed: | 177 km/h |
Volkswagen Tiguan is the German manufacturer's entry-level compact SUV and for its 2017 model, VW is aiming to make it as the cream of the crop. It was first officially unveiled at the recent Frankfurt Auto Show this year. Before its official debut, a Canadian captured some snapshots of the compact SUV completely undisguised from their home. The Tiguan was doing its part in a commercial hence no heavy camouflage.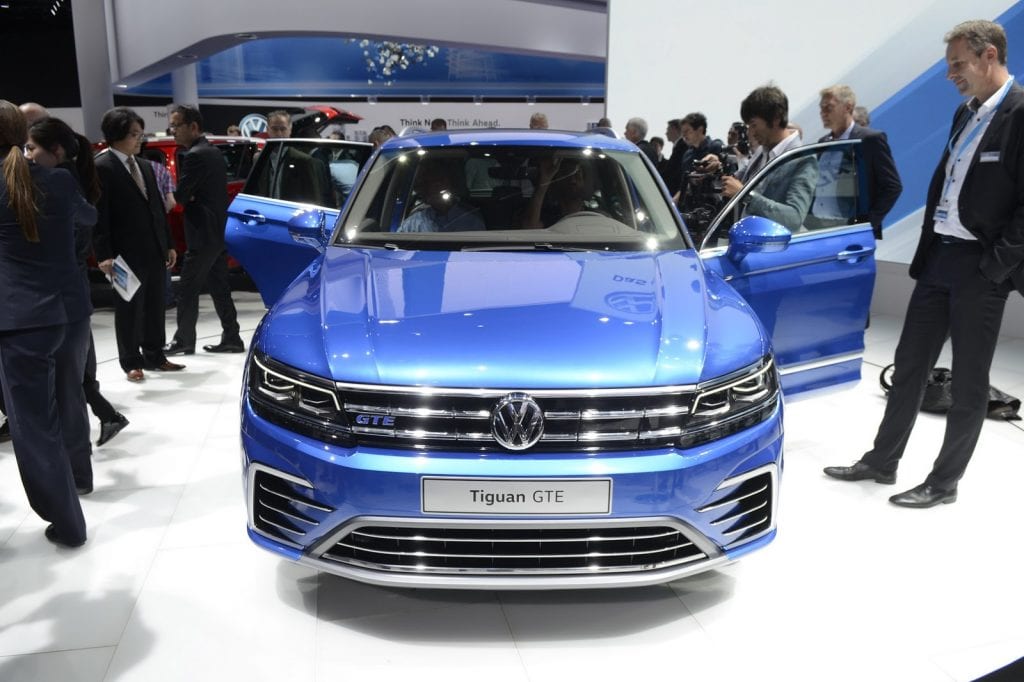 Upfront, it's got a much sharper and cleaner front end, plus new headlight styling now with LED's and xenon's. Round back, license plates move up to the base of the newly shaped tailgate and rear lights receive a touch up with a reversed and upside-down L-shape.  New Tiguan's will utilise the durable MQB platform (same one as newer Golf's) and now measures longer and wider, however the roof slips down by 33mm. It's capable of towing 2,500 kg (that's almost two Mini Cooper's), quite impressive for a vehicle so small.
An addition to its lineup is the long-wheelbase option adding more space and legroom. This version will make its way into certain markets – notably China, and could possibly accommodate five to seven people.
Inside a 5-inch touchscreen with an option to upgrade to an 8-inch, adorns the centre console. Apple Carplay and Android Auto have wiggled their way into the infotainment system with the latter already available in 2016 models. Returning optional features include navigation, Bluetooth pairing, cruise control and media inputs.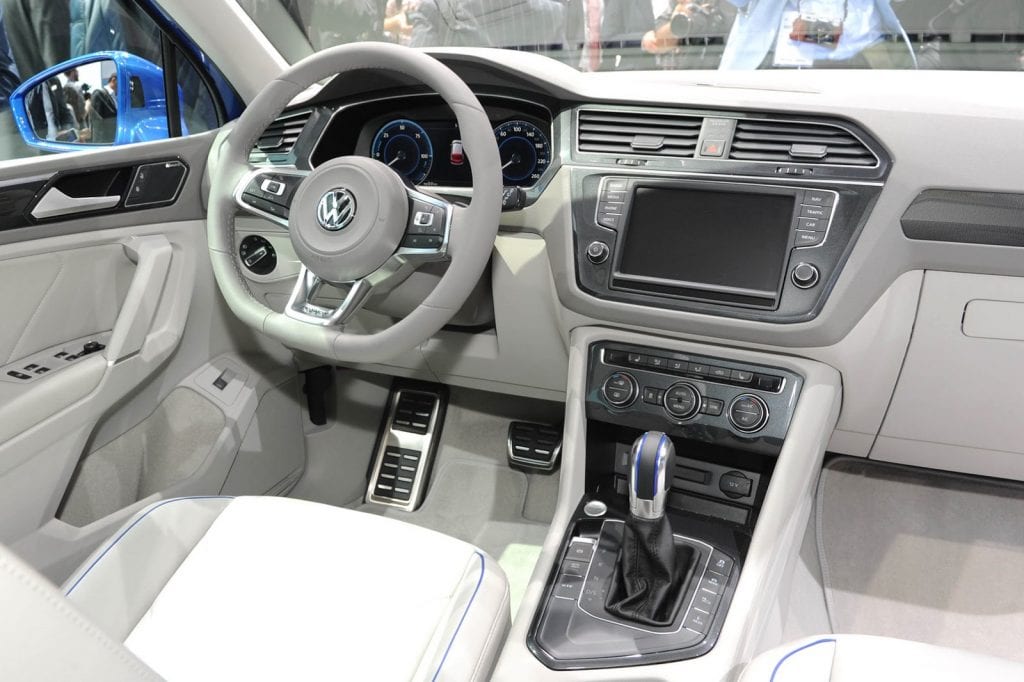 An R-Line optional trim is available with larger 20-inch wheels alloys along with standard 19-inch tyres, upgraded interior, two-tone spoiler, sportier bumpers and unique coloured trims. An off-road sort of kit is available too, with a reworked front-end at an angle of 25.6 degrees instead of 18.3.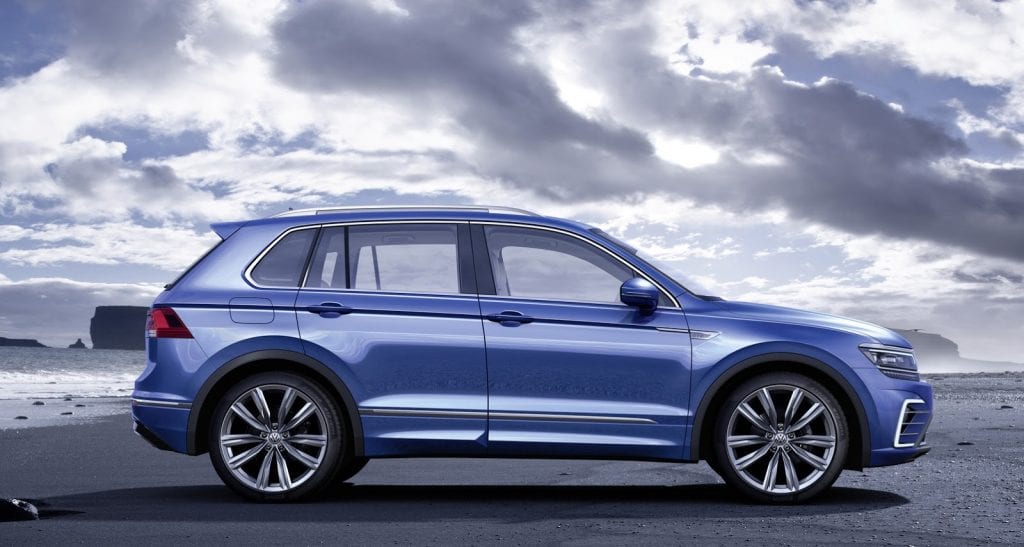 Safety concerns are the top priority for any car manufacturer and Volkswagen is leaving no stone un-turned. A 360-degree camera view, parking assists, pedestrian monitoring, front assist with city emergency and pre-crash detection (tightens the belts and winds up any windows and sunroof) plus a few more extras, one being adaptive cruise control.
Rivals out there on the roads include Toyota's ever-popular Rav4 and the Honda CR-V.
| | | | |
| --- | --- | --- | --- |
| Cars | Volkswagen Tiguan | Honda CR-V | Toyota Rav4 |
| Engine volume: |  2.0 litre/Inline 4 |  2.4 litre/Inline 4 |  2.5 litre/Inline 4 |
| Horsepower: |  123 to 227 hp |  185 hp |  176 hp |
| Torque: |  280 Nm |  245 Nm |  233 Nm |
| Maximum speed: |  177 km/h |  180 km/h |  185 km/h |
| 0 to 100 km/h: |  11 Seconds |  8.5 seconds |  9.9 seconds |
| Starting price: |  97,327 AED |  85,648 AED |  86,971 AED |
Four petrol power units are said to be available under the hood producing 123 to 227 horsepower per engine. Four diesel options are available as well with the highest trimmed version producing 237 horsepower. Power in all variants will either be sent to the front wheels or all four wheels.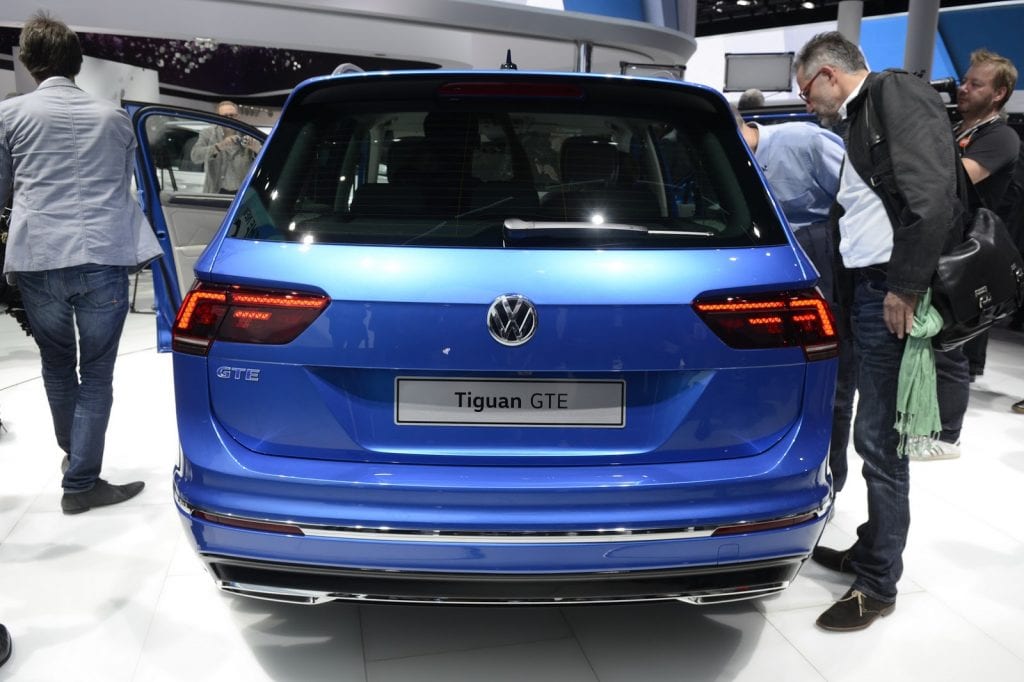 Volkswagen also announced a plug-in hybrid model packed with a 1.4-litre turbocharged petrol engine good for 154 horsepower, coupled with an electric motor and a lithium-ion battery to provide extra power to bring out a total output of 215 horsepower. As it has these electric components, it can run solely on them covering a distance of 50 kilometers.
Volkswagen Tiguan 2017 models are expected to roll onto showroom floors in 2016, check out all used Volkswagen Tiguan for sale in Dubai and new Volkswagen Tiguan for sale in Abu Dhabi.