Having sold an impressive 10 million units worldwide, Toyota UAE decided it release 100 units of the iconic Land Cruiser to celebrate the milestone.
In America, they released a special edition with a unique hue to commemorate the occasion, but in the UAE, things are a little different.
Available in three colours all with contrasting side decals, UAE versions cater towards those filled with nostalgia about what the Land Cruiser used to be about; a Land Cruiser.
But why is the UAE version so radically different? No one really knows why and that's a question for another day. What we're here to tell you about is the 2020 Toyota Land Cruiser Heritage Edition.
The good
Cargo space
5-Speed manual
Comfortable seats
The bad
No cruise control
Manual is only available with the V6
No third-row seating
As always, a huge shout out to Toyota UAE for supplying the vehicle.
If you would like to upgrade and need a place to sell your car, for just AED 99 you can sell your car online today.
With all that out of the way, join us and let's find out what the 2020 Toyota Land Cruiser Heritage Edition is all about.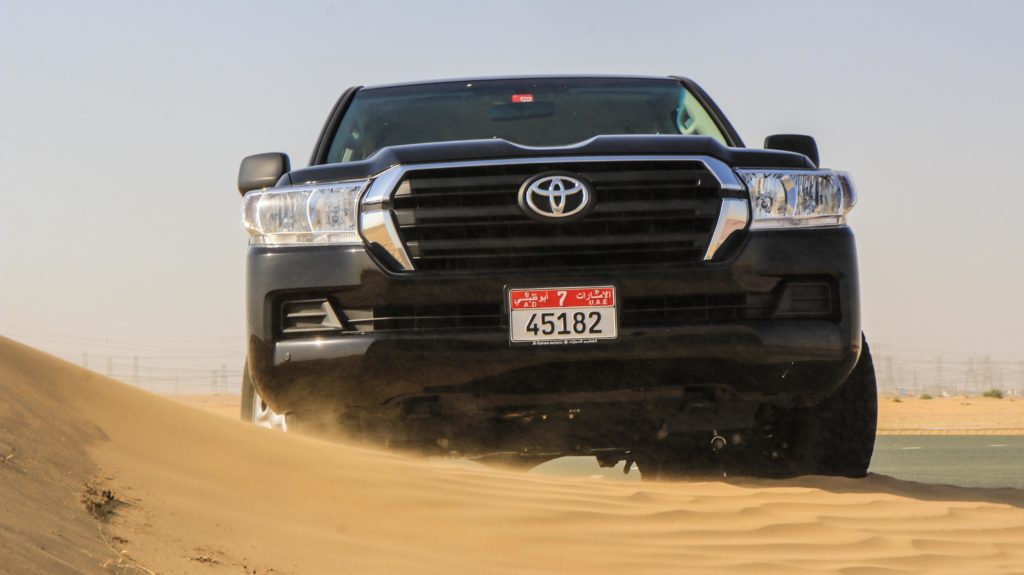 Driving the 2020 Land Cruiser Heritage Edition
Getting behind the wheel is a trip down memory lane. The steering wheel is clutter-free as is the dashboard cluster. There are no volume controls, phone controls or mouse pads that control the media system, it's just you and car.
The ride is smooth albeit a bit noisy due to the off-road rubber surrounding the 17-inch steel wheels. The suspension is soft and is more in tune for offroad driving rather than the road.
With the V6, there is no automatic on the spec list and as standard, you get a a 5-speed manual gearbox. It's a nice change to change gears by yourself instead of a high tech gearbox doing it for you. That is until you hit traffic in Satwa or Emirates Road when its time to go home.
While we love the fact that it is exclusively manual, this can and will deter a lot of people away from the V6 version. The V8 version is automatic but lacks the same charm.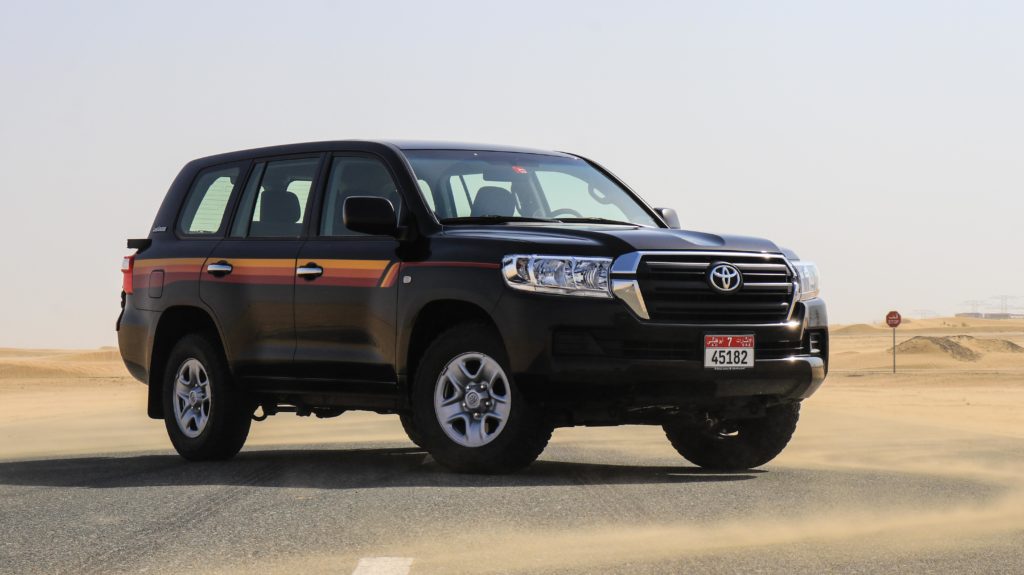 Outside the 2020 Land Cruiser Heritage Edition
Looking at the LC Heritage Edition, you'd be forgiven if you thought it was just a standard Land Cruiser, as there are no visible changes. One could even get confused that it is actually older than it should be.
But when you look it from the side, the vibrant decals produce nostalgia not to mention they also mimic the bright hue of the gorgeous desert landscape in the region.
The rear light gate has been replaced with a two-piece barn door setup making loading and unloading larger options easier. Just remember to lock them. The smaller door can be unlocked from the inside, good for if you're trapped.
But that's about it, there are no other exterior changes to make the vehicle stand out in the Toyota lineup.
Badges fixed to the D pillars aren't the current Land Cruiser badges, instead, Toyota opted for "classic' ones. A nice throwback.
We are also under the impression that the Heritage Edition must have some sort of lift kit. Although the official specs list has no mention of such a kit as standard, it certainly feels higher compared to the standard model.
Then again, there are no side steps.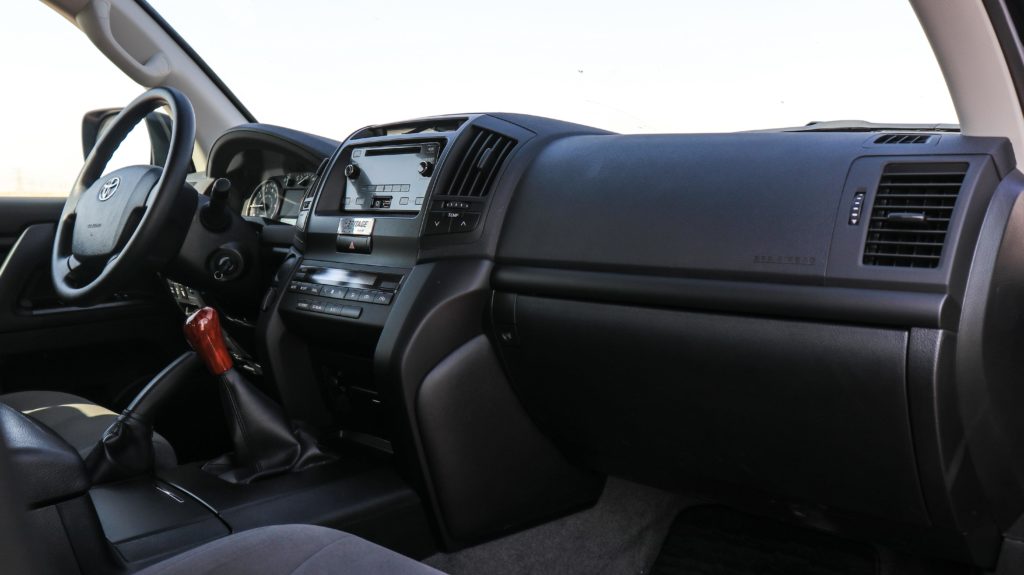 Inside the 2020 Land Cruiser Heritage Edition
All the seats are covered in dark grey fabric and offer adequate support. There are now powered accessories to move them backwards and forward or to cool them either. There's a good ol' fashioned bar that you use to move in either direction.
The standard cool box in the centre console keeps drinks ice cold and has enough from for six bottles of Pepsi. Ideal for any desert excursion.
But it's not just the cool box that keeps things cool. The dual-zone climate control will have you cooled down in no time and at least has a digital display.
What should be a seven-seater, isn't. For some strange reason, Toyota UAE decided to remove the third row. On the downside, no room for eight. On the plus side, plenty of room for cargo, tents, coolers and more.
The barn doors do obstruct the view when looking out the back when looking through the rear-view mirror.
But there is something unique that sets the Heritage Edition aside from the rest. A plaque signifying the rarity of the vehicle.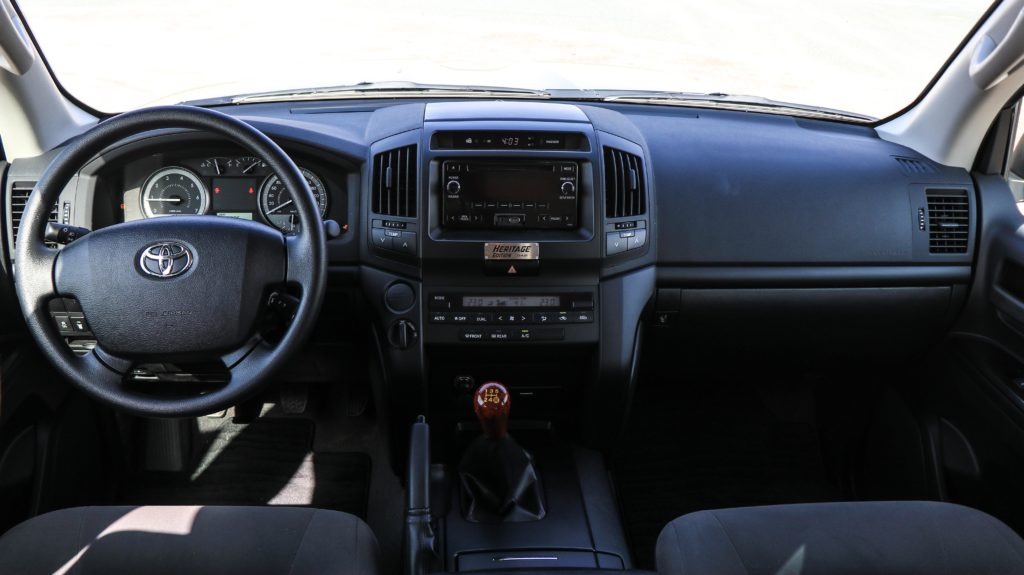 Safety and Tech
Safety features are as basic as they come.
There's no rear camera and we thought there were no parking sensors until we reversed park for the first time.
Rear parking sensors are on by default, whereas the front ones are not and have to be manually switched on.
While we could say the lack of a rearview camera is a negative thing, but you know what, it isn't.
Reversing and having to use the side mirrors, rearview mirror and putting your hand on the passenger seat just so you can get a better view out the rear when you turn around really gives you a sense of accomplishment when you get out the vehicle to find out you've parked correctly.
You do get ABS and brake assist, airbags and front and back crumple zones to absorb energy in case of a collision.
Tech is near non-existent in the V6 Heritage Edition.
It allows for a device to be plugged in via USB and AUX and that's it. There's no Bluetooth or navigation with the V6 version. While some would see it as a negative point, you shouldn't look at it like that.
After all, this is a Heritage Edition, its a limited edition celebrating the Land Cruiser as an unstoppable force when it comes to exploration.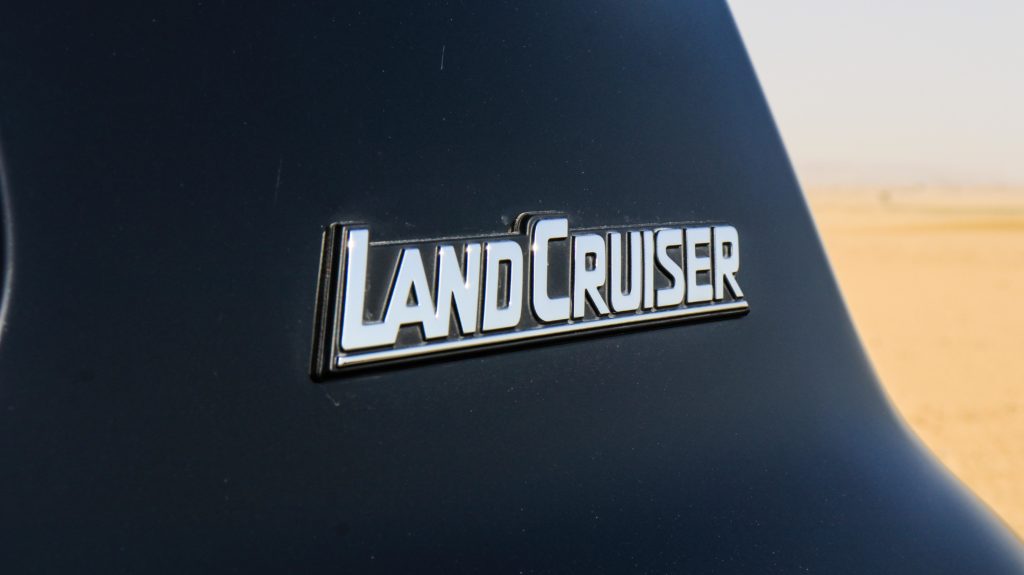 Final verdict
When looking at it on paper, it doesn't seem like much. But when you look at it from afar, you can see why the Land Cruiser is so successful and the 2020 Toyota Land Cruiser Heritage Edition is a throwback to a simpler time.
Yes, the options aren't as fancy as the Automatic version, but the manual version is what a Land Cruiser should be, an offroad legend with no fancy tech, just you, your family and the desert dunes.
If anything, this is a collectors car as only 20 will be built and we had the privilege of driving #13 of 20.
We'd take the V6 manual over the V8 automatic, but only on the weekends.
2020 Toyota Land Cruiser Heritage Edition price in UAE; AED 169,900 for the V6 4.0L, the V8 4.6L starts at AED 224,900.
We did find one for sale on Dubicars. It is not known how many Al Futtaim have available, so this might be your only chance to get your hands on one.
Dubicars has new Toyota Land Cruiser and used Toyota Land Cruiser for sale in Dubai, Sharjah, Abu Dhabi and Ajman.
Photo Credit: Rajitha Perera (Dubicars)