Kia has revealed its latest electric compact SUV, the Kia EV5, at the Chengdu Motor Show in China. The EV5 will serve as the entry point for the brand's electric SUV portfolio when launched in October 2023. Technical details of its electric powertrain, however, haven't been revealed yet. The EV5 is the brand's third EV after the EV6 and the EV9.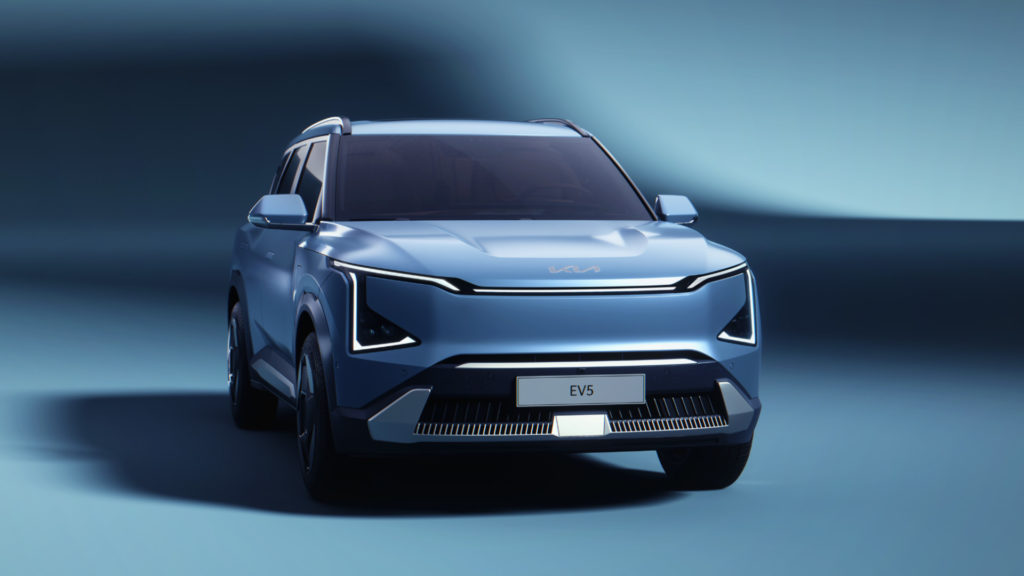 Kia EV5 Exterior Design
The Kia EV5 SUV will be the electric counterpart for the Kia Sportage compact SUV. However, in terms of design, the EV5 draws design inspiration from the larger EV9 SUV featuring a boxy profile. The almost square silhouette makes for an imposing stance and allows for maximum practicality.
Front Design:
Prominent Kia design elements create a sleek digital 'Tiger Face'.
Wide nose and solid bonnet replace the traditional grille for a clean and powerful look.
Daytime running lights (DRLs) form a three-dimensional 'Signature Star Map Lighting'.
Star-inspired constellation design adds dynamic shapes.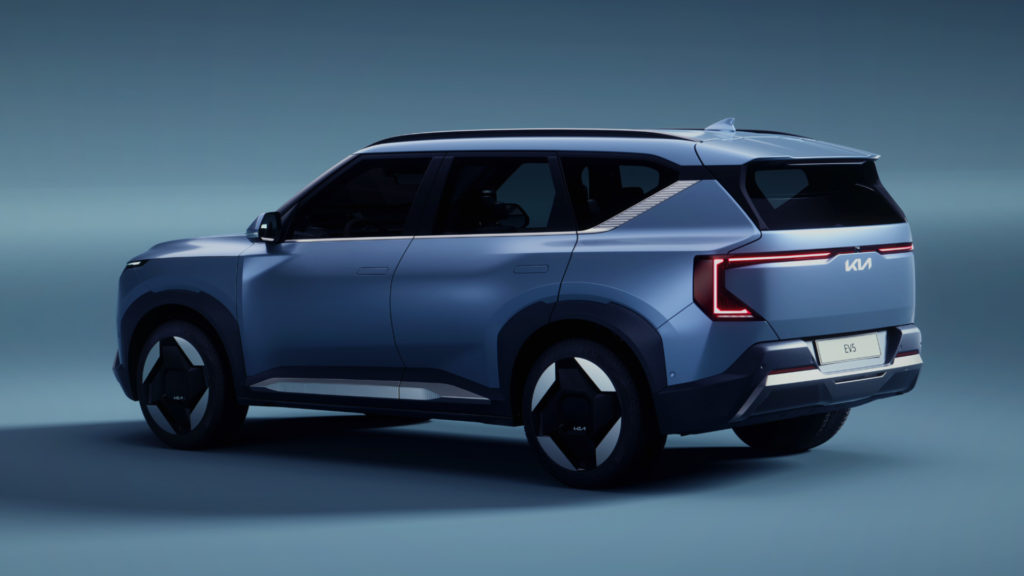 Rear Design:
Extended and lowered spoiler reinforces the SUV's unique profile.
Improves aerodynamic efficiency while symbolizing the EV5's innovative electric nature.
Lower skid plate reinforces rugged and protective characteristics.
Tailgate's parting line provides a crisp and clean design conclusion.
Colour Options:
Nine glossy colours: Snow White Pearl, Clear White, Starry Night Black, Magma Red, Ivory Silver, Frost Blue, Iceberg Green, Tide Blue, Shale Grey.
One matte color: Ivory Silver.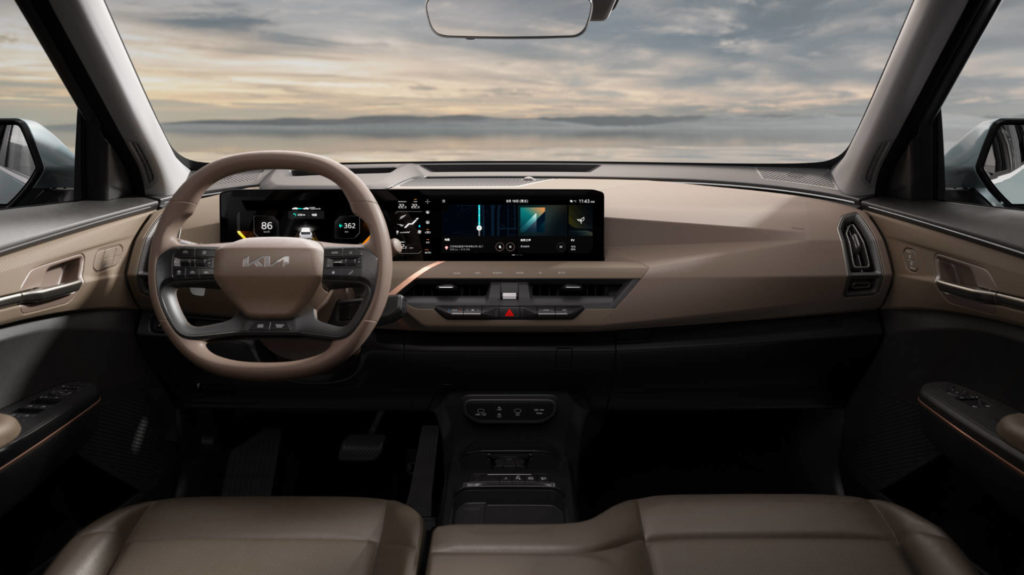 Kia EV5 Interiors & Features
Kia's research indicates that millennials view the interior of their EV SUV as more than just a place to travel comfortably. They see it as an extra 'room' for living. To cater to this, Kia's designers have completely rethought the interior, drawing inspiration from the larger EV9 SUV. The EV5's 'Bold for Nature' interior design results in a blend of form and function that offers a comfortable experience for all passengers and a welcoming environment for leisure activities.
Other Interior Features:
Dual Display Layout
Dual-Zone Climate Control
64-colour Ambient Lighting
10 Levels Of Brightness For Ambient Light
Flat-Folding Rear Seats
4-Spoke Steering Wheel
Wireless Phone Charger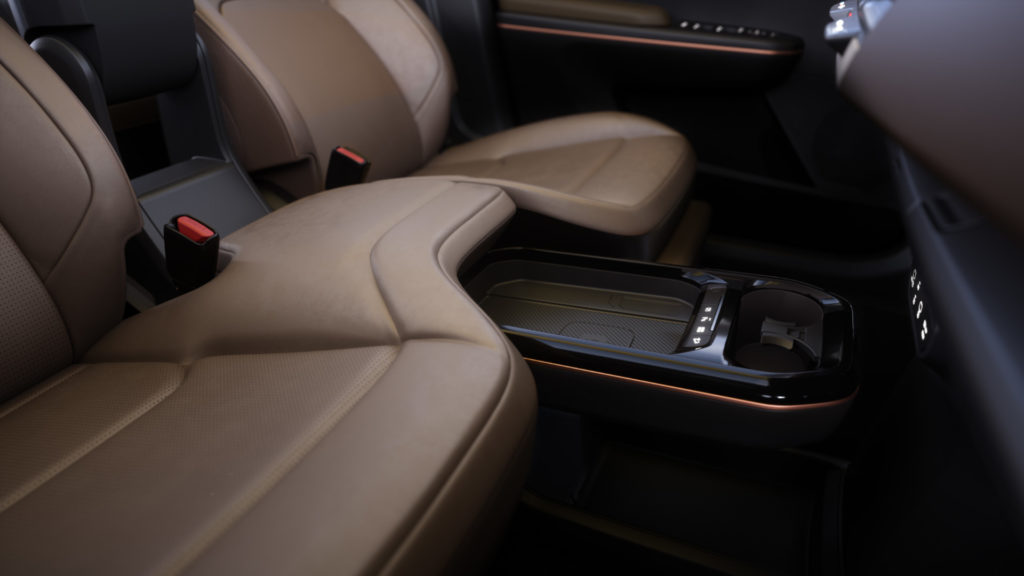 Kia will allow EV5 customers to personalise their car's interior. There are four main colour options and five seat pattern choices. Seat patterns include woven and artificial leather options. Personalisation options are offered to bring the same elegance and taste as home decor.
Kia EV5 Electric Powertrain
The EV5's powertrain details are yet to be revealed. That being said, we expect it to feature a rear-mounted electric motor producing 220hp and 310Nm. Also, to keep the cost in check, the EV5 will feature a 400V architecture as opposed to the 800V layout on the larger EV9. We expect the EV5 to feature a range of around 500km when launched later this year.
The EV5 will likely be launched in the UAE. Kia has already announced that the EV6 and EV9 will arrive in the UAE by the end of this year. Hence, we expect the EV5 to reach the Middle Eastern market early in 2024.
Check out used Kia cars for sale in the UAE and new cars for sale in the UAE.
Also Read: