Are you planning to sell your car either to upgrade and buy a new one or for other reasons? Unsure of where to list it to get the best results? Don't worry, dubicars.com has you covered.
For just AED 99, you can list your own car for sale on dubicars.com right now for 60 days. Dubicars.com also has featured listings which highlight your car with eye-catching green lines and puts them above non-featured listings leading to more views. Featured ads are available for AED 149.
Here's a guide to walk you through all the steps.
Step 1 – Pictures of your car.
This step is one of the most crucial steps in the entire guide. Taking good pictures of your car is a big draw for potential buyers. Ensure the car is spotless get it cleaned before you start taking any pictures. Take out all unnecessary items like mobile phones or anything that doesn't belong in the car.
Dubicars.com allows users to upload up to 16 pictures online so be sure to take photos of;
The front (right, centre and left side). Take it from a lower angle and turn the wheels in the opposite direction for a great picture.
The side. Either side of the car is fine, just make sure you have the whole car in frame.
The rear end (right, centre and left side). No need to take these at a lower angle, but remember to keep the entire car in frame.
Driver area. The majority of buyers want to see the steering wheel, dashboard cluster and all.
Front interior. Hop onto the back seats, sit in the middle and take a picture of the entire dashboard. Take note of the front seats, make sure they are not obstructing any of the features.
Back seats. Take some time to pull out any of the seatbelt buckles so potential buyers can see exactly how many can fit in the back.
Rimshot. Even though your car has four rims, you ideally want to upload a picture of the front wheels due to the brake callipers being much larger on the front axle.
Other pictures that can help.
Third-row seats. If you have a larger family sized vehicle with enough room for seven, eight or nine passengers, take a picture of the third row but not while they are folded down. Also, make sure the seat belt buckles are visible.
Special features. If your vehicle has some unique features installed by the factory or third-party like a premium sound system, navigation system or rear-entertainment system, take a picture of it, remember dubicars.com allows for 16 pictures for all listings, so why not use them all.
Engine. This isn't necessarily restricted to powerful cars as there are a lot of cars out there that have different engines depending on trim level and country of origin.
For the best results, take all the pictures in landscape.
Step 2 – List it online for AED 99!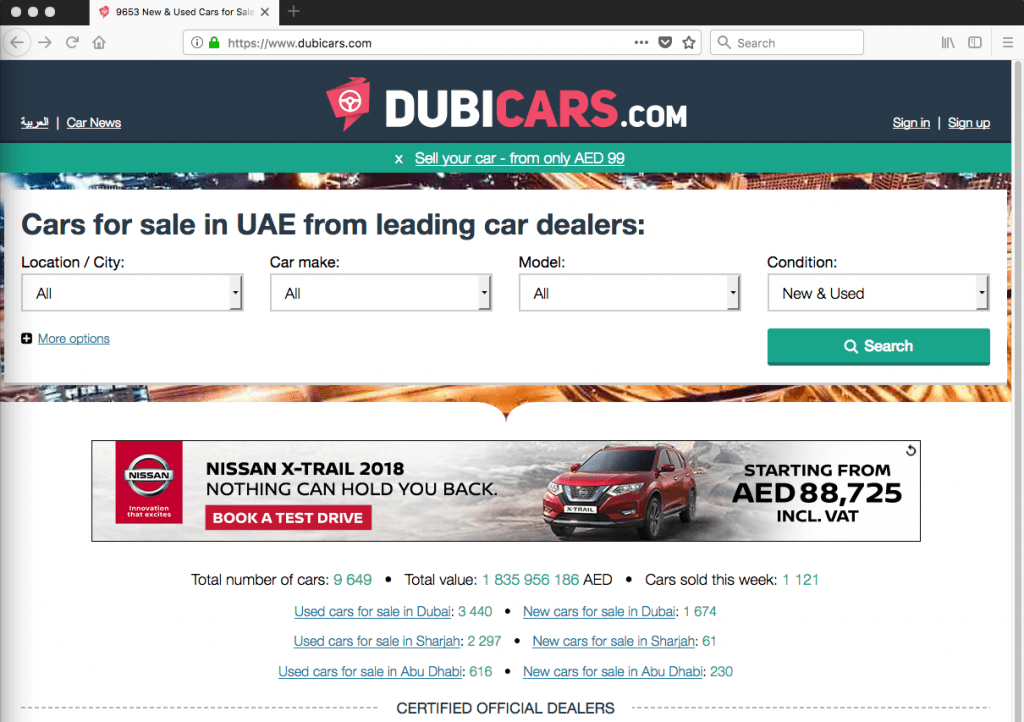 Now that you've got all the high-quality pictures you need, its time to get the car listed online for just AED 99. You'll need to go to the dubicars.com homepage and click either the green bar displaying "sell your car" or click sign up.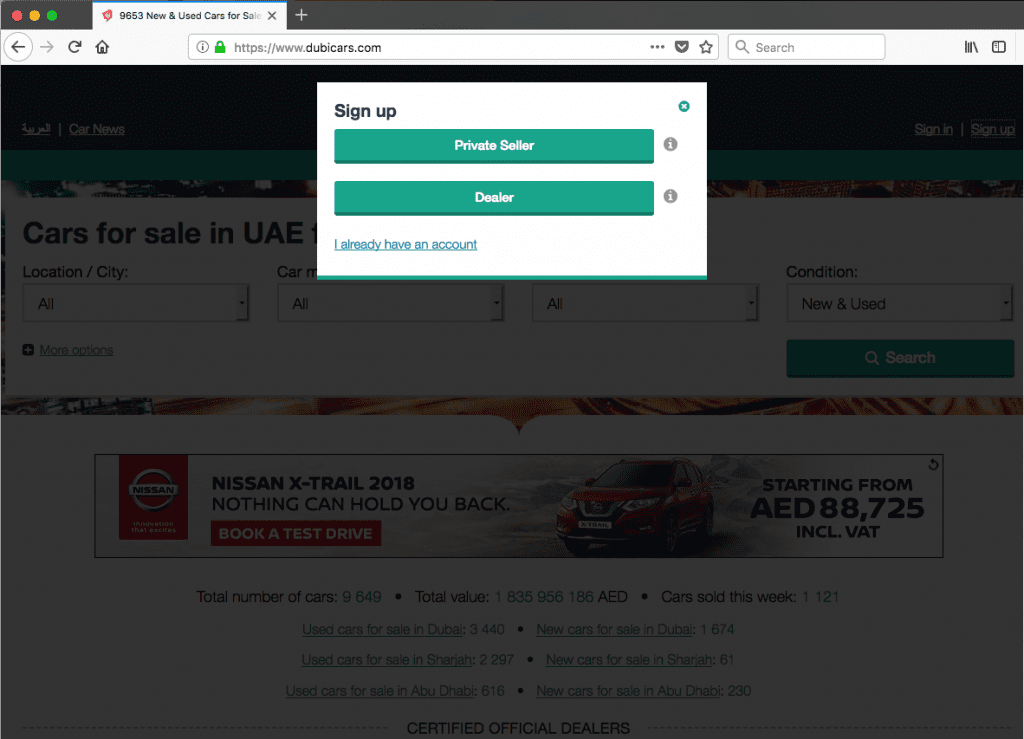 Clicking on either of the two will present you with a selection box. You'll want to click on private seller.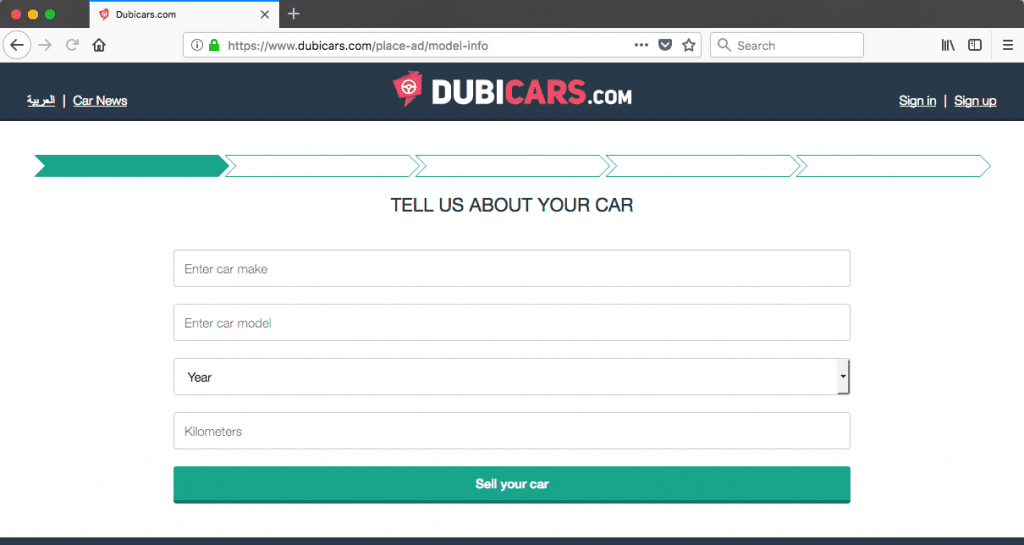 Once you've clicked on it, you'll need to enter basic information of the vehicle who want to sell;
Make (e.g. Toyota, Nissan, Volkswagen etc.).
Model (e.g. Land Cruiser, Maxima, Passat etc.).
Year (Model year of the vehicle e.g. 2017).
Kilometres (How many kilometres has the car travelled).
Once entered successfully, enter your name, email address and phone number. By adding the latter, potential buyers can contact you about the vehicle you are selling. Via the registered email address, you'll also receive a unique password allowing you to log back in at any time.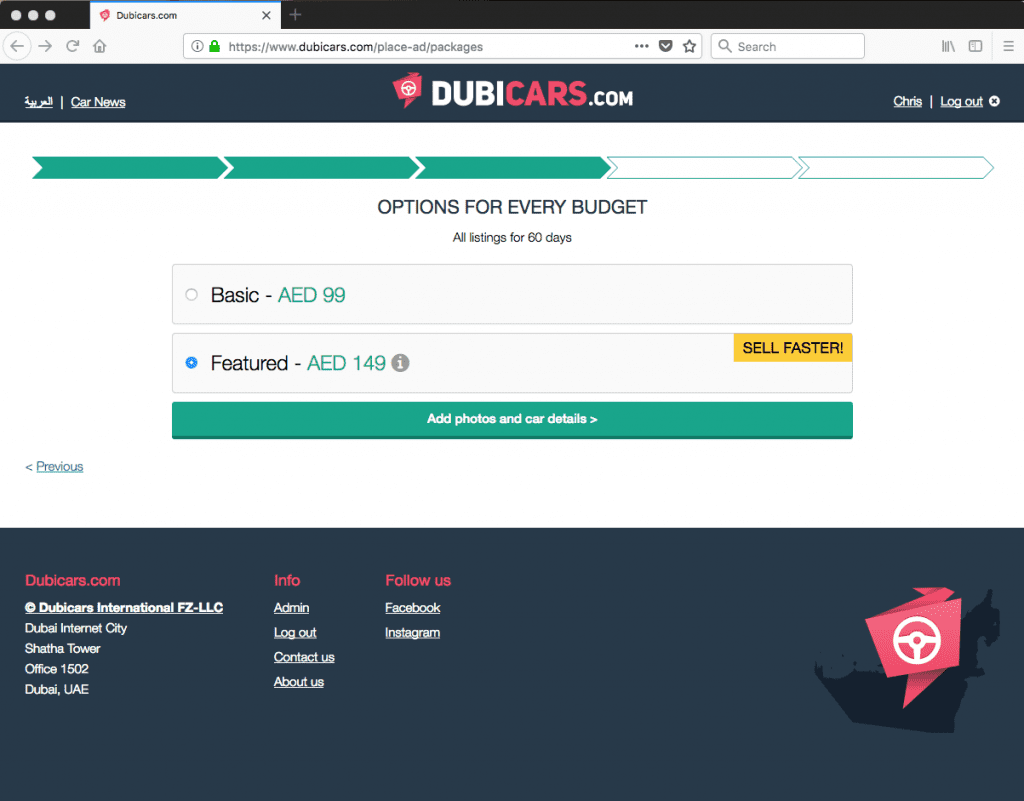 Now it's time to choose your package. The basic package is priced at a low AED 99, but if you want more people to see your ads, for just AED 50 extra you can have your ad featured for 60 days putting your car above others while highlighted in green.
Step 3 – Enter all of the specifications
Selected the right package for you? Good, now it's time upload all of those high-quality images you took of your beautiful car for sale. As previously mentioned, dubicars.com supports up to 16 pictures so add as many as you can.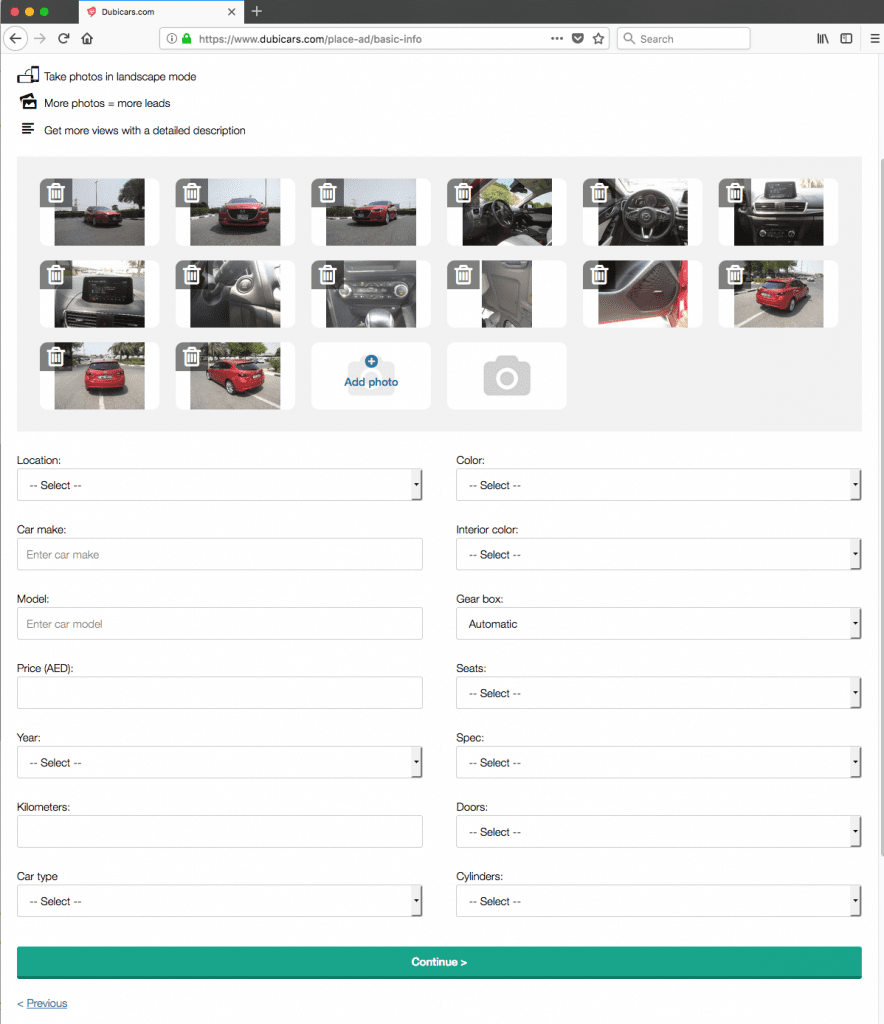 What specifications are needed;
Location. (What Emirate is the car located in).
Price in AED (This is very important as you'll want to put an attractive price).
Car type. (What body style is it? Hatchback, Coupe, SUV etc.).
Colour. (What colour is the exterior).
Interior colour. (What colour are the seats).
Gearbox. (No need to go into specifics, just is it manual or automatic).
Seats. (How many can fit inside, this can easily be calculated via how many seatbelts there are. Also, this is a critical piece of information especially when it comes to SUV's).
Spec. (Is the car Gulf specs or imported from another country. Again, another essential part as GCC cars are slightly different compared to import cars regarding the A/C, radiator, engine and other parts).
Doors. (The number of doors excluding the fuel one).
Cylinders. (This is also important as some vehicles look identical from the outside but have different engine sizes and cylinders).
As for the specifications, these are significant pieces of information for potential buyers to look at as it will give them an idea of what to expect, so be sure to fill them all out and accurately as you could out buyers off by putting incorrect data.
Once you've done all of the above, it's time to select a payment method.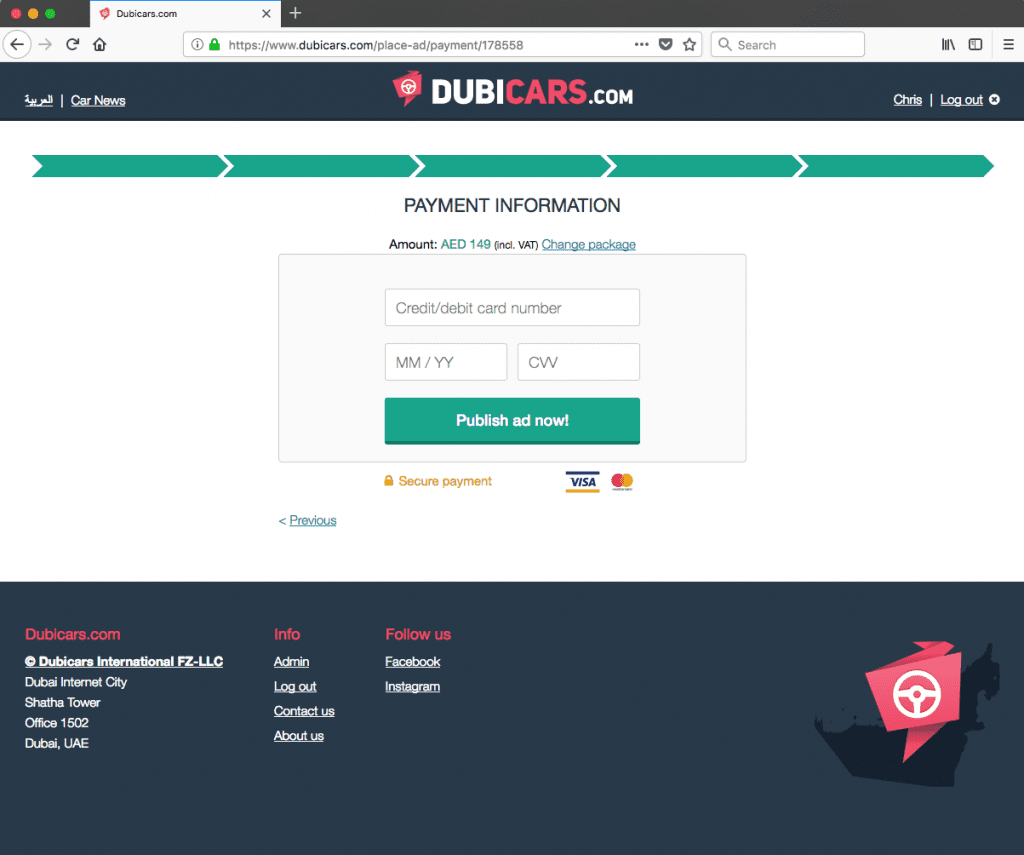 Dubicars.com uses a third party payment processor checkout.com who is PCI compliant, so we can assure you your money is safe.
And that's all it takes! Your good to go and your car will be shown to over a million people! Need to sell it even faster? Add any unique features your car might have.
What are you waiting for, don't delay, list your car on dubicars.com now for just AED 99 for 60 days.
SELL.FIND.BUY