Update; UAE Police officials have released further information and with it comes confirmation of fines, how much they will cost and how many black points one can incur. 
Original post
With the long weekend fast approaching, one has to remember that it's not only a time to relax but a time to celebrate the 47th National Day of the UAE. A common occurrence during this time is the influx of vehicles sporting patriotic designs.
While it's fantastic to see across the country, the Abu Dhabi police have announced the following guidelines for road users to ensure everything is smooth and safe for all;
Car decorations must not obstruct the vision of the driver.
Flagpoles should not be installed on one's vehicle.
Covering or blurring number plates is strictly forbidden.
Do not change the original paint of the car.
Drivers and/or passengers are not allowed to use confetti sprays.
No over occupying of vehicles and now riding on the roof of the vehicle.
Riding a camel or a horse on public roads is not allowed.
Do not leave vehicles unattended.
Littering and throwing garbage on the road is still forbidden as is living skid marks on the road.
Disrupting traffic is also not allowed as is obstructing taxi and bus stands.
Police in Abu Dhabi has already prepared a traffic plan for the occasion to ensure the safety of pedestrians and drivers including an increase in police presence in the capital.
UAE Police have also announced a deadline for motorists to remove the decorations applied which is the 6th of December. "Drivers who do not comply with the allotted time frame will be fined" according to the Abu Dhabi Police.
Stay safe and enjoy the long weekend!
Update
Holding private rallies are not permitted as per the Ajman Police. "It is prohibited for drivers to hold their own rallies," holding your own can result in a AED 500 fine, four black points and 15 days impoundment.
Only official rallies are permitted on public roads.
With the 47th National Day being celebrated on the 2nd of December, which will bear the phrase 'This is Zayed. This is the UAE,' a monumentous performacne will be held at the Zayed Sports City Stdium in Abu Dhabi.
Below you can find a list of fines, amount and black points.
| | | |
| --- | --- | --- |
| Fine | Amount | Black points |
| Stopping in the middle of the road/taxi or bus stands | AED 1,000 | 6 |
| Driving a noisy vehicle (extensively modified) | AED 2,000 | N/A |
| Exceeding the permitted window tinting | AED 1,500 | N/A |
| Exceeding the permitted window tinting | AED 1,500 | N/A |
| Exceeding the permitted window tinting | AED 1,500 | N/A |
| Writing words or sticking posters to a vehicle without permission | AED 500 | N/A |
| Causing public disturbance (includes playing loud music) | AED 400 | 4 |
| Not obeying traffic instructions | AED 500 | 4 |
| Disrupting the flow of traffic (Blocking traffic) | AED 400 | N/A |
| Throwing rubbish from a vehicle (moving or stationary) | AED 1,000 | 6 |
| Covering, blurring or intentionally covering number plate | AED 400 | N/A |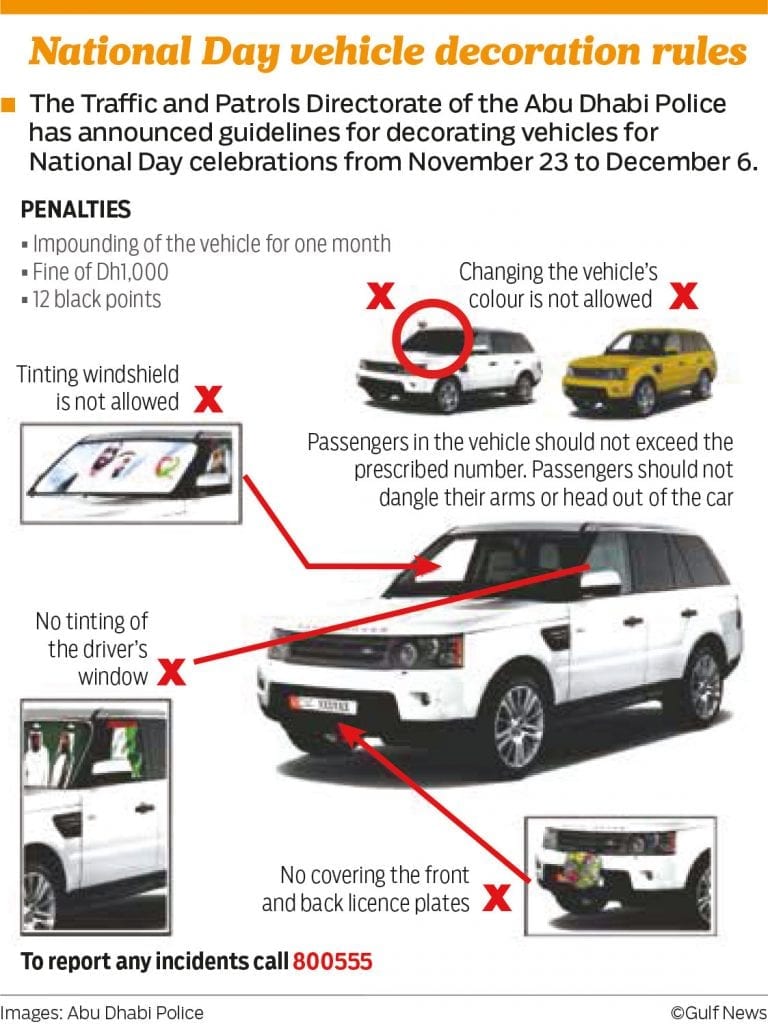 Photo Credit: Abu Dhabi Police/Gulf News
Need a car to decorate? Dubicars has new and used cars for sale in Abu Dhabi, Sharjah, Ajman and Dubai.
Main photo credit: Arabian Business