Announced way back in 2017 and once more in 2018, senior officials at the Abu Dhabi Department of Transport (DoT) announced that several of Abu Dhabi toll gate systems will be introduced in the capital.
Four toll gates will be active from the 15th of October 2019, below is a list of their locations;
Shaikh Khalifa Bin Zayed Bridge
Mussafah Bridge
Shaikh Zayed Bridge
Al Maqtaa Bridge
We've also found a map, which points to the toll gates exact location.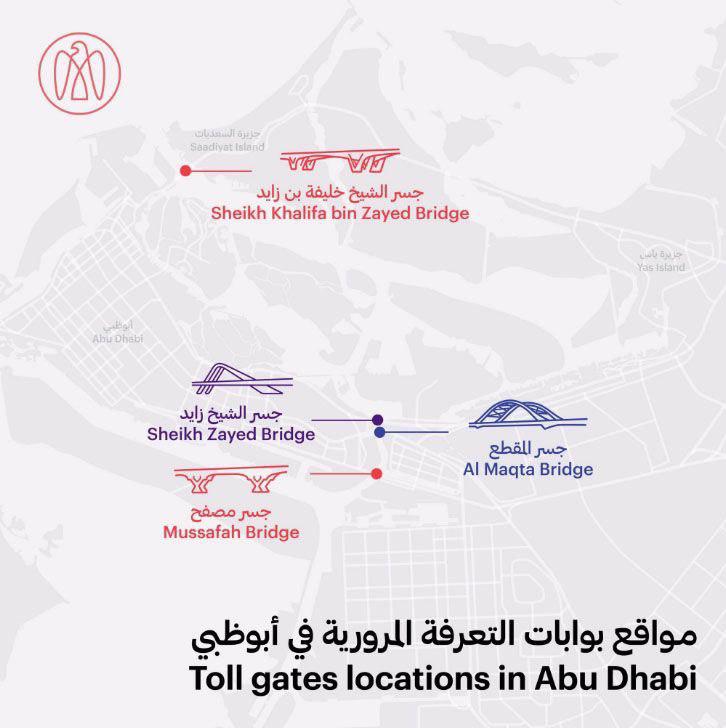 How much does it cost to drive under the Abu Dhabi toll gates?
During peak hours from Saturday to Thursday, one trip underneath the toll gate will set you back AED 4.
On Friday's, public holidays and during non-peak hours, the toll is reduced to AED 2 per trip.
What exactly the peak and non-peak timings are remain a mystery as of writing but will no doubt be announced closer to the date of operation.
How to register for Abu Dhabi toll gates
All road users will have to open a toll account. Via this account, users will be able to manage their vehicles and top up their account through a simple, user-friendly system.
Account owners will automatically receive an SMS message with the username and password for their account.
The system will be fully operational by the 30th of August 2019, a few weeks before the toll gate switch is turned on.
Exempt vehicles
The following vehicles listed below are exempt from paying tolls when passing under any Abu Dhabi toll gate:
Ambulances
Armed Forces (Military Vehicles)
Civil Defense Vehicles
Police Vehicles
Ministry of Interior Vehicles
Public Buses
Authorised Schoolbuses
Licensed Taxis
Electric Vehicles (Also applicable for Salik gates)
Trailers (Must be attached to a vehicle)
Motorcycles
Passenger Buses (Must be carrying 26 passengers or more)
Abu Dhabi toll gate fines
Well, what did you expect? Of course, there are fines associated with the capitals new toll gates and below is a list of them:
Vehicles that are not registered with the system that drive underneath a gate will be fined after a ten-day grace period. Fines start at AED 100 for the first day (after the grace period), AED 200 for the second day, AED 400 for the third day, and so on up to a maximum fine of AED 10,000.
Vehicles registered outside of the Emirate of Abu Dhabi with insufficient balance on their account will be fined AED 50 per day after the ten-day grace period.
Tampering or covering vehicle license plates to avoid paying the toll; AED 10,000 fine.
Damaging any e-payment machines of the toll gates; AED 10,000 fine.
Do Salik tags work with Abu Dhabi toll gates?
No, Salik tags are strictly limited to the Emirate of Dubai and Salik gates scattered around the Emirate.