When thinking of a powerful Mercedes-Benz sedan, most if not all of us immediately think of the C63 and C63 S models. 2017 models are about to change our minds completely as E 63 models will exert a massive amount of horsepower.
So just how much power is pumped out? Mercedes-Benz has dropped a 4.0-litre twin-turbocharged V8 petrol motor. In standard trim, it'll produce around 563 horsepower paired with 750nm of torque, and at the very top of the spectrum, S trim models will pump out a mega 604 horsepower.
Looking at 2016 models, that an increase of 45 and 27 horsepower in standard and S trim respectively. Previous models both sported 5.5-litre V8 engine and could run 0-100 km/h in around the 4.1-second mark. This time around the goal is achieved in as low as 3.5 seconds with S models equipped with all-wheel drive.
Twin-turbocharged engines mated to a 9-speed automatic gearbox with options to send power to the rear wheels or all four wheels. Hoping for a higher top speed? That's not going to happen, as speed is electronically limited to 250 km/h.
As mentioned a few months ago, there are significant changes all around. A new bonnet mounted with extra curves lining each side, plus an overall refresh. Inside is where the magic happens. Still ultra luxurious as ever, high-grade leather covers each of the five seats, the dashboard cluster is customizable to cater to exactly what the driver wants to see plus lots more executive options.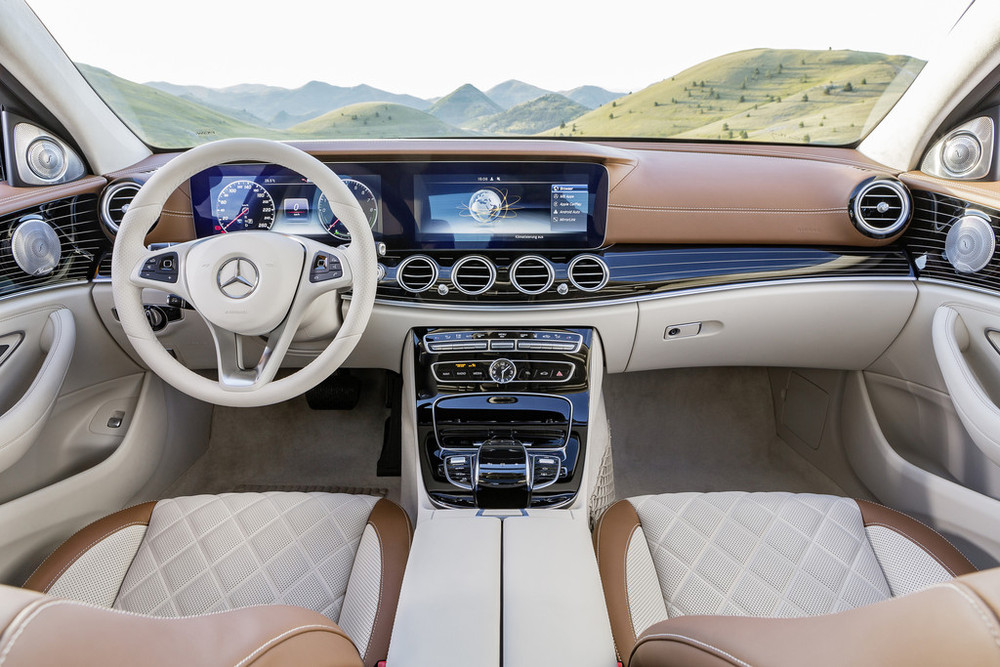 Are you an iOS user? Mercedes-Benz has a companion app available for you to adjust various aspects of the vehicle.
Regarding tech, earlier in the year, Mercedes-Benz unveiled the use of autonomous driving to be implemented in the sedan and recently they showed off the E-Class auto parking for squeezing into those tight spots. Multiple safety features are on offer including 360-degree camera, Rear Cross Traffic Alert, parking sensors, multiple airbags and so on.
In a few days, we'll also get a glimpse of the long-wheelbase (LWB) version at the Beijing Motor Show. Over the past few months, LWB models have been spied in various locations testing. Every time it's been spotted a little less camouflaged was seen, with the most recent sighting showing a taped up third window. Light usage of tape was also pictured lining the boot and tail lamps.
Look out for 2017 Mercedes-Benz E-Class models to appear towards the end of the year in sedan form. Convertible and coupe versions will join in shortly after. Wagon models will follow suit around the world.
Seeking a luxurious and powerful sedan? Find new Mercedes-Benz E63 and used Mercedes-Benz E63 for sale in Dubai, Sharjah and Abu Dhabi.