When it comes to large SUV's the 2020 Cadillac Escalade rules supreme. A token site during the school runs and in luxurious neighbours all around the UAE, but it's much more than just a short distance driver.
With a bold and commanding appearance, the Escalade keeps the competition on its toes but does it have what it takes to rule supreme over its German rivals.
Later this year, GM's latest version of the Escalade will arrive in the UAE, but before that happens, we've got out hands on one to try it out before the new shape rolls in.
So join us, as we take a look at the 2020 Escalade.
The good
Quiet cabin
Spacious interior
Smooth V8
The bad
Technology
Smaller things need to be bigger
Off-road abilities
Big shout out to Al Ghandi Auto for providing the vehicle. If the 2020 Escalade is to your liking, sell your car with DubiCars today.
Driving the 2020 Cadillac Escalade
The Escalade makes do with a 6.2-litre V8 with 420 horsepower and connected to a 10-speed automatic gearbox. The unit is responsive and torque,y which is what you need.
We don't usually look at 0-100 km/h times when it comes to larger vehicles, and for a vehicle this big, the 2020 Escalade achieves this feat in 6.8 seconds. Impressive if we don't say so ourselves.
But that's not all; the Escalade handles surprisingly well in the corners too. Just don't throw it in there like a sports car.
At continuous speeds, 70 km/h or under, four of the eight cylinders shut down turning the engine into a V4 and increasing fuel economy.
Cruising down Jumeirah beach road, we stuck out quite a bit, but on the plus side, the cabin is quiet and refined.
Compared to other GM products of which the Escalade shares its platform, the steering is lighter in comparison to the Chevy Tahoe and GMC Yukon. This makes driving at lower speeds easier.
Driving off-road? Just don't. The 2020 Cadillac Escalade is not built for scaling Big Red. A touch of light off-roading is feasible, but we'd recommend you stick to the road.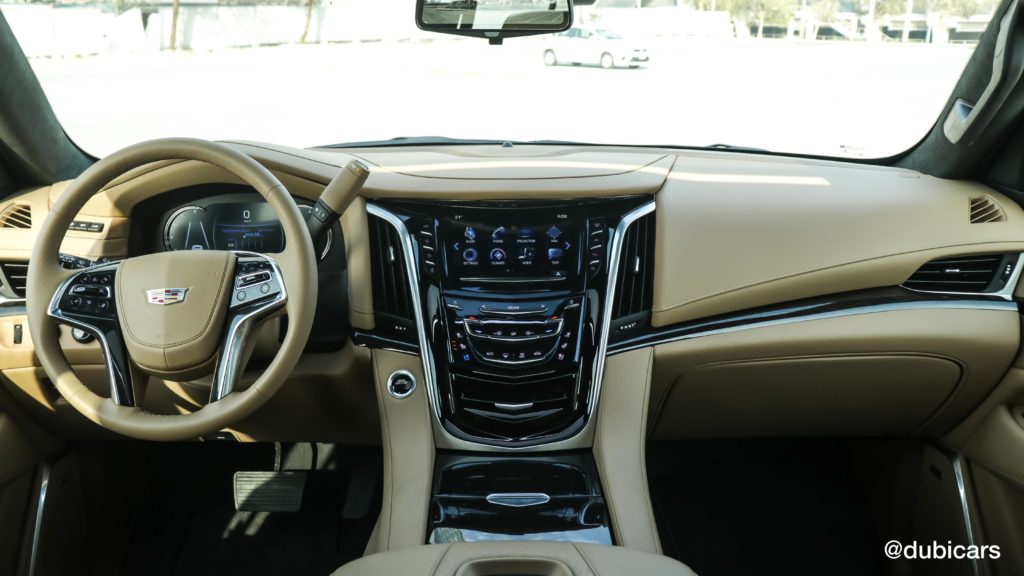 Inside the 2020 Cadillac Escalade
Escalades have always been a staple of the school run and large families looking for a comfortable ride and plenty of room.
Upfront, both driver and passenger have power seats with memory options and both covered in plush leather. The seats hug you tight enough for you not to move around too much and with the addition of cooled seats, the Escalade offers a smooth ride.
The second bench offers room for three (two if you go for pilot seats) and serves their purpose. Two people can settle in with the fold-out armrest.
A power-folding third row is standard on all models and is useful for long road trips as it amplifies the cargo hold. But when folded up, they are as cramped as one would expect.
All over the cabin, there are storage compartments which range in various shapes and sizes. The biggest one we found beside the boot is in the centre console. And not only is its storage compartment, but it doubles up as a cool box.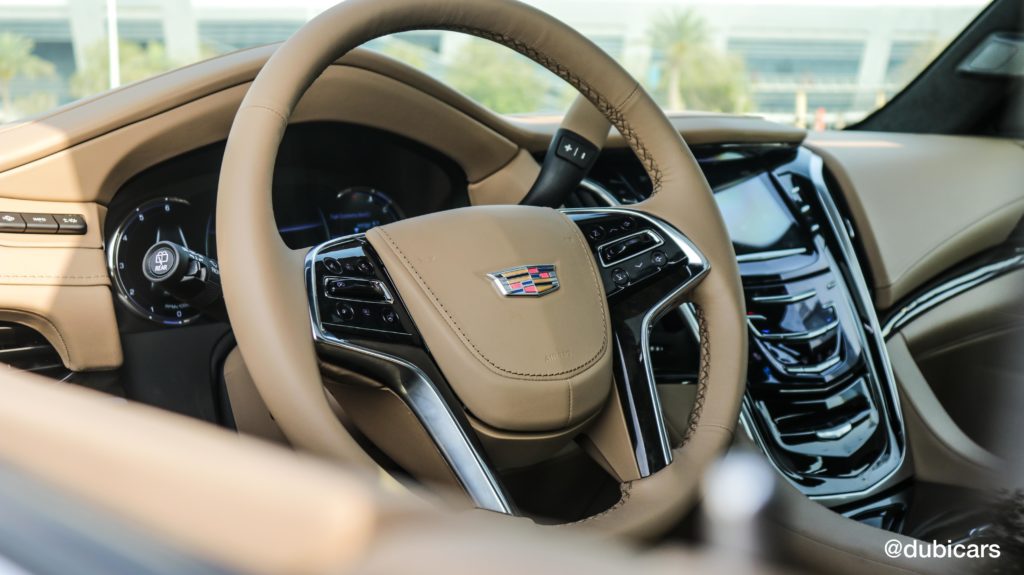 Tech & Safety
Sitting smack bang in the middle of the centre console is an 8-inch touch infotainment system running the latest version of Cadillac's CUE software.
While it does its job connecting you to the system via the standard Apple CarPlay and Android Auto, the system relies a bit too much on the touch side of things.
The system itself is embedded into a dark plaque with an array of buttons. First, off we thought that these were all touch-sensitive, but then slowly started to realise are seats weren't cooling as you have to press to turn it on.
Playing around with the volume controller can be fun as you swipe your finger across to adust the levels. Now, why couldn't GM have done this with all the buttons?
The rear rows have a rear-entertainment system, but it's not what you would expect in a 2020 model vehicle. Instead of having a dual-screen setup with screens placed in the back of the headrests, the screen flips down from the roof.
At least it has a Blu-Ray player, but there is no USB input for external media.
As for safety, the 2020 Cadillac Escalade has a list of standard and optional extras available.
For example; getting to close to the car in front of you or spotting anything small on the road in the parking lot will result in the driver seat vibrating, and a red flashing image of an accident takes up the entire HUD.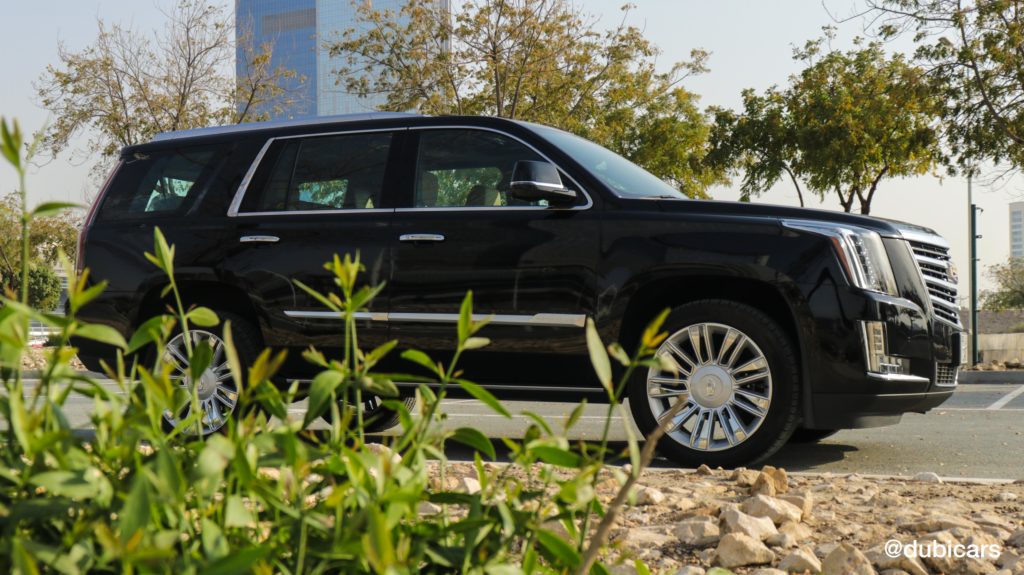 Final Verdict
If you're looking for the ultimate road trip car with either your family or friends, then the 2020 Cadillac Escalade is the car for you. It does what it's built to do. There are a few hard surfaces here and there, but nothing too off-putting.
It's comfortable, there are enough options to keep everyone pre-occupied, and there's a lot of space for may things. Like we said at the beginning, this is the ultimate road trip car!
And that's it, let us know what you think of the Escalade in the comment section below
In a few weeks, we'll be getting our hands on one of the Escalades main rivals; the Mercedes-Benz GLS 450, stay tuned.
2020 Cadillac Escalade price in UAE; Starting from AED 324,000.
Dubicars has new Cadillac Escalade and used Cadillac Escalade for sale in Dubai, Sharjah and Abu Dhabi.