Mercedes-Benz is on a roll with models being churned out left right and centre, with each one catering towards a different audience. Refreshed for the new model year, the 2020 Mercedes-Benz GLC 300 receives a facelift and with it, comes several new and refined features, both standard and optional.
Crossovers have become more and more popular over the years, and the GLC is one of over a dozen currently available in the market. With it's vibrant Hyacinth Red finish, is it worth a purchase just because of the hue? Does it have enough to take on its rivals?
Join us and let's find out together.
The Good
Standard features
Handling
Comfort
The Bad
Latest dual-screen dashboard not available
Media controller feels like a mouse pad
Easy to get lost with the dashboard
Shout out to Mercedes-Benz UAE for supplying us with the vehicle! If you're interested in purchasing one and need a place to sell your car, Dubi Cars is here for you with an unbeatable package with Money Back Guarantee.
Driving the 2020 Mercedes-Benz GLC 300
The GLC 300 benefits from a turbocharged 4-cylinder engine generating a comfortable 258 horsepower. As the model is a 4Matic, a nine-speed automatic sends power to all four wheels.
Switching to sports+ model allows the vehicle to sprint from 0-100 km.h in 6.2 seconds and onwards to a top speed of 240 km/h.
Three other drive modes are available, including another sport mode, Comfort and Individual. Sport and Sport+ model increase the responsiveness of the vehicle and individual allows you to tweak everything to your liking. Comfort is your standard option and suits the car well.
A slight hint of turbo tag is evident, but when coasting through a tight corner, there's no lag.
For a crossover, the GLC 300 handles well and the same can be said when it comes to braking.
In this day and age, it would be strange for a new vehicle not to have hybridization, and the GLC is no exception.
For the 2020 model year, a small battery is included and provides increased fuel economy and a slight performance boost.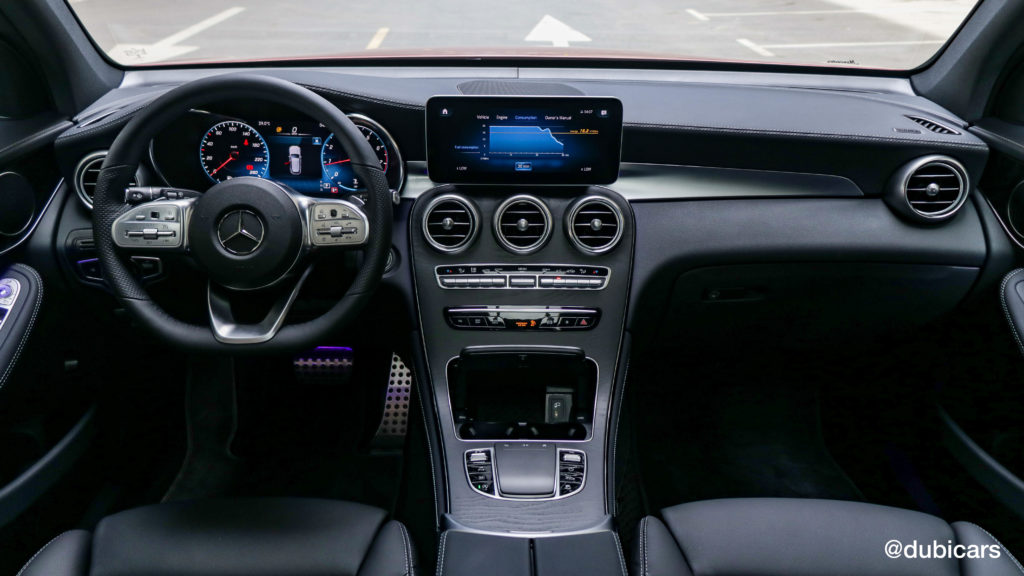 Inside the 2020 Mercedes-Benz GLC 300
Looking at the vehicle from afar, you would think the GLC 300 is small inside, but you'll be surprised how roomy it is. For four adults, that is. The middle seat is always a squeeze.
Inside, the surfaces are clean and clutter-free with buttons easily accessible, all of which are encased in dark wood. With the ambient lighting, the cabin has a soothing atmosphere.
We love the digital dashboard and the way it changes depending on what drive mode you've selected. But there is a slight problem. When it comes to finding certain things such as how much fuel is left in the vehicle.
Yes, there is a small indicator, but we need a bit more information when driving. This isn't exclusive to the GLC, this is something we noticed with other Mercedes cars including the A35 AMG and the E 350.
A handful of USB slots can be found scattered around the cabin, but they are type C which makes charging difficult if you don't have the cable.
Instead of leaving us with 0% on our phone, the 2020 Mercedes-Benz GLC 300 is equipped with a wireless phone charger. These are something we feel should be standard across premium models available in 2020.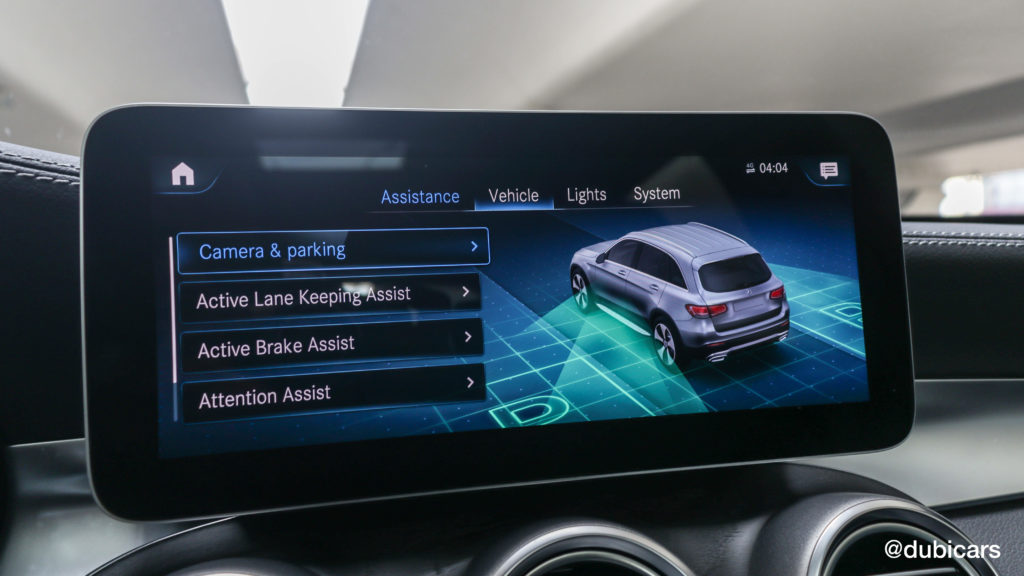 Safety and Tech
As standard, the GLC is well equipped when it comes to safety. Of them all, Attention Assist grabbed our attention. The system scans the driver in a number of ways to detect signs of fatigue.
Other important features keep you in the lane and warn you if you dare set one tyre across the lines without indicating, detecting how close the car is in front of you is and more.
There's a wealth of entertainment features on offer with the like of Apple Car Play and the usual apps. Android Auto is not available.
One does get overwhelmed with the steering wheel as there are buttons all over the place, but at least they are clearly marked.
Conveniently, Mercedes also has an app that owners can use to enhance their GLC experience.
We didn't get to try it out ourselves, but we figured out that you could use it to start your car, control the media interface and more.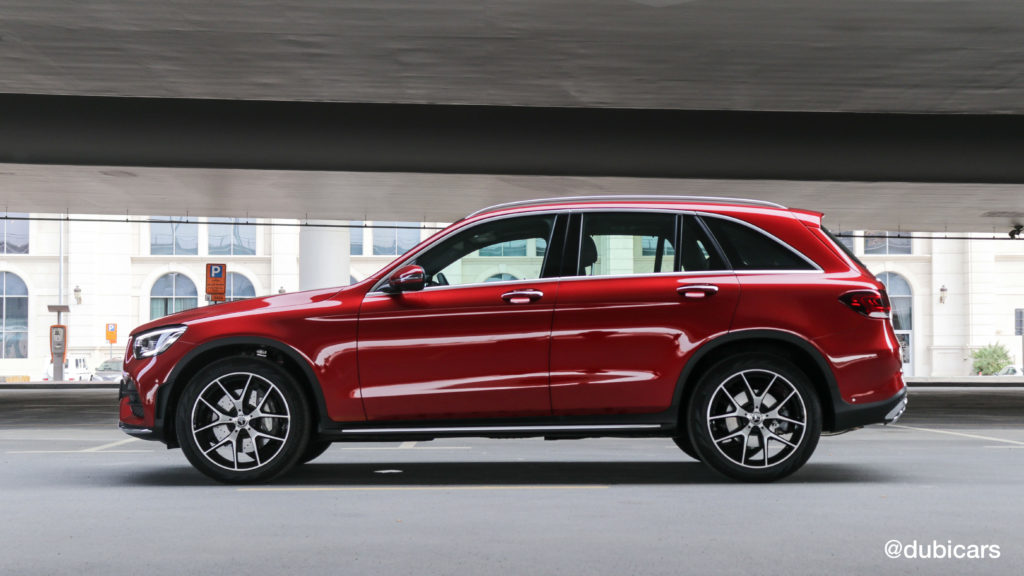 Final verdict
The Mercedes-Benz GLC 300 is an eye-catching crossover perfectly suited for those looking for a crossover that acts like a sporty saloon car but has ground clearance.
A great run about and the gorgeous red colour is certainly a head-turner. One we'd recommend you get yours finished in instead of adding any additional features.
We'd even put it above the Evoque.
And that's it, let us know what you think of the new 2020 Mercedes-Benz GLC 300 in the comment section.
2020 Mercedes-Benz GLC 300 price in UAE; Starting at AED 230,000.
Dubicars has new Mercedes-Benz GLC and used Mercedes-Benz GLC for sale in Dubai, Sharjah, Ajman and Abu Dhabi.