| | |
| --- | --- |
| Starting price: | Approx. 1,400,000 AED |
| Engine volume: | 6.75 Litre |
| Cylinders: | 8 cylinders |
| Torque: | 1020 to 1100 Nm |
| Horsepower: | 505 to 530 hp |
| 0 to 100 km/h: | 4.9 to 5.6 seconds |
| Maximum speed: | 296 to 305 km/h |
Absolutely everyone is currently obsessing over Bentley's Bentayga (for those who aren't, it's their first SUV), and at the same time, Bentley decided to test out the new Mulsanne in Europe and as it made its way through tight and twisty turns, car enthusiasts snapped pictures of a not so camouflaged.
From snapshots we can see that the front end is covered up to mask what's underneath hinting that something is arise. For some reason, Bentley's iconic flying B emblem on the boot lid is covered up, possibly a redesign or to cause onlookers confusion if they don't know who the massive sedan belongs to. We'll have to wait and see. Portions of the rear doors are hidden away too, just above the handle, hiding some more distinctive characteristics
What's under the front covering though? A redesigned front end, that's what. A new, more up right front grille compared an angled one on current models and not only that, front lights are receiving a refresh and three air-intakes have been placed into the front bumper instead of just two for a more sportier look.
An extended wheelbase is also said to be on the way, as if the British marquee's flagship model wasn't long enough, it's about to get a whole lot longer. It's very noticeable in spy shots as rear doors are much larger compared to ones up front.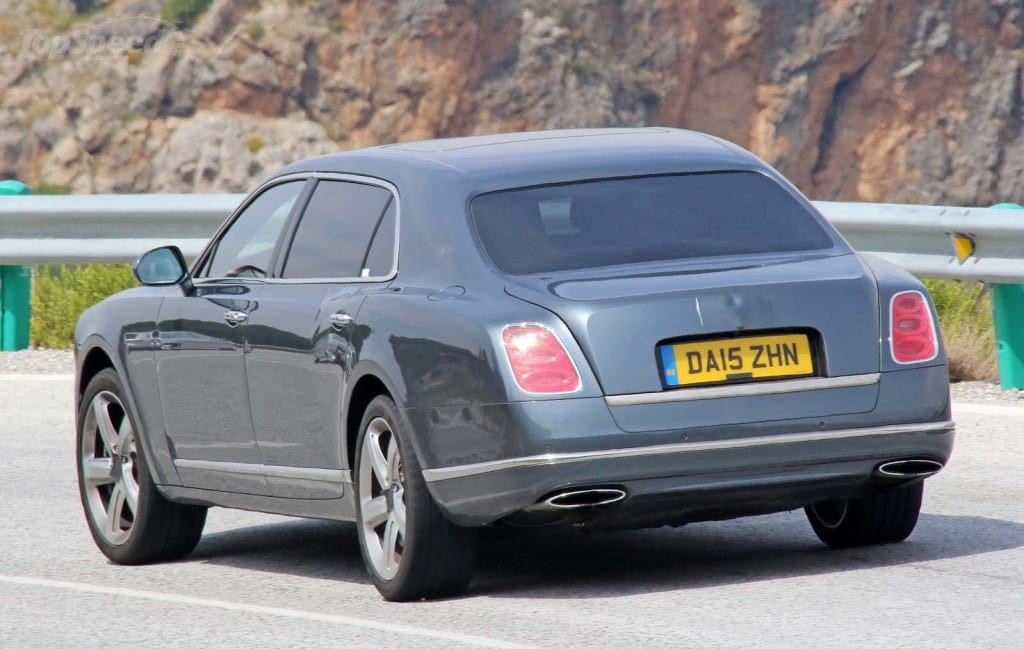 Bentley has also come out saying "derivatives" of the flagship model are to line-up alongside the stand sedan, there's already a higher performance version with the speed model, what's next? A convertible? Oddly enough, one was actually shown off in 2014 at the LA Auto Show with two doors and space for 4 occupants. Bentley created it to see how much interest it would garner from potential buyers.
They didn't mention what the response was, they did however mention that if it were to be produced it would be in limited numbers making it even more luxurious and sought after. They are expected to submit details during the 2016 summertime.
As for its rivals, there are really only two that come to mind, the Rolls Royce Phantom and the Mercedes S 600.
| | | | |
| --- | --- | --- | --- |
| Cars | Bentley Mulsanne | Rolls Royce Phanthom | Mercedes S600 |
| Engine volume: |  6.75 litre/V8 |  6.75 litre/V12 |  6.0 litre/V12 |
| Horsepower: |  505 hp |  453 hp |  523 hp |
| Torque: |  1,020 Nm |  720 Nm |  820 Nm |
| Maximum speed: |  296 km/h |  250 km/h |  250 km/h |
| 0 to 100 km/h: |  5.2 Seconds |  5.9 seconds |  4.6 seconds |
| Alternative Variants |  Yes |  Yes |  Yes |
| Starting price |  1,400,000 AED |  1,900,000 AED |  950,000 AED |
No news of what's inside has been spilt just yet, expect the same tech to be present such as high definition rear TV screens, ventilated seats, a 6″inch mini tablet, navigation, Bluetooth pairing and more.
Bentley is set to unveil the refreshed sedan officially in 2016 at the Geneva Auto Show in Switzerland and a production spec'd convertible version is said to show up in late 2016 at one of the many auto shows.
New Bentley Mulsanne models are expected to arrive sometime in 2017, keep your eyes peeled on dubicars.com and why not browse used Bentley Mulsanne for sale in Dubai.