EDIT 4: Starting from the 27th of May 2020, timings have once again been adjusted for movement restrictions during the National Sterilisation Progam.
UAE residents will now no longer have to rush home before 8 pm as the timings have been extended until 11 pm.
Speed Cameras across the UAE have once again been adjusted to catch violates out an about during the hours of 11 pm and 6 am, unless there is an emergency.
EDIT 3: Starting from the 20th of May 2020, timings for the National Disinfection drive have been changed again and are back to what they were before Ramadan.
Between the hours of 8 pm and 6 am, all UAE residents are requested not to leave their homes unless there is an emergency.
Fines have also been changed. If a car has more than three occupants, the driver will be handed an AED3,000 instead of an AED 1,000 as reported a few weeks ago. The only exception is if all occupants are from the same family.
EDIT: As of the 23rd of April 2020, the UAE Authorities have lifted restrictions regarding public movement during the day. You are no longer required to have a permit when outside.
Although move permits are no longer required, during the hours of 10 pm and 6 am residents of the UAE are requested to stay at home and a apply for a move permit to go out.
Dubai Police have also announced you no longer need to wear a mask inside your car. This only applies if you are the only person in the vehicle. If there are more occupants, all must wear a mask.
EDIT 2: According to the Gulf News (11/05/2020), permits during the hours of 10 pm and 6 am will be issued for emergency reasons only during the National Sterilization Program.
Any request that is not an emergency will be automatically rejected and anyone caught breaking the rules will be fined AED 3,000.
"Permits are issued only for people with medical emergencies because there is enough time for everybody to get their needs between 6 am and 10 pm. It is not logical that someone asks for a permit to buy groceries after 10 pm." Said Major General Abdullah Ali Al Ghaithi, Director of the General Department of Protective Security and Emergency at Dubai Police
Original article
Over the past few days, we've received a lot of queries about registering, buying and selling your car in the UAE and if it is still possible to do in the current situation.
Our team has worked hard to find you the answers so you can #stayhome and #staysafe in the comfort of your home.
Dubai and the rest of the Emirates have enforced strict rules during the Coronavirus outbreak and here are a few car-related ones you should be aware of.
But before we do, IF YOU DO NOT NEED TO GO, DO NOT GO! Dubicars encourages all our readers and users not to drive and to follow the UAE Governments rules during the current situation.
What is a move permit?
UPDATE 5:As of the 23rd of April 2020, move permits are no longer required to move around the city.
UPDATE 4: Move permits have been temporarily suspended until further notice as of this morning according to the Ministry of Interior (MOI) UAE.
The Ministry has urged residents not to leave the house unless it is an emergency.
A move permit permits you to drive your vehicle during the hours of 8 pm, and 6 am as per the UAE government.
You can apply for a permit via the website, and once you have filled out the form, your request will be sent off for approval.
We tested it out to see how fast we'd get approval. It took less than five minutes for it to be approved.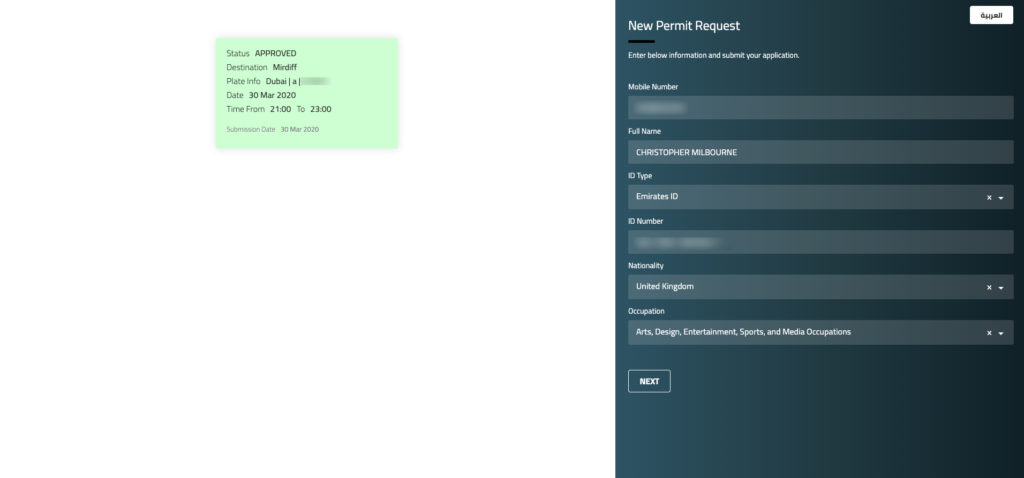 Permits are only valid for one day and during the time frame you have selected.
You do not need to apply for a permit to travel during the day. This doesn't mean that you should be out and about unless you absolutely have too.
Why did the camera just flash?
During the sterilization period – 8 pm to 6 am until the 5th of April 2020, speed cameras across Dubai will flash any vehicle that drives by.
If the plate number does not match any permit handed out for the day, the driver will be given a fine.
As of the 23rd of April 2020, the timings of the National Sterilisation program has been changed to 10 pm to 6 am. Cameras are set to flash anyone driving at these hours.
How many passengers?
No matter what car you drive or how big it is, to reduce the possible spread of Covid-19, the UAE government has warned motorists that only three people are allowed in a vehicle at any given time.
Failing to comply with this will result in a fine of AED 1,000.
But I don't want to drive, will my car be ok?
That's an even better solution, as you don't have to drive at all during the Coronavirus outbreak. It's best to stay indoors at all times.
You will have to check up on your car once in a while. Check out our guide here.
Can I get a parking ticket?
Paid parking is back to normal in Dubai, however the timings have been slightly altered for Ramadan. 8 am – 6pm and 8 pm – 12 am are the current paint parking timings.
Yes, you can get a parking ticket as normal, at least in Dubai.
As of Monday evening, the RTA announced social media that parking in Dubai will be free on public roads and multi-story car parks.
Abu Dhabi Residents don't have to worry about their vehicles being fined as it was announced earlier this week.
According to sources, parking is also free in Sharjah throughout the day. And it remains free until the 30th of June.
During the sterilization hours, vehicle owners will not be fined in Dubai.
Can I buy or sell a car
Yes, you can still buy a car and sell a car in the UAE. Just remember to keep social distancing when looking at the vehicle and take precautions when buying and selling.
As of writing, the Al Awir Car Market has been temporarily closed for two weeks. As of the 23rd of April 2020, the Al Air Car Market is open for business once again. Timings during Ramadan are 11 am to 3 pm and 7 pm to 9 pm.
Select showrooms in Souq Al Haraj are open in Sharjah
Most of the showrooms in Motorworld are open in Abu Dhabi from 9 am to 7 pm and dealers are taking precautionary measures to protect everyone. Walk in customers are not permitted in the showroom and all are fully available online.
Private individuals are still allowed to sell their vehicles.
UAE-based official car dealers are open and all are taking preventive measures to ensure the safety of their customers and employees.
Customers looking to purchase a car from an official dealer during the Coronavirus outbreak are urged to call the showroom before going in order to remain safe.
How can I stay safe buying or selling a car?
Viewing a car? Here are some tips:
Keep disinfectant wipes with you and wipe down all the touchpoints, such as door handles, keys, and steering wheels.
Disposable gloves can go a long way in maintaining cleanliness.
Try to view the car outdoors instead of a garage or a basement.
When test driving, try to keep the windows open when driving.
After the viewing, avoid touching your face with your hands until after you have washed them thoroughly.
Do I still need a passing paper to buy or sell a car?
Again, yes, you need a valid vehicle testing certificate to buy a car or sell a car in the UAE.
In Sharjah, all testing facilities are closed, but the Sharjah Authorities are allowing passing papers from other Emirates including Dubai and Ajman.
We've reached out to Tasjeel to confirm that they are open for vehicle tests during the Coronavirus outbreak. Operating hours are from 8 am to 4 pm.
UPDATE: This might not be the case anymore. We reached out again to an RTA customer happiness agent. They explained to us that testing centres in the UAE are temporally closed but are unsure when they will re-open.
UPDATE 2: As for Sharjah, Sharjah Auto Village by Tasjeel is open for vehicle testing. Note that Dubai customers can't use the facility to get the passing paper.
UPDATE 3: Abu Dhabi Police registration and testing are open daily until 4pm.
UPDATE 5: Effective as of April 1st 2020, RTA Dubai has announced select testing centers will be open at reduced hours.
It is not known if Al Shamil is open for vehicle testing.
We were informed to call the RTA (8009090) before heading to any test centre to check if they are open.
If a car is brand new or less than three years old, the vehicle can still be registered without a passing paper.
Can I transfer vehicle ownership?
As of the 30th of April 2020, 3 RTA branches and 13 support branches are open for business but have strict heath and safety measures in place.
With RTA branches now open, you can transfer vehicle ownership.
No, as per the current situation and Tasjeel testing centres being closed, you can't transfer vehicle ownership to any party.
We've been informed that the testing centres may be closed throughout the duration of the sterilization programme, you can read more about how to transfer vehicle ownership.
What about renewing my vehicle?
As of the 30th of April 2020, select Customer Happiness Centres are open.
According to the Ministry of Interior UAE, you can renew your vehicle license online or via the app (app only works of non-Dubai residents).
Dubai residents can use the RTA's website (www.rta.ae).
We've been informed that you do not need a vehicle passing paper to renew your vehicle license online.
You will need valid insurance though.
Can I still get car insurance?
Yallcompare are offering comprehensive car insurance quotes from across the UAE. You can visit their website or call 800COMPARE (2667373).
Insurance companies within the testing facilities are also open as per the Tasjeel call centre (8003662). As of Monday, vehicle testing facilities are shut in Dubai.
In case the insurance company in the RTA doesn't cover what you're looking for, other companies are available, including Aladwliyah Insurance Services.
My car battery is dead, can I get a replacement without leaving the house?
In case your battery is flat, battery replacement companies like 800 Battery (2288379) are operational but are not 24 hours. Instead, they can assist you from 7 am to 6 pm.
My tyre is flat, can I get a replacement without leaving the house?
If you find that you need to use your car and one of your tyres are flat, there are tyre replacement services that will come to your doorstep to fix your tyre.
We reached out to Tire Change Dubai (0561158596), they are available 7 days a week from 7 am to 6 pm.
My car is not working, and I don't know what's wrong, are there any many mechanic or garages open?
Not all garages are open, but we spoke to a close friend who runs a garage in Umm Ramool area who is offering contactless services include pick up and drop off from your home.
Official dealers are also offering an identical service where your vehicle is picked up and dropped off at your home. In a press release sent out earlier this week, Al Masaood Automobiles is doing this for Nissan, Renault and Infiniti.
Can I refuel my car at the petrol pump?
As per the UAE government's rules, leaving the house for no good reason is a fineable offence of up to AED 2000. In case you are going out for necessities, you might as well stop off to fill the tank.
If you're not going out for a valid reason, Cafu and other petrol delivery companies are still available for home fuel delivery.
How do I renew my license?
Eye tests are mandatory for driving license renwal in the UAE, but due to the current situation, it's impossible to get one done.
As of this week, the RTA announced you can renew it online without the need of an eye test.
It will only be valid for a year, and is only available to license's in the next three months.
Where can I browse cars for sale in UAE?
Online portals such as Dubicars are still up and running. And as we mentioned above, select dealers are available. Just remember that it is safer to #stayhome and browse for your next car online.
And those are our tips! Got any of your own, post in the comments and let's work together. Make sure to follow us on Facebook and Instagram.